Influencer Says She Eats Burgers, Butter, Cheese and Eggs in 3 Hours and She Feels "Better Than Ever." But Is It Healthy?
A nutritionist weighs in on an influencer's unique style of intermittent fasting.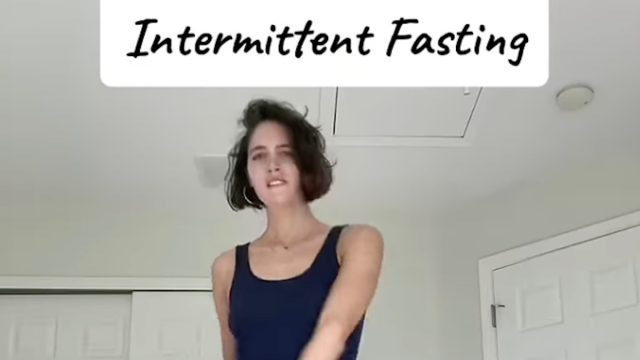 Intermittent fasting – eating only during a time-specified period – has become popular over the past few years. There are various types, most of them involving a period of "fasting" followed by a much smaller "feast" window, usually during the middle of the day. One of the most popular is the 16/8 method, allowing people to eat meals within an eight-hour window. However, one influencer has been touting a much stricter version: you can only eat for three hours a day. She claims she consumes a whopping 3,000 calories during that time and says she has never felt better.  
1
Elizabeth Seiber Eats 3,000 Calories in Less Than Four Hours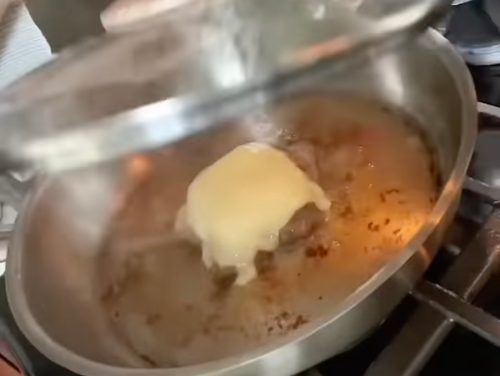 In a YouTube video, Philadelphia model and influencer Elizabeth Seibert details her extreme diet, claiming she spread 3,000 calories over three hours. She says the diet, recommended to her by "numerous professionals," has been the key to her feeling "better than ever" after a lifetime of struggling with an eating disorder, depression, and acne.
2
She Eats Quick, High-Fat Meals From 9:30 to 1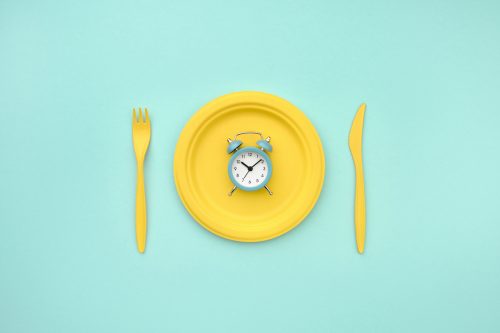 In the video, she explains that her feasting period is from 9:30 am until 1 pm. During that time, she eats a quick series of extremely high-fat meals. 
3
She Eats Burgers, Butter, Cheese, Eggs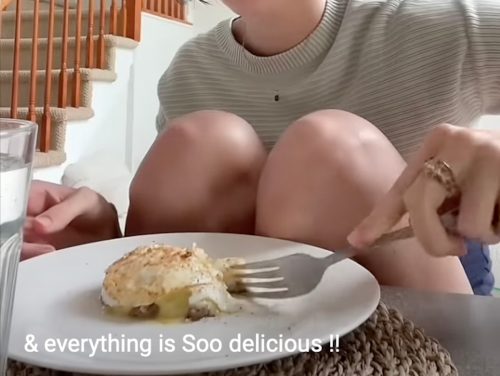 She starts her day with a four-ounce patty of ground beef, which she cooks with tons of butter and 1.5 ounces of cheddar cheese, adding kimchi, lettuce, and fried egg on top, a total of approximately 670 calories.
4
She Drinks Coffee with Heavy Cream and Takes 32 Vitamins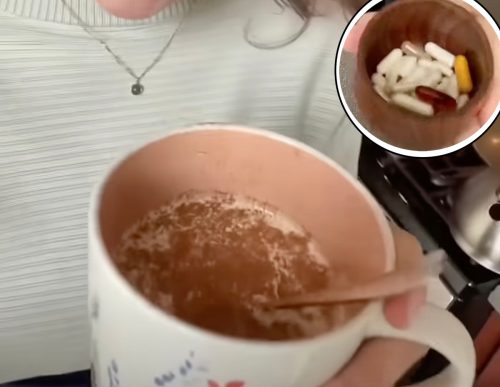 She washes it down with a cup of coffee filled with 11 ounces of heavy cream for another 1,100 calories. Then, she takes 32 different vitamins, explaining that she has "a lot of nutrient deficiencies."
5
She Eats Yogurt, Berries, Bone Broth, Beef Fat
At 11:30 am, she is ready for her next 390 calories meal – a bowl of yogurt with some "kefir for extra probiotics," fresh fruit, almonds, and hemp seeds. She follows that up with another meal an hour later, one cup of broth with two ounces of beef tallow, or fat, and two ounces of cheddar cheese, for 730 more calories.
6
She Claims She Does This Under the Supervision of "Numerous Professionals"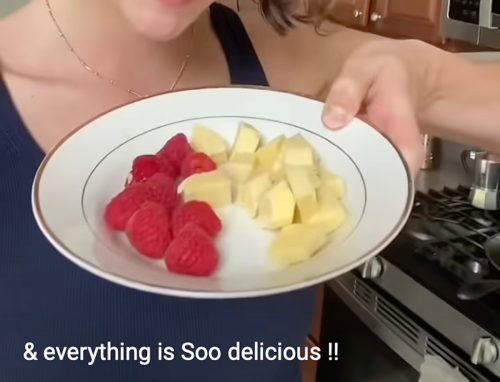 Her final meal is a small snack of berries and more cheddar cheese at 1 pm. "It's important to say that I am doing this under the supervision of numerous professionals, so don't take this as medical advice," she said in the video, insisting she has now been on the "medical diet" for seven months and has been able to get "off all meds" and is feeling so much "better."
7
An RD Doesn't Recommend This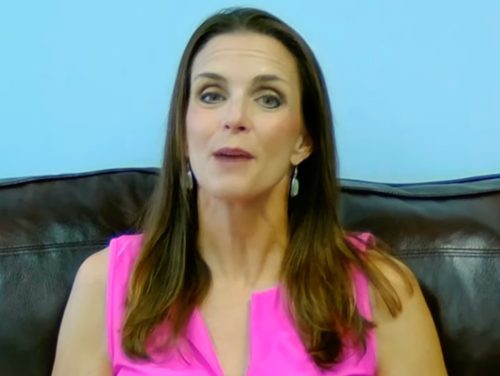 Should you follow this style of eating? Tara Collingwood, MS, RDN, CSSD, LD/N, ACSM-CPT, Board Certified Sports Dietitian, Certified Personal Trainer, American College of Sports Medicine, says no. First, she notes that 3000 calories "seems like a lot of calories" for such a small woman, "although I do not know her activity level or her exact height and weight.  If she is exercising 2-3 hours a day, then she might need 3000 calories," she says. 
8
Her Diet Is "Extremely Unbalanced" and Could Promote Heart Disease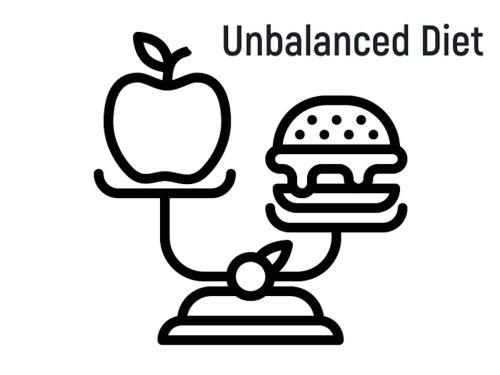 She also notes that "her diet is extremely unbalanced with zero grains, VERY high fat/saturated fat foods (Cheese, beef TALLOW (YUCK!), burger, heavy cream (11oz!), etc.)," and that eating food like this could have her "headed toward heart disease in her near future."
9
She Shouldn't Need to Take 32 Supplements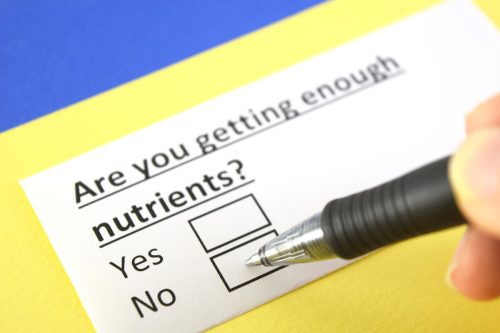 "I am so glad to see a few berries and yogurt and a little bit of healthier fat from almonds and hemp, but there is so little of it in the entire day that it definitely doesn't give her the fiber and carbs she needs," she adds. "The fact that she says she needs 32 supplement pills per day tells you enough right there that she has nutritional deficiency because of her past eating disorder as well as her current diet that is deficient in many nutrients as well."
RELATED: Mom Lost 66 Pounds With These Simple Changes
10
She Also Doesn't Advise Such a Short Feasting Period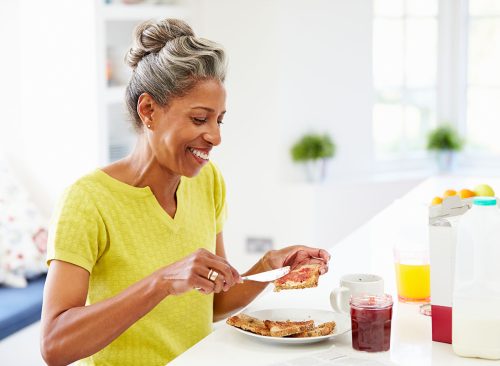 As for the three-to-four-hour feasting period, she notes that it isn't "good for the digestive tract or for energy and brain fuel" to eat during such a small window. "The body needs energy all day while we are awake," she says.