Serial Thief Steals Flatscreen TVs From Best Buy Over and Over
Management "fed up" with thefts.
Returning to the crime scene is usually an easy way for criminals to get caught. But not for one serial thief, who has managed to steal six flatscreen TVs from one Best Buy in Toledo, Ohio, in just over a month. According to ABC 13, security video shows the man entering the Monroe Street store several times from Feb. 14 to Mar. 15, then just picking up a boxed TV and carrying it out the door. The store's frustrated management hopes tips from the public will end the spree. Read on to find out more.
The Suspect, or Suspects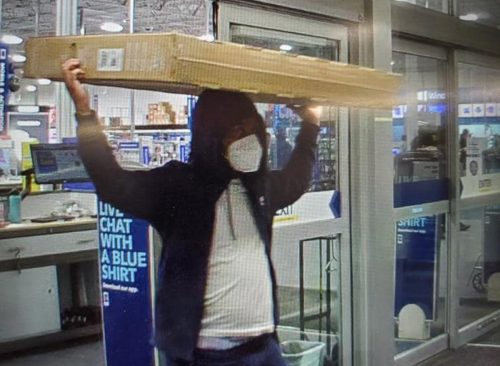 According to ABC 13, the suspect is seen typically wearing a sweatsuit with the hood up and a white N95 mask concealing most of his face. One security camera image shows an unmasked man stealing a TV in the same way. Managers say this may or may not be the same person. The suspect wearing the mask always returns to the same vehicle. In one trip, the man walked out with a TV, loaded it into the car's trunk, then returned to the store to take a second TV five minutes later.
Management "Fed Up" With Thefts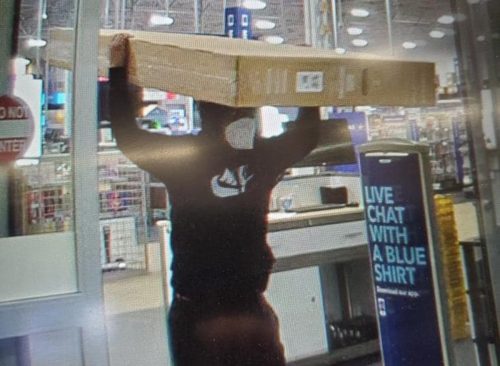 The news outlet reports that employees at Best Buy say they're "fed up" with being a chronic target and losing thousands of dollars in merchandise. In December 2021, Best Buy CEO Corie Barry said that theft had become a growing problem in the retail chain, particularly organized crime in which theft-ring members steal high-value merchandise to resell. "This is traumatizing for our associates and is unacceptable," said Barry. "We are doing everything we can to try to create [an] as safe as possible environment"—including locking up more merchandise and hiring additional security staff.
Online Commenters Respond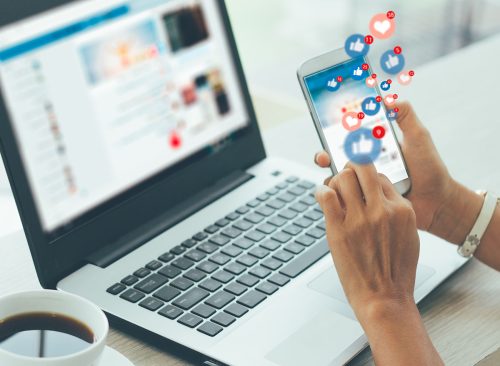 On ABC 13 reporter Tony Geftos's Facebook post about the story, commenters weren't convinced the thefts were the work of one person. They also expressed disbelief that so many had happened at one store. "Who in Best Buy security still has a job is what I'm curious about," wrote one man.
"Why isn't he stopped before he goes out to check for a receipt?" another commenter asked.
"Maybe we should have some undercover cops acting as customers," said one woman. "Is there no one paying attention to people walking out the door like this… I mean isn't stealing a crime anymore?"
"When you see someone steal something, you cannot detain them or hold them," another commenter said. "You can't even touch them or you can have an assault charge against you. What's to protect the store? When theft goes up, so do prices so you and I actually pay for what's been stolen. Go figure."
Best Buy a Theft Hotspot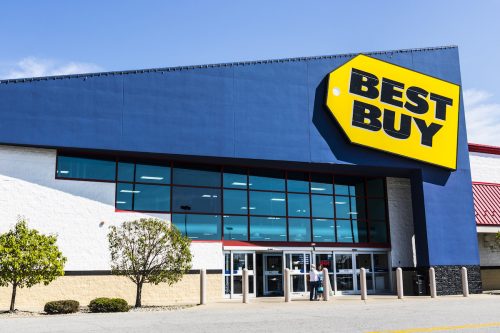 The electronics chain has become a target for thieves nationwide. Last December, WPXI reported that four men swiped $10,000 worth of laptops and a car system from a Best Buy in the Bethel Park section of Pittsburgh. In this case, the four suspects were caught by police and charged with felony theft. "We believe the same people we arrested yesterday are the same people that have been hitting stores around the area," said Chief Timothy O'Connor with Bethel Park Police. "These shoplifters, especially the organized ones, will blend in, so it's up to the managers and loss prevention personnel to be on the lookout."
RELATED: 36 Latest Bone Chilling Details About the Idaho Murder Case
More Pricey Thefts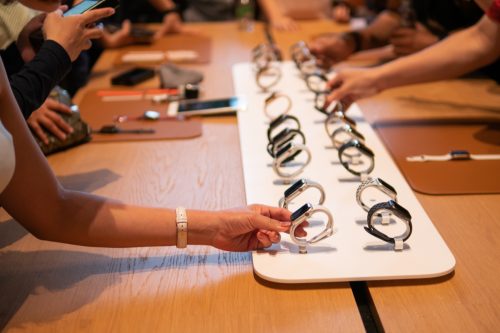 Also, last December, police said three men walked out of a Jersey City Best Buy with $20,000 in Apple products stuffed into tote bags. It's unclear if the suspects were ever caught.  And in Manchester, New Hampshire, last November, police said thieves managed to make off with 50 Apple watches from a storage area in a local Best Buy. "This appears to be a highly organized group that targets storage areas," police said in a news release. The suspects put the watches in a plastic bag and left the store.