Officer Kicks Suicidal Fugitive Back Inside Shattered Window of 31st Floor Apartment During FBI Raid
"It was horrifying," says the witness.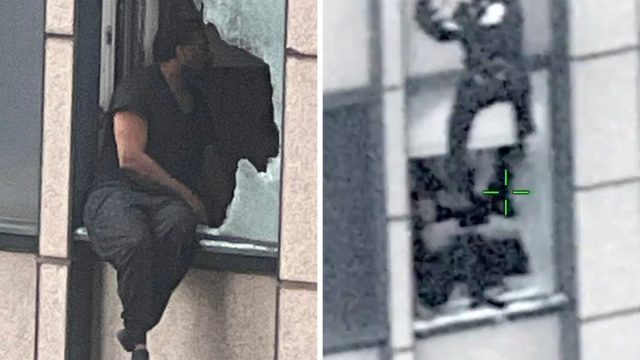 A New York City police officer dramatically ended a standoff with a suicidal man accused of fraud by scaling the building where he was threatening to jump and kicking him back inside through a shattered 31st-floor window. The man is Ian Mitchell, 35, who is wanted in connection to a financial fraud investigation.
Just before 9 a.m. on Wednesday, the FBI raided his Manhattan condo on West 56th Street. Mitchell tried to evade capture by sitting on the sill of the broken window and threatening suicide. After eight hours of negotiation, a special NYPD unit took more aggressive action, and it was all caught on video. Read on to find out what happened. 
The Rescue
Just before 5 p.m., officers from the NYPD's Emergency Service Unit rappelled down the building from one floor above the window where Mitchell was dangling. Footage shows an officer swiftly kicking Mitchell back into his apartment. Mitchell was then taken to Bellevue Hospital for evaluation, the Daily News reported.
The Detectives' Endowment Association posted the video of the operation to Twitter with the caption, "Emergency Service Unit Detectives and fellow Finest risked everything to save the life of a suicidal man today hundreds of feet above NYC streets. These men and women in blue are some of the most highly-skilled first responders in the world — and the DEA is proud to represent each of the Detectives!"
"Courage and Heroism"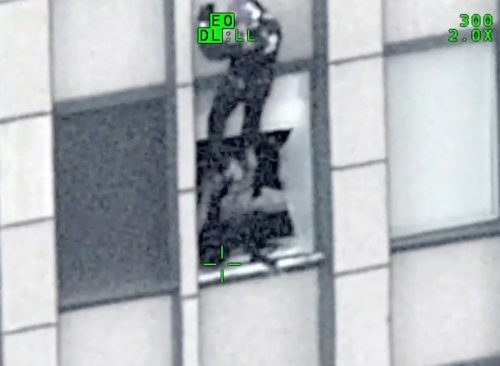 "One foot out the 31st floor of a high rise in New York City and members of the elite Emergency Service Unit responded there and they showed patience, care, commitment," said NYPD Chief of Department Jeffrey Maddrey in a press conference Wednesday night.
"They didn't know what that man was thinking, but ESU made a decision that nothing was going to happen to that man today and they kept their word. What they did today was beyond brave." "Another example of courage and heroism from your NYPD," tweeted Police Commissioner Keechant Sewell, sharing the video of the rescue from another angle.
Multiple Accusations of Fraud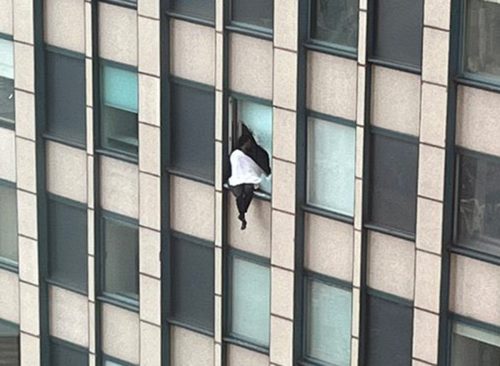 The FBI arrived at Mitchell's apartment around 8 a.m. to serve a warrant related to financial fraud, the Daily News reported. Mitchell has been accused of grand larceny and fraud amounting to at least $100,000, and there was an open bench warrant for his arrest. According to the New York Post, the man believed to be Mitchell was arrested in 2015 for allegedly scamming three victims out of hundreds of thousands of dollars.
He is accused of pretending to be related to a wealthy Jamaican businessman, soliciting thousands of dollars in investments to open a bar but never did, and conning a businessman out of $158,000 by pretending to run a hedge fund. This week, an ex-girlfriend told the Daily Mail he stole $70,000 from her and her family. 
Crowd Gathered As Standoff Unfolded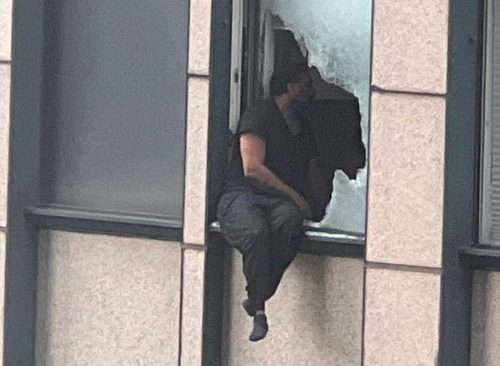 As Mitchell dangled from the window for hours, a crowd of onlookers gathered, and police set up a huge inflatable at the base of the 75-story apartment tower to break his fall should he jump. Mayor Eric Adams arrived on the scene around 2 p.m.
"The NYPD is patient. They are doing their job. That's why they are the finest," Mayor Eric Adams said. "They are patient. Our hostage negotiation team is the best in the business and we are going to do everything possible to bring this to a conclusion."
RELATED: 36 Latest Bone Chilling Details About the Idaho Murder Case
Eyewitness Account: "It Was Horrifying"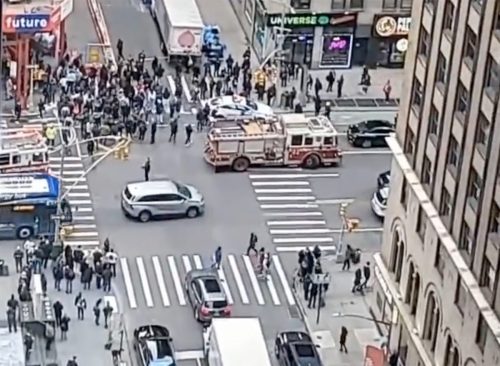 A nearby office worker watched the scene unfold. "All of a sudden FBI agents came down, and I saw that glass was shattered, so they blocked everything off," eyewitness Dominick Lagonigro told the Daily Mail. "When I went upstairs—I work at the Carnegie Hall tower—I just saw him sitting. We didn't know if he was going to jump or not."
He added: "From up there you couldn't see so much, looks like the police were negotiating with him on the inside. And he was just turning his head back and forth. Both his legs were hanging out." "It was horrifying, actually. Who knows what's running through his head?"