American Tourist Reveals Fast Food Only Available in Europe
Here is what you can eat at McDonald's, Burger King, and Taco Bell abroad.
While Big Macs, Quarter Pounders, and Chicken McNuggets are what McDonald's is known for in the United States, anyone who has traveled internationally is well aware that fast food offerings are not universal. In fact, if you walk into a McDonald's, Burger King, or Taco Bell in Italy, France, or Spain, for example, you will find many different items on the menu. One food blogger, Karissa Dumbacher, loves sharing TikTok videos of some of the unique items she has found at fast food joints throughout Europe. Here are some of the most interesting ones.  
1
McDonald's in Rome, Italy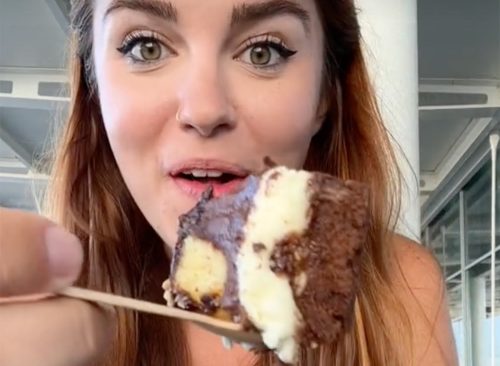 Dumbacher's first stop was McDonald's in Rome, where she found "gorgeous pastries," like cakes, pies, macarons, and donuts. She started with a "multi-layered chocolate cake" which came with "rich chocolate cream" and a "crunchy" dark chocolate ganache on top, calling it the "best thing she's ever eaten at a McDonald's." She said: "It actually melts in your mouth." Next up, the $2.90 tiramisu, topped with a "fluffy mascarpone cream" and "soft lady fingers" that were "soaked in coffee." She then tried a chocolate croissant, which was only $1. "It was filled with a decent amount of dark chocolate. And the quality of the chocolate here is so good. It's so cocoa-y and rich. And it was pretty flaky too," she added. A marshmallow donut completed her order. "It has a sugary glaze [on it]. It was so soft. And the chewy marshmallows added a fun texture," she said. 
2
McDonald's in Liguria, Italy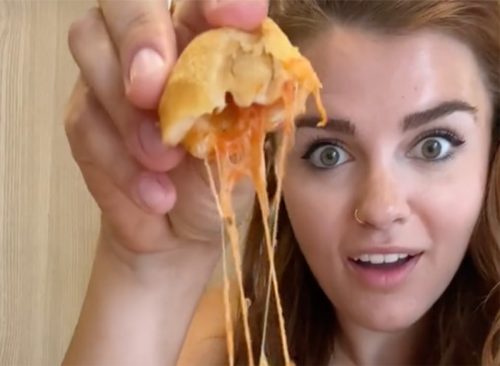 Next up Karissa hit McDonald's in Liguria, Italy, first ordering a panzerotti – an Italian staple that isn't offered on the American menu. "They're like little calzones," Karissa explained. "But they're filled with tomato and mozzarella." She added: "Maybe I'm just a sucker for deep-fried things, but these were better than some of the pizza I've had here." Next, she ate a McCrispy Chicken Sandwich, called Grand Crispy Chicken, with a "soft, buttery bun." After that, she tried one of McDonald's signature beef wraps for $6.70, which came with bacon and a "cheesy bacon sauce" and was loaded with meat. She also noted that you could order a "block of parmesan cheese" for $1. For a sweet treat, she got Baci Perugina McFlurry and a Smarties McFlurry.
3
McDonald's in Marseille, France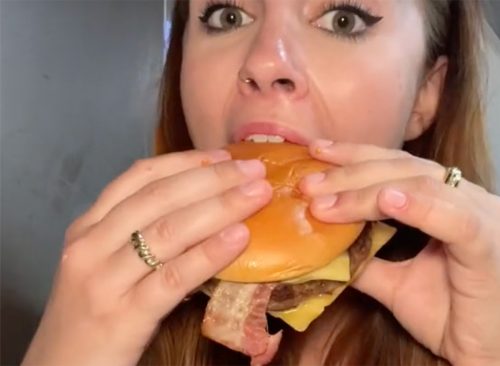 Karissa also ate at a McDonald's in Marseille, France. She started her order with a Royal Bacon Burger, which cost her $14.70. "It was stacked, it had, like, pickle slices, bacon. The meat was juicy," she said. She also got the Croque McDo for $3.10. "It was kind of simple but really delicious and rich," Karissa dished. "The bread was all crispy on the outside." And, she also ordered a CBO sandwich, chicken, bacon, and onion. "The bread had bacon bits baked into it. And the chicken had the perfect crunch without being too dry. It also had these crispy fried onions and melted cheese." She also enjoyed a special sauce that they offered just for fries, called Pommes-Frites Sauce, a "tangy mayo."
4
McDonald's in Barcelona, Spain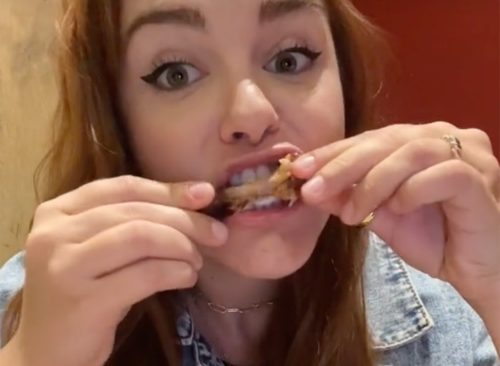 In Barcelona, Spain, Karissa hit up McDonald's, starting her order with chicken wings, which were "crispy" and "pretty moist." The burgers come with a fried egg, gouda cheese, and BBQ sauce. "Why were they so good? They were like piping hot and really well seasoned," she said. The McDonald's in Barcelona also offered a version of fries that came loaded with bacon and cheese for an extra $1.20. She also ordered a Conguitos McFlurry, named after a popular candy brand in Spain. A few days later she hit another cafe, ordering breakfast, the Tortilla de Patatas, which she described as a "fluffy, buttery, delicious omelet with potatoes and onions," and also a Jamon Iberico Sandwich, ham on multi-grain bread. 
5
Taco Bell in Barcelona, Spain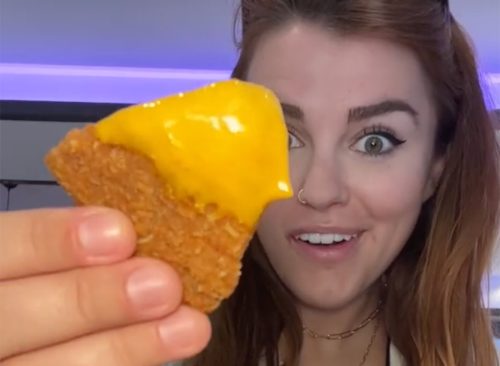 While in Barcelona, Karissa headed south of the border to Taco Bell, calling the two-story restaurant "bougie." First up on her order were Naked Chicken Nachos, which "'are basically chip-shaped chicken nuggets," she said. "They come with this warm, melty nacho cheese sauce," she said. "They're kind of like a thinner, crispier version of McDonald's nuggets with the cheese sauce that you get from the movies." Next up, Taco Bell's Beef Squares, a tortilla stuffed with minced meat, cheese, and any sauce of your choice. She also ordered Taco Bell's $5.20 Burrito Bowl, which she described as "so fresh" but a little. For a sweet treat, she got Taquito Lupita, a $2.50 dessert of caramel-flavored ice cream and a "crispy tortilla" on top. 
6
Burger King in Liguria, Italy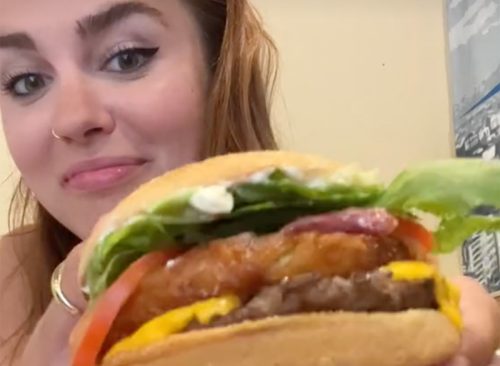 Over in Liguria, Italy, Karissa hit Burger King. She first ordered the American Complete Burger. "I think it's so funny to see what other countries call American burgers," she said, explaining that it came with "'thick and crispy" hash brown, bacon, "really juicy" tomatoes, lettuce, and of course, a beef patty. She also ordered a Crispy Chicken Wrap. "The chicken was super crispy, it had this amazing crunch, and the tortilla was soft"' she revealed. For dessert, she ordered chocolate salted caramel souffle, "like a soft, warm kind of brownie-like souffle with a gooey caramel center and ice cream on top" and a piece of cheesecake, which came with Nocciolata spread. "It's kind of like Nutella but with less sugar, but it's just as smooth and chocolate-y," she said.
7
Burger King in Barcelona, Spain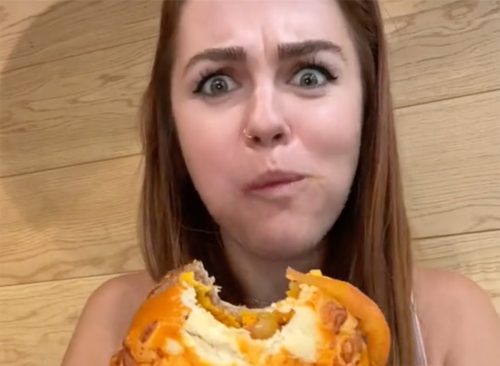 Finally, Karissa headed to Burger King in Barcelona, Spain. First on her order? A Cheesy Dorito Burger, which cost $8.45 and comes with "crunchy, cheese-filled, Dorito-shaped nuggets inside." She also had some chicken wings, "so well seasoned and flavorful." She also got Chili Cheese Bites, "super crispy" on the outside and "gooey" on the inside. "They're filled with melty cheese and jalapenos, they added some nice heat," she said. For a sweet treat she got a Toblerone King Fusion," basically like Burger King's version of McFlurries." It came with "crunchy, white chocolate-covered cookie"' on top, and a sauce of her choice.