Passengers on Crowded Subway Break Windows to Escape Believing There Was Fire
Officials say it was dust from the train's brakes that caused the smell of smoke. 
Chaos erupted last week on a London subway station when hundreds of passengers smashed through windows of the train trying to escape over fears of a fire. The incident took place at the Clapham Common Underground Station and a woman on the train captured video of the horrifying moments passengers were fleeing. "Keep going" she yells as people frantically push their way through a small window.
1
"I'm Trying to Get Out"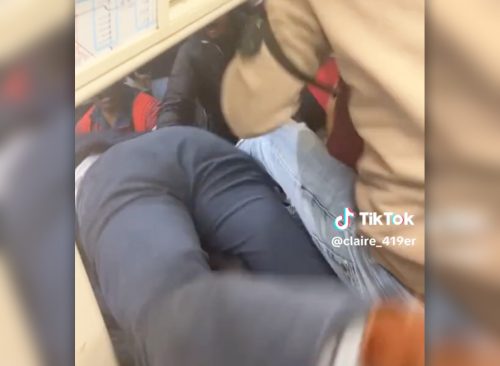 TikTok user who goes by the name @Claire_419er posted videos of the frightening situation that happened on May 5th. In one clip, panicked passengers rush to a door and try to pry it open. People are screaming for help and banging on the windows trying to get out. The woman wrote, "We could smell smoke in the carriage."
2
Passengers Help each Other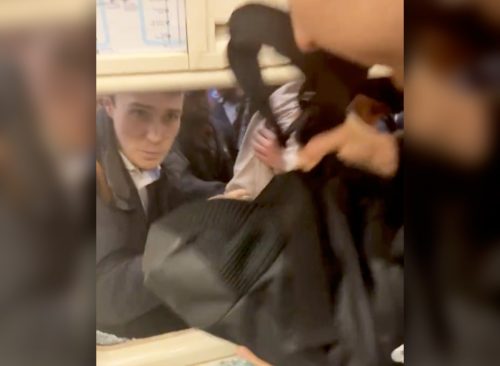 In another video by @Claire_419er, a man is heard yelling that a "window is open" and tells people to "come here" so they can get out. The woman shows how people let their bags and belongings on the floor as they fled the train and how passengers helped each other get through the window to safety. 
3
People on the Platform Were Helping People Get Off the Train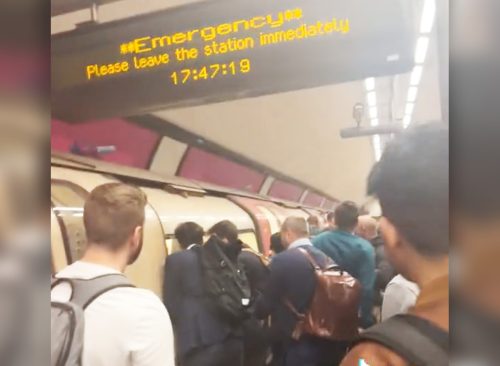 TikToker @taraszlitvin shared a video that showed what was happening on the outside of the train and a large crowd of people were trying to leave the station. But others stayed and continued to help passengers through the windows. One user wrote, " Thank God for those that helped even though there wasn't a fire. Those that filmed, I hope it won't be a catastrophe one day!" Another added, "The guy in the green shirt wasn't going anywhere until everyone was out 🥰 no phone in his hand! Well done young man x"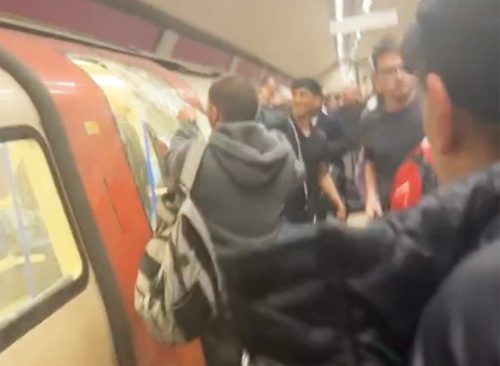 Passengers stated they could smell smoke and presumed there was a fire, which prompted people to run for their lives. In a comment on one of her clips, @Claire_419er wrote, "we could literally all smell smoke and everyone outside was telling us it was a fire." However, the  London Fire Brigade posted a statement disputing a fire was the cause of the smell. "Firefighters were called to a report of smoke issuing from a train at Clapham Common Underground Station. Crews attended but following investigation, found no sign or evidence of a fire."
5
The Train's Brakes Caused the Smoke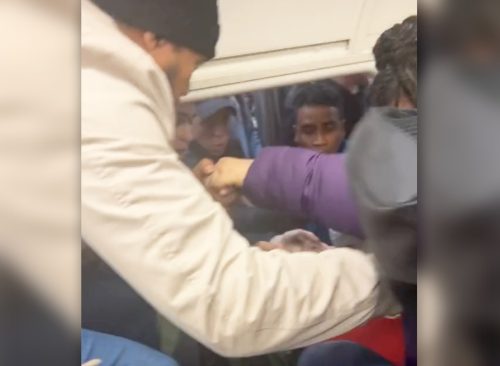 According to the London Fire Brigade, "Investigations are ongoing but the report of smoke is believed to have been caused by the train's brakes." The statement continued, "Around 500 people left the train before firefighters arrived. The Brigade has not received any reports of injuries. The Brigade was called at 1752 and the incident was over for firefighters by 1829. Crews from Battersea, Tooting and Brixton fire stations attended the scene." 
6
Viewers Were Concerned for Passengers with Disabilities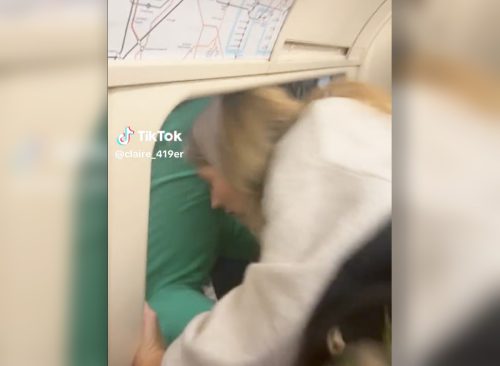 Thousands of people commented on the videos and were relieved for the safety of everyone–no injuries were reported. However, many were concerned about how disabilities would survive in a situation like this. "The fact that we're in the 21st and people have had to evacuate a train on fire by smashing a window is just crazy," one user wrote. "Tfl have a lot to answer for!" Claire_419er replied, "This is honestly the scariest part! Imagine if there was people with wheelchairs or prams!" Another added, "the most scary thing is the fact the doors didn't open. How would you get a wheelchair user off!! yeah take them out the window but the chair?!?," to which a user responded, "exactly what I was thinking… imagine being elderly, disabled or pregnant. would have felt hopeless."  Another commenter wrote, "Imagine if you were pregnant or elderly or with young children.. this is why I avoid the underground."
Heather Newgen has two decades of experience reporting and writing about health, fitness, entertainment and travel. Heather currently freelances for several publications.
Read more