Officer Narrowly Escapes Death as Reckless Teen Driver Skids Across Median at 120mph
Quick thinking may have saved his life.
A police officer in Virginia narrowly escaped with his life after an inexperienced teen driver crossed several lanes of traffic at more than 120 mph and came within inches of crushing him. The chilling close call was caught on the officer's dashcam during a routine traffic stop in Fairfax on May 1. Read on to see images from the video, what happened to the driver, and the one small decision the officer made that could have saved his life.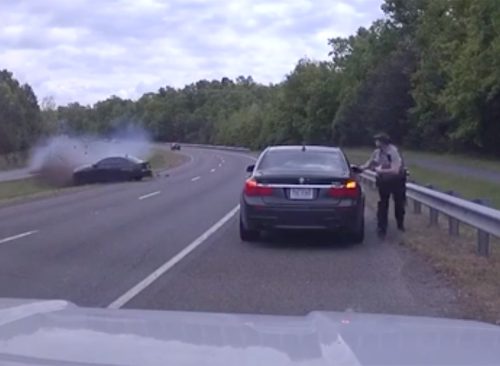 In the footage, the black BMW is seen crossing a median on a parkway at high speed. It skids out of control, smashes into the pulled-over car, and crashes into the patrol car. The officer falls to the ground, then quickly jumps up. The crash missed the police officer—who was standing outside the pulled-over car—by mere inches.
Luckily, he saw the car hurtling toward him and was able to scramble out of the way. When the out-of-control BMW hit the two stationary vehicles, one just clipped the officer's leg.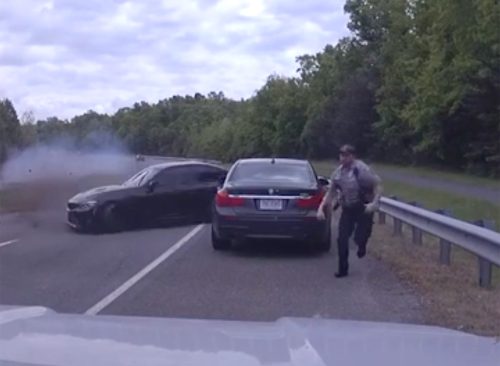 No significant injuries were reported. The black BMW held two teenage passengers and the driver; police said all three were wearing seatbelts. The driver of the 2018 BMW M3 was identified as a 17-year-old. (State law prevents authorities from identifying minors or releasing details that could identify them.) He was charged with reckless driving, a misdemeanor that can lead to jail time in Virginia.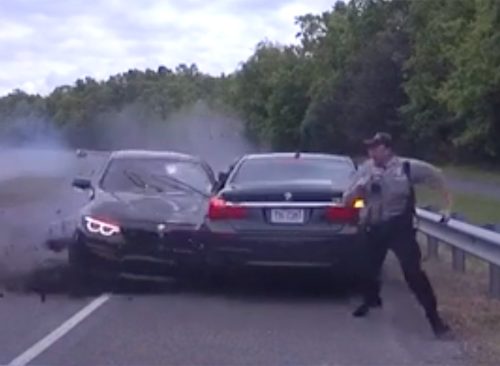 Experts determined the car had been going 120 mph in a 50 mph zone. "The vehicle lost control because cars can't go that fast on the highway," said Deputy Police Chief Bob Blakley.
Blakely said there has been an increase in unsafe driving among teens in the area. This year,  Fairfax police have issued 62% more teen speeding citations, and 98% more tickets for failure to follow signs or signals. 
4
This Fateful Decision May Have Saved Officer's Life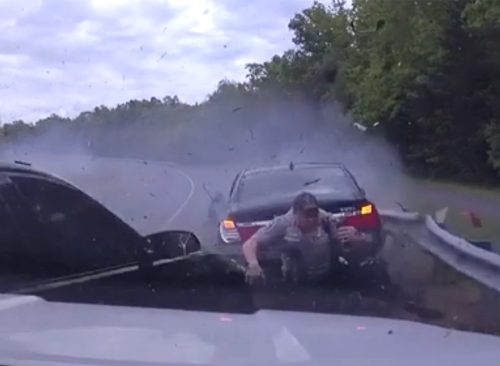 Fairfax County Police Chief Kevin Davis praised the officer's professionalism at news conference. "His grace under pressure was calm, cool, collected," he said. Davis didn't identify the officer, a 13-year veteran who was uninjured but recovering at home.
Davis and Blakley said he may be alive only because he approached the pulled-over driver on the vehicle's passenger side, which is optional for officers but recommended when approaching on the driver's side may be hazardous.
5
"A Rocket, Then a Missile"
Davis said the accident is a reminder of the importance of traffic safety and the dangers officers face when enforcing traffic laws. He also suggested that parents might want to rethink giving their children access to high-performance vehicles.
"The car involved in that collision yesterday was a whole lot of car for an inexperienced driver," Davis said. "It was going way too fast. It was a rocket, and then it became a missile."