Woman Ditched First Date Claiming Man Was Too Cheap to Spend $3 on Cheese for His Burger and People are Mad
Viewers are left confused by TikToker who has changed her story over a first date.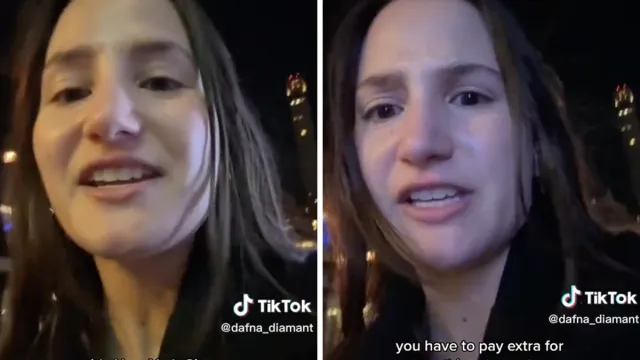 Are three dollars extra too much to add cheese to your burger? TikTok is now caught up in a debate over this ever since one user complained her date refused to pay that price. New York City resident Dafna Diamant vented in a viral video about how she walked out of the first date because he didn't want to pay to add cheese to his burger since it was an additional cost. Many viewers were outraged and left negative comments on the clip about how her date dodged a bullet. However, Diamant now claims the situation never occurred and told NBC News "it didn't really happen," but viewers aren't sure what to believe. 
Why Diamant Ranted in a Video About Her Date Not Paying Extra for Cheese
Over 8.6 million people have now seen the clip of Diamant walking down the street telling followers, "Guys, I just got back from a hinge date. Why am I doing this to myself?" The New York fashion intern went on to explain her reaction to her date asking if adding cheese to his burger was extra. "So we schedule to go to dinner. We are sitting at the restaurant. Seems very nice. Not a catch fish. Things are going well. The waitress comes over. She wants to take our order and I said, 'Okay, I'm going to take the branzino.' He said, 'I'm going to take the burger,' and the waitress asked him, 'okay how do you like your burger?' So how he likes his burger and 'would you like some cheese on your burger?' And he asked, 'is this going to be extra?' She says, 'yes, it's $3 dollars extra.' He said, 'okay then never mind.' I'm like, 'what….!'"
Diamant Said She Snuck Out of the Restaurant and Left Her Date Behind
The TikToker then revealed how she was so put off by her date as a result that she left. "He's like, 'oh my God, you have to pay extra for everything these days.' I'm like, 'yeah it's New York City!'"
She went on to explain that after they finished eating, she told her date she was going to the restroom. Instead, Diamant found the waitress, paid the bill, and left. She then said, "I texted him the check is taken care of. We should have gotten the cheese." Diamant went on to say, "I blocked him." 
Commenters Weren't So Nice
Shortly after the video was posted, comments poured in defending the man TikTokers now call the "Cheese Man," thanks to a popular comment. "$3 for a slice of cheese is criminal!!" read one comment. "Bro is financially literate," which racked up thousands of likes. "Is this why I'm single? Bc I ain't paying $3 for cheese either," read another.
Many people didn't like the way the situation was handled and said cheese man was better off. "That's an awful way to treat someone," a viewer wrote. "Phew. The guy lucked out! That was close," read another comment. 
She Addressed the Haters, Saying She Knows She's Crazy but to Calm Down
After many hateful comments, Diamant posted a clip confronting people who have gone too far. "Do you think I don't know I'm crazy?" she asked. "I'm crazy, but you're taking it to a different level," adding that viewers "need to take it easy." She said, "Some people are going through all my videos commenting that I'm ugly that I'm a 4, that I'm a 2 and that I don't deserve love."
Diamant shared that people have told her, "I should die alone. I should delete myself. I should kill myself." She stated, "That's not ok in any way. Why are you taking this stupid video so seriously?"
Diamant Now Says The Story is Fake
In an interview with NBC, Diamant said the real story is the two heard a man at another table ask about the price of adding cheese and decided against ordering it after hearing it was an add-on. That started the pair talking about what they would do in that situation. "If I'm sitting on a date with a person and I feel like he's cheaping out on something that will make his meal more enjoyable, he's going to keep cheaping out on the rest of our dates," Diamant told the outlet. "It's not about the cheese. It's about going to a restaurant and enjoying a good time with your date."
The Identity of "Cheese Man" Has Not Been Revealed
Although guys have come forward claiming they are "Cheese Man," Diamant said they are not, and in a video, she stated that her date isn't on social media. However, somehow he knows about the incident because she told NBC, "He thinks it's funny as well. And we've only had one date, so he's not obliged to me in any way, but he's checking in to see that I'm fine," she said. "And I try to not take it personally, because it didn't really happen."
RELATED: Woman Who Found Out She Was Three Months Pregnant Weeks After Divorcing Her Ex Remarries Him and Claims They Are Happier Than Ever
Viewers are Still Angry and Believe Diamant  is Backtracking
A few days ago, Diamant posted a clip with the screenshot of the NBC article. She's seen covering her mouth and laughing while a popular TikTok sound could be heard in the background saying, "You know what it never was, that serious. It was never that serious. Quite frankly, will never be that serious."
That prompted more negative comments suggesting she's backtracking. "Oh yeah, the classic 'I was just kidding'" read one comment, while another wrote the "story has got more holes than Swiss cheese." Someone else wrote, "Quite frankly…you need therapy" with another person stating, "There's no coming back from that my girl. And it is always that serious."
Heather Newgen has two decades of experience reporting and writing about health, fitness, entertainment and travel. Heather currently freelances for several publications.
Read more