I'm a Doctor and Here Are Key Differences Between COVID and the Flu
How do you tell them apart?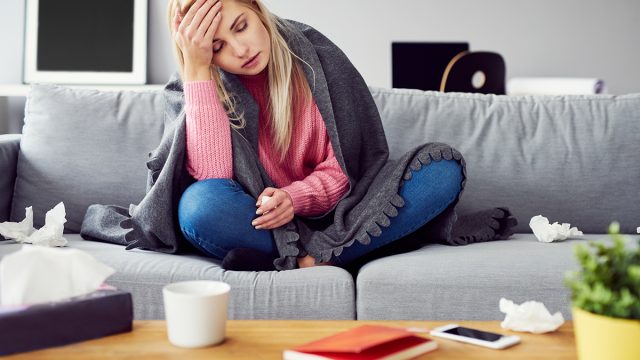 It's an unfortunate new early-fall tradition: COVID-19 cases are on the rise, and experts are warning against a potential "tripledemic" of COVID, flu and RSV (respiratory syncytial virus) infections this cold-weather season. If you're having respiratory symptoms, how do you tell the viruses apart? Here's what a doctor recently said are the key differences between COVID and the flu, how other experts say you can distinguish those two viruses from RSV, and the best time to get vaccinated against all three. 
1
What Are the Current COVID Subvariants?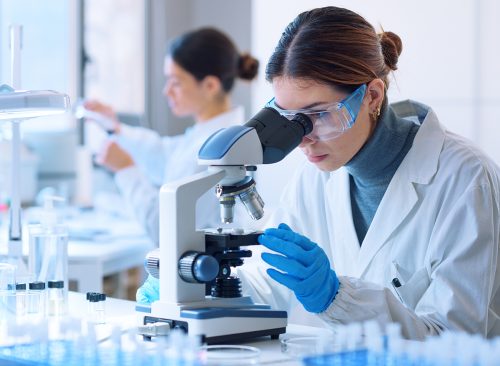 The most prevalent subvariant circulating now is EG.5 (also known as Eris) followed by a strain called FL.1.5.1. Both of them are subvariants of the original Omicron strain, which became widespread in November 2021. They are driving the increase in COVID infections: EG.5 accounts for about 25% of cases nationwide, and FL.1.5.1 is 14%. 
2
Latest Variants Bring These Symptoms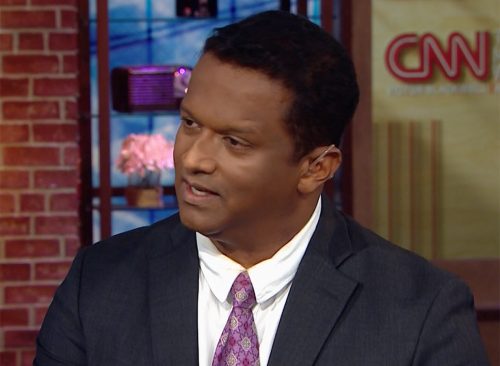 "With the Omicron infection right now, it tends to be more like cold-like symptoms," Dr. Saju Matthew, a primary care physician in New York City, told CNN earlier this week. "It's definitely become more nasal congestion, fatigue, headache." One wrinkle: "That can also be the flu," he said.
3
Sudden Onset A Key Sign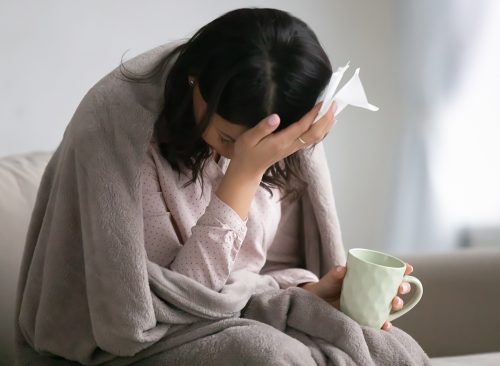 One characteristic of the flu versus COVID and RSV: "With the flu, one thing that distinguishes it is sudden onset," said Matthew. "You're going to feel like a ton of bricks hit you at one time—body aches and fever."
4
What About RSV vs. COVID?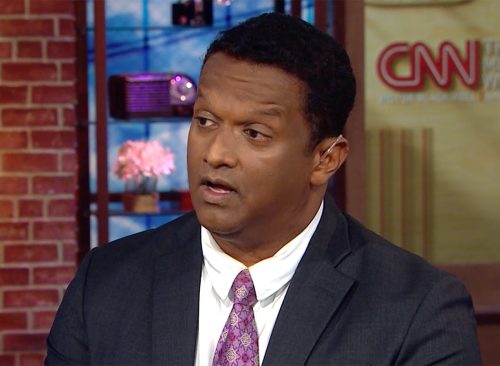 "With RSV and COVID-19, it can be tough to distinguish between both of them," said Matthew. "With my patients, I say if you really want to know if you have COVID, wait a couple of days and get the PCR test." These tests, available at healthcare providers' offices and testing stations, are more accurate than at-home tests.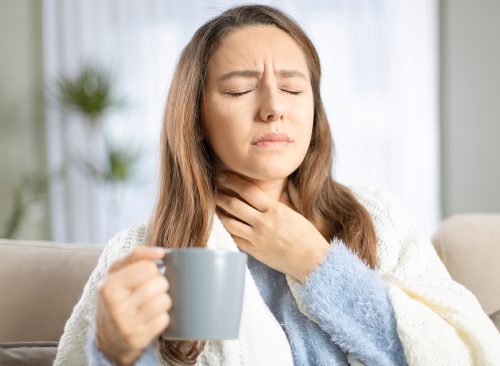 According to the Cleveland Clinic, sore throat, cough and fever are "common" symptoms of COVID-19. The virus "sometimes" will cause body aches, tiredness, headache, a runny or stuffy nose, shortness of breath, and a loss of taste or smell.
Sore throat, cough, fever, body aches, tiredness and headache are "common" signs of the flu, the Cleveland Clinic says. In the "sometimes" category are sneezing, a runny or stuffy nose, and shortness of breath.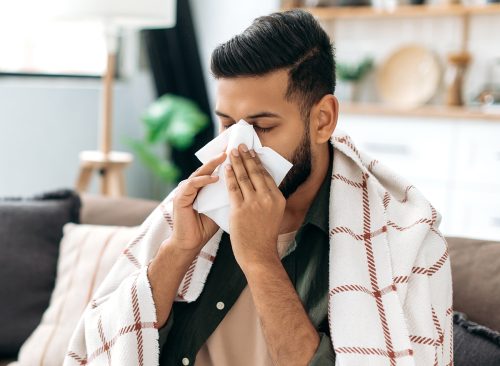 Coughing, sneezing, and a runny or stuffy nose are common symptoms of RSV, the Cleveland Clinic says. The virus will sometimes produce a fever, body aches, tiredness, headache, and shortness of breath. 
8
How to Prevent a "Tripledemic"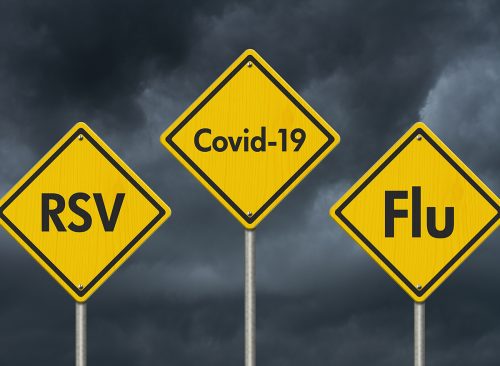 Health experts are concerned that this fall and winter may bring a "tripledemic" in which healthcare providers and hospitals are slammed with patients suffering from COVID, the flu, RSV—or some combination of the three viruses. "Getting vaccinated against all three is actually the best way to reduce the chance of having a peak convergence where we see a really big surge in respiratory illness that could overwhelm hospitals," epidemiologist Dr. Sarah Kemble recently told Hawaii News Now. 
9
Besides Vaccines, How to Keep Yourself and Others Safe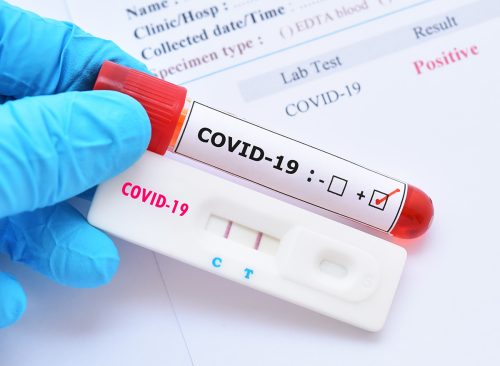 "Common sense public health measures also play a role in combatting the tripledemic, as we can spread viruses to others when we are infected," Dr. Scott A. Rivkees of the Brown School of Public Health wrote this week in Time magazine. "First, we must avoid others, especially those with vulnerabilities, when ill. We also now have home testing available to diagnose each virus separately or in combination. This can lead to prescribing antiviral medication and treating symptoms when coupled with telemedicine or in-person office visits. Mask use may also be considered in high-risk settings, especially for those who are medically vulnerable."
 RELATED: Surprising Signs You've Already Had COVID
10
When Should You Get the Vaccines?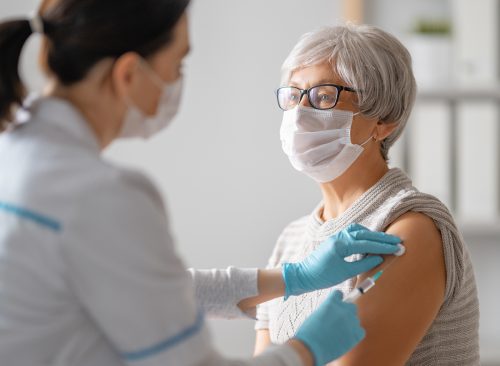 "Because the effectiveness of the flu and COVID-19 vaccines can wear off after six months, it makes the most sense to get these vaccines in late October or November before the anticipated peak of illness during wintertime," said Rivkees. "Flu and COVID-19 vaccines can be given simultaneously. Still, since the RSV vaccine is new, it has been recommended to wait two weeks after the RSV vaccine before other immunizations until more data are available."