5 Epic Fish Tales of Record-Breaking Catches in 2023
Read on to see more about five epic catches.
The calendar hasn't yet officially turned to summer in the U.S, but fishing season is already attracting headlines for the notable, bizarre, unbelievable, and just plain massive catches that are showing up around the world. Read on to see more about five epic catches, including one from Colorado that might have shattered the world record. 
1
A Monster Catfish in Italy
Earlier this month, Italian fisherman Alessandro Biancardi hooked a gigantic nine-foot-long catfish, which is believed to be the world's longest ever. But because he was alone in his boat, the angler had to reel in the huge fish himself—a fight that lasted nearly 45 minutes. "'When it surfaced for the first time, I really realized that I hooked a monster, adrenaline started pumping hard and the fear of losing it almost sent me into a panic," he said. "I was alone facing the biggest catfish I ever seen in 23 years."  He even jumped out of his boat to pull the fish in by hand. But once he did, he decided to release it back into the water, "hoping it would give another angler the joy it gave me."
2
A Kindergartner's Epic Catch
This kid may have a future: On May 31, five-year-old Kylan Hendley and her dad, Dylan, caught an 87-pound blue catfish in Lake Norman, North Carolina. "Kylan is so proud of the big catfish she caught jugging with her dad and her grandpa, Steve, and loves to share her big catch and story with anyone willing to listen," the McDowell News reported.
3
Man Said He'd Break Record, and Did It
Last month, Pennsylvania fisherman Mike Wherley reeled in a flathead catfish that rang in at 66 pounds, 6 ounces—a new Pennsylvania state record. He hooked the fish at a favorite spot on the Susquehanna River. Suspecting he had a record-beater, he rushed the fish to a nearby tackle shop that had an official scale, then quickly released it back into the water.  "The fish got that big by living a long time," he said, according to Lancaster Online. "So I wanted him to keep on living." Wherley's previous personal record for a flathead was 44 pounds. The current state record—until Wherley's catch is officially certified—is 56 pounds, 3 ounces. "I've told everybody in my family I was going to catch a state record someday, and here I did it," he said. "That's incredible."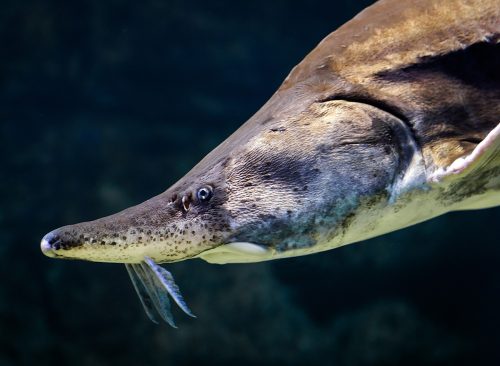 On May 14, a 14-year-old fishing off a dock near Baudette, Wisconsin, managed to catch a sturgeon that was longer than the dock was wide. Dawson Erickson battled with the fish for nearly an hour when a nearby fisherman helped him reel it in. The sturgeon measured 70 inches long, 27¼ inches wide, and weighed about 91 pounds. Experts estimate it's about 51 years old. "I think it's going to be a while before I beat that one," Dawson said of the fish, which he released back into the water. "I mean, (70 inches) is a lot of inches if you think about it."  The catch had special meaning: The trip was the first Dawson's family had taken since the death of his beloved grandfather, an avid outdoorsman. "We sat down today and we're like, 'Grandpa, bring us a 60 (inch sturgeon)," said Dawson's father, Kevin. "We sat here all morning until now and just nothing, not even a walleye, just a couple of snags losing lines and stuff. And all of a sudden, Grandpa came through."
5
The "Mega Monster Giant" That May Be a World Record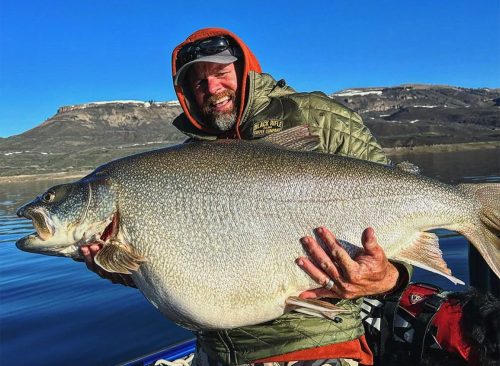 On May 5, ​​Scott Enloe and his son were third in line to hit the water at the Blue Mesa Reservoir in Gunnison, Colorado, and their first trip of the season almost instantly brought good luck: They reeled in a 31-inch lake trout, then—beyond their wildest dreams—a 73.29-pounder that was nearly four feet long. The latter might break a world record.  "On our depth finder, we saw what appeared to be two big fish," Enloe told Fox Weather. But it turned out to be one "mega monster giant" trout, as his son described it. When Enloe reeled the fish into the boat, father and son "were high-fiving, and we were still in shock because this fish was just so large," Enloe said. "I've caught a lot of big fish, and this one just dwarfed anything."  One hitch: After taking measurements, Enloe released the fish alive. That might have disqualified him from the world record. "The part of the rules to become a world record is, and they're rethinking this now, but part of the rule is you have to kill the fish," he said.  "There's a world record laying there, but I'm not going to kill this fish," he said. "I'm like, if at all costs, this fish is going back in the water, and it's swimming away. It's about conservation, but, you know, to me, it's about respect for the fish. That fish has lived longer than me. And I'm like, you've got my respect for sure. You know? I fooled you one time, but I don't know if that's ever been done before. But I'm not going to be the one to take your life."