Brutal Turbulence Rocks Flight Causing Chaos in the Cabin and Injuring Passengers Including a Newborn Baby That Hit the Ceiling
At least ten people, including two crew members, were injured.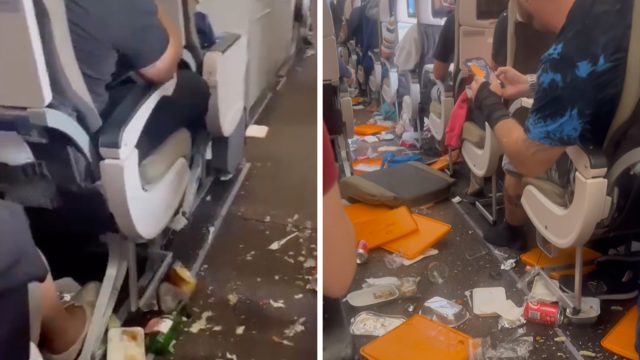 Severe turbulence struck a flight from Angola to Portugal late last month, injuring ten passengers and causing loose items to be flung dramatically around the cabin—and it was all caught on video. Portuguese media reported that at least ten people, including two crew members, were injured on the Hi Fly flight operated by TAAG Angola Airlines. Eight needed medical assistance.
Read on to find out what happened before and after the plane's terrifying jolt and what might have caused it. 
"The Worst Possible Time"
Images and video taken in the wake of the turbulence show the cabin in disarray. Trays, food, and utensils were strewn around the aisles. The plane's walls and ceiling are stained with bits of food and splashed beverages.
"The impact of turbulence can be significantly negated if passengers and crew are adequately prepared for it, namely by fastening seatbelts and stowing items away," noted the aviation site SimplyFlying. "Unfortunately for travelers and crew on this flight, the turbulence hit at the worst possible time, when plates, cutlery, and food trolleys were out in the open."
Doctor Assisted Injured Person In-Flight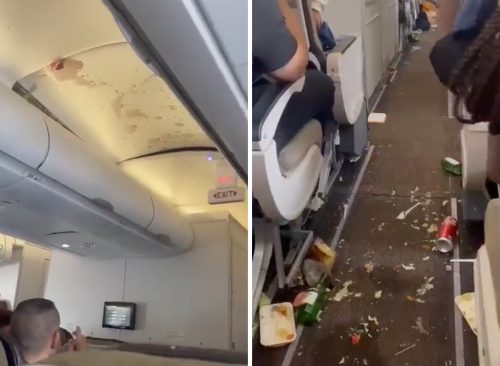 After the incident, the plane continued on course to Lisbon. Eight passengers needed medical assistance, and a doctor on board tended to one injured person, the airline said. An ambulance and medical team met the plane at Lisbon Airport, where the flight landed at 8:37 pm, TAAG noted in a statement.
The airline later blamed "adverse atmospheric conditions" for the turbulence, which struck as the plane flew over the Democratic Republic of the Congo.
Eyewitness Video Shows Chaos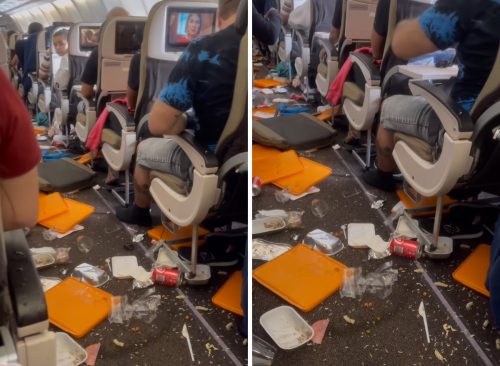 Brazilian influencer Diana Assis was on board the flight. She told The Daily Mail that the turbulence hit two hours after takeoff, just as lunch was being served. "It only lasted a few seconds, but it was enough to leave some people injured and the crew provided first aid before landing," she said.
Assis shot a video during the turbulence. At first, she laughed at the situation, but then a sudden severe jolt caused wine to fly out of her glass and splashed the airplane ceiling. She told the news outlet that one of the injured was a newborn baby that flew out of its parent's arms and hit the ceiling. The captain later asked if there was a doctor on board to help the child.
Potentially Clear-Air Turbulence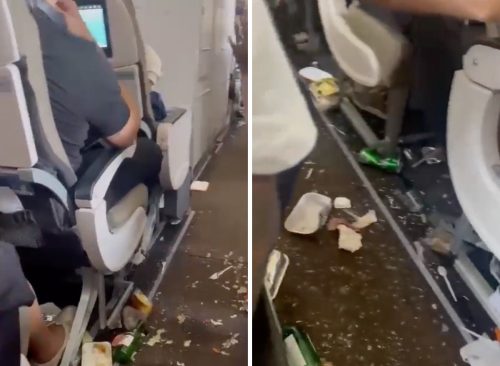 "This definitely clear air turbulence, right?" one commenter wrote on a Twitter post about the incident. "Really wish somehow we could detect and avoid them." Clear-air turbulence is the most dangerous kind of turbulence. It can happen when the skies are clear and conditions seem good.
It's a type of wind shear—a sudden change in air speed that can occur horizontally or vertically—that can occur among wispy clouds or clear air near thunderstorms. Differences in temperature and pressure create powerful currents of fast-moving air, and planes can fly into clear-air turbulence without warning.
RELATED: Congregants Left in Shock as Pastor Fails to Resurrect After a Year in Morgue
Social Media Reacts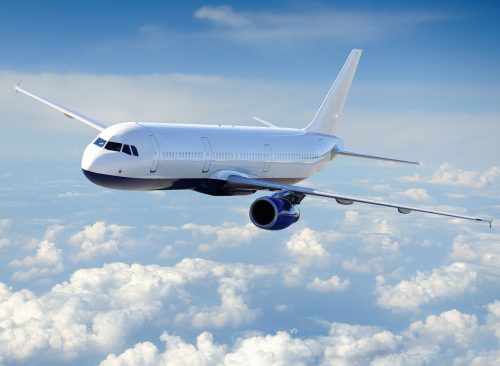 Other Twitter commenters commiserated with the ordeal the passengers and flight crew underwent. "What the actual F? That was really brutal, there are wet stains on the ceiling," one commenter said. "It seems dangerous and unnecessary to give out glass bottles during flights, broken glass is not something that's desirable during a possible emergency exit," another opined.
"Feel bad for the crew getting hurt, but the passengers should always be wearing their seatbelts for this very reason!" one man wrote. "On another note—I'd have to change my underwear after something like that!"