Tattooed Grandma is Called  "Revolting" and "Embarrassing" and TikTok Isn't Having It
Grandma is being bullied for her appearance and she's fighting back.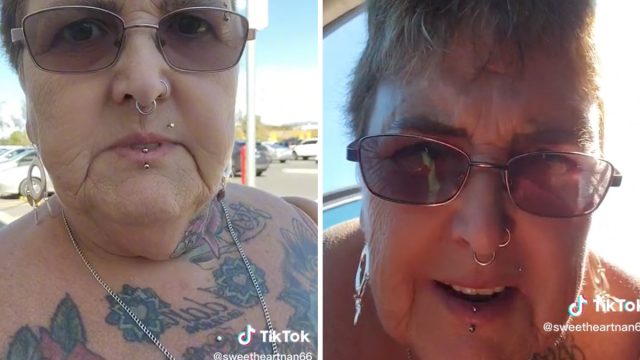 She's not your typical idea of a grandma and she's proud of it! A TikToker from Australia who goes by the name @sweetheartnan66 is getting a lot of praise for standing up to bullies who have called her "revolting," for being covered in tattoos, having facial piercings and wearing sundresses. She addressed the situation in a quick video that's been viewed over 845,000 times. "I am so [mad] at the way people have looked at me and laughed at me today because of the dress I'm wearing and my tattoos." She said, "One lady walked up and said, 'You should be ashamed of yourself, that is disgusting, you look revolting.' Viewers have been jumping to her defense and leaving encouraging comments to show support. 
TikToker Calls For People to "Stop Being So Rude"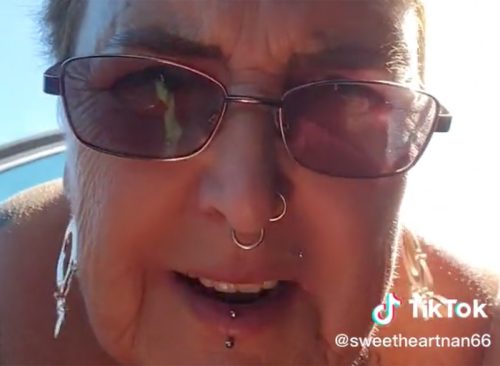 In the 41 second clip, the woman calls for others to stop being so mean. "Stop being so rude. It's not called for. Why can't they just accept that it's only a … tattoo? God, it's not that bad. It just [makes me mad] how rude and upsetting people can be. I don't care."
The Woman was Shocked by the Awful Behavior Towards Her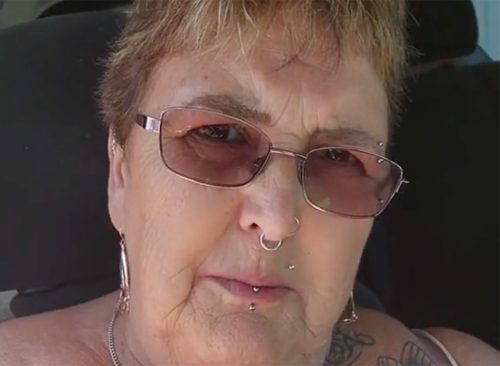 Shortly after posting the clip talking about the incident, @sweetheartnan66 shared another video from her car and apologized for being angry. "I'm sorry guys. 'I'm just so disgusted in people and their attitudes towards tattoos and piercings …. The amount of men that were staring at my [body]  and, you know, it was so embarrassing. One guy nearly fell over. It was so embarrassing." She added, 'I just can't believe it. That really did upset me today. I feel really good about me. I feel good about the way I dress. I love who I am, and then some person says something like that. It's frustrating."
"I'm the Way I'm Supposed to Be"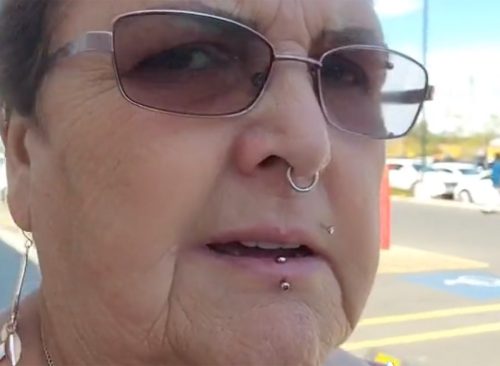 @sweetheartnan66 may get upset about the hateful comments directed towards her, but isn't giving much attention to the "trolls." "I may not be to everybody's liking," she said in a three minute video. "That's just how it is. We're all made not to like everybody. If you like me and you say you love me, then love me. Don't hate me. Love me for who I am. I'm not perfect. We all have our imperfections. I might be crazy. I might not be the normal sort of woman that people know, but at least I'm an individual. I'm the way I'm supposed to be."
"I'm Not Going to Take" Any Bad Comments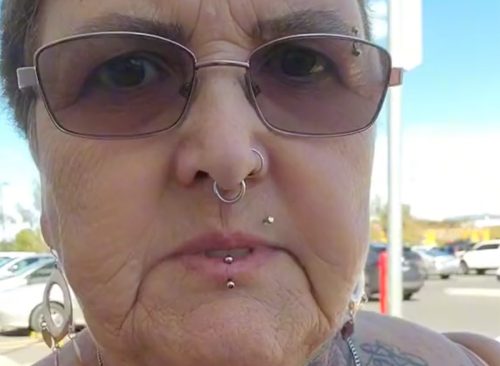 Unfortunately, it didn't sound like the bullying had stopped at that once incident referenced in the first clip. In the video mentioned above, @sweetheartnan66 said people have been sending her mean comments, but said she's not tolerating it. "I'm not going to take [nasty comments] from these trolls anymore, so message me all you like with your nonsense. I'm either going to block you or just like your comment and go, 'yep, whatever!' You're only making fools of yourself. I can do that on my own. I don't need a troll to make a fool of me," she joked. 
TikTokers Are Flooding the Woman's Comment Section with Positive Messages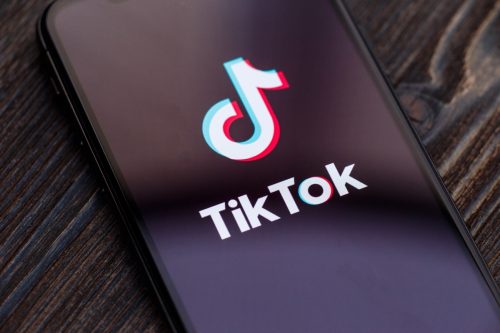 Many people who have seen the TikTok are rushing to support @sweetheartnan66. One person wrote, "If I saw you in person I would be like, OMG I can't wait to look like that when I'm older." While another said, 'I immediately thought how amazing you look, I love seeing older generations with tattoos. You are beautiful!' Another commenter wrote, "I think you look FABULOUS. I bet you were a right rebel in your youth. I admire you so much. If I saw you I would be so pleased. DON'T CHANGE." A fourth stated, "Dude, if I walked in a room and had to pick a seat it'd be beside you. You look cool …"
Heather Newgen has two decades of experience reporting and writing about health, fitness, entertainment and travel. Heather currently freelances for several publications.
Read more