These Are "Just Stop Oil"'s Most Controversial Stunts: From Throwing Soup on Van Gogh's Painting to Smashing Cake on King Charles Waxwork
600 Just Stop Oil protestors have been arrested since the beginning of October.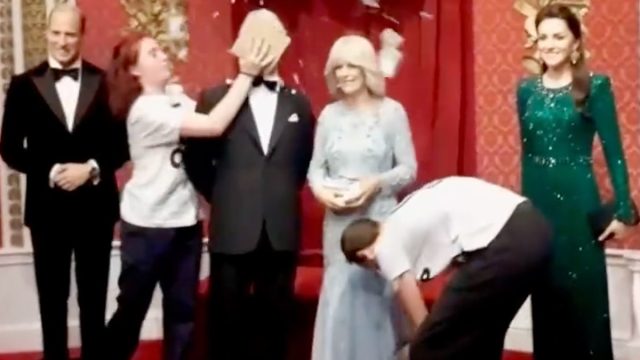 The UK-based activist group Just Stop Oil has attracted headlines and heated opinions over the last few months for their splashy stunts. Earlier this month, they threw tomato soup at Van Gogh's Sunflowers in London's National Gallery; previously, two protestors glued themselves to a depiction of The Last Supper. It's all, they say, to make officials take action to stop climate change.
News outlets report that more than 600 Just Stop Oil protestors have been arrested in various protests—which have included blocking roads and racetracks—since the beginning of October. Their goal is to "ensure that the government commits to ending all new licenses and consents for the exploration, development and production of fossil fuels in the UK," they've said. 
Their latest demonstration happened in London this week when two protestors smashed a chocolate cake into the face of a waxwork representation of King Charles in the local Madame Tussaud's. "We are here because we seek to protect our freedoms and rights, because we seek to protect this green and pleasant land which is the inheritance of us all," the protestors said before they were arrested. These are five of the most controversial stunts Just Stop Oil has engineered so far.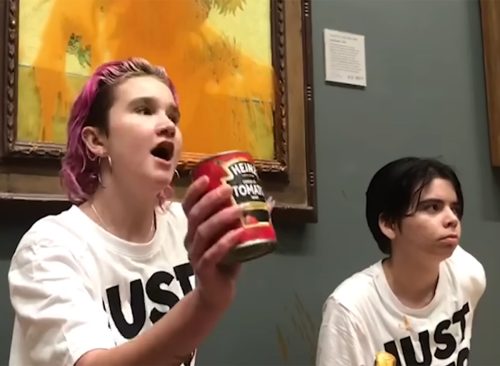 On TK, Just Stop Oil protesters threw Heinz tomato soup at Vincent van Gogh's Sunflowers painting at London's National Gallery. "What is worth more, art or life?" said one of the activists, the Guardian reported. "Is it worth more than food? More than justice? Are you more concerned about the protection of a painting or the protection of our planet and people?"
The museum said the painting was not harmed, and police were called. A witness told the Guardian he worried about targeting "a beautiful piece of art, which is the best of humanity." He added: "They may be trying to get people to think about the issues but all they end up doing is getting people really annoyed and angry."
RELATED: Scientists Discovered a Real-Life "Death Pool" on the Bottom of the Sea. It Kills Everything That Swims Into It
2
Glued to "The Last Supper"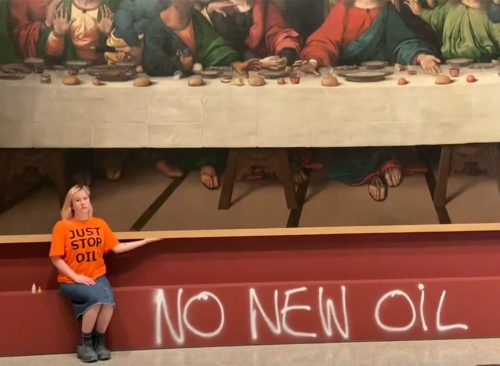 In July, five Just Stop Oil activists spray painted "No New Oil" underneath the painting Copy of Leonardo's The Last Supper at London's Royal Academy of Arts. They then glued their hands to the frame. The 500-year-old duplicate of Leonardo da Vinci's masterpiece has been attributed to a student of da Vinci's.
"We have no time left, to say that we do is a lie. We must halt all new oil and gas right now, we will stop disrupting art institutions as soon as the government makes a meaningful statement to do so," Lucy Porter, 47, a former teacher who participated in the demonstration, said in a statement provided by Just Stop Oil. "Until then, the disruption will continue so that young people know we are doing all we can for them. There is nothing I would rather be doing."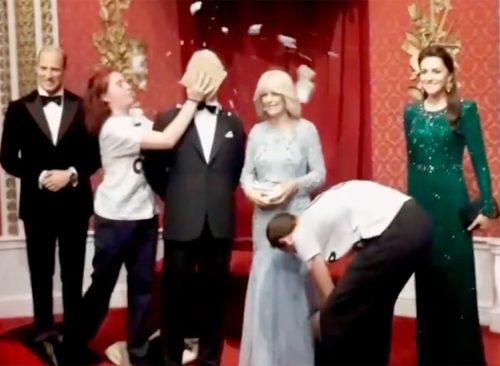 The Telegraph reported that on Monday morning, Eilidh McFadden, 20, and Tom Johnson, 29, bought tickets to Madame Tussauds, where they stepped over the security rope separating King Charles' waxwork from the public and slapped a chocolate cake in its face.
"We are here because we seek to protect our freedoms and rights, because we seek to protect this green and pleasant land which is the inheritance of us all," they said. In a statement, Just Stop Oil added: "The science is clear. The demand is simple: just stop new oil and gas. It's a piece of cake." Four people were arrested in the incident, police said.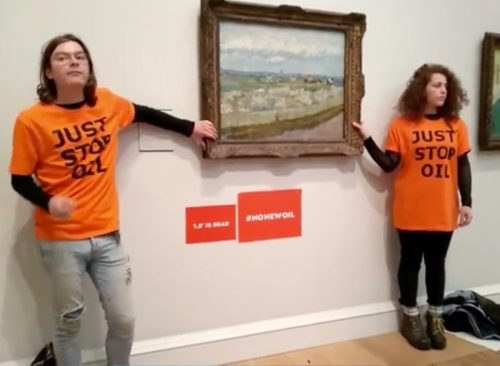 In June, a pair of protestors, aged 21 and 24, glued themselves to the frame of Van Gogh's Peach Trees in Blossom at the Courtauld Gallery in London. In a statement, Just Stop Oil said they called on "government to end new oil and gas and for art institutions to join them in civil resistance."
"As a kid I used to love this painting," said Louis McKechnie, one of the protestors, in the statement. "I still love this painting, but I love my friends and family more, I love nature more. I value the future survival of my generation more highly than my public reputation. The scientists are saying we need to end fossil fuel licensing and the government is pouring sand in their ears. I'm not willing to be marched to my death by the fossil fuel companies and their government puppets."
RELATED: Squatters Take Over a Colorado Home. Now the Owner is in a Homeless Shelter.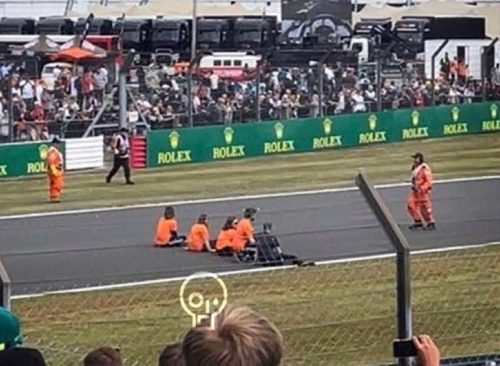 In June, a group of Just Say Oil protesters jumped onto the track on the opening lap of the British Grand Prix, ESPN reported. They avoided injury because of a crash on another part of the track. Seven people were arrested.
"Big up to them," said competitor Lewis Hamilton at the postrace press conference for the top three finishers. "I didn't know what the protestors were for, so I only just found out. I just said big up the protestors. I love that people are fighting for the planet. So we need more people like them."