Man Wins 7 World Championships in Pizza Acrobatics by Performing Jaw-Dropping Tricks
Pizza tossing is a legitimate sport, and Tony Gemignani is its LeBron James.
Pizza acrobat. In case you didn't know, that's what you call someone who is really good at tossing pizza dough into the air, spinning it around, catching it, and doing other stunts with it without it falling to the ground. And the guy who's probably the best pizza acrobat in the world is Tony Gemignani, 49, who learned to do it at his brother's pizza restaurant in Castro Valley, California, at the tender age of 17.
Gemignani who now has 40 pizza restaurants around the U.S., holds 13 world championship titles, seven for pizza acrobatics and six for cooking. He also holds claim to Guinness World Records, including the "largest pizza base spun in [two] minutes," The Washington Post reports.  Here's what you need to know about pizza acrobatics.
Gemignani Is the LeBron James of Pizza Acrobatics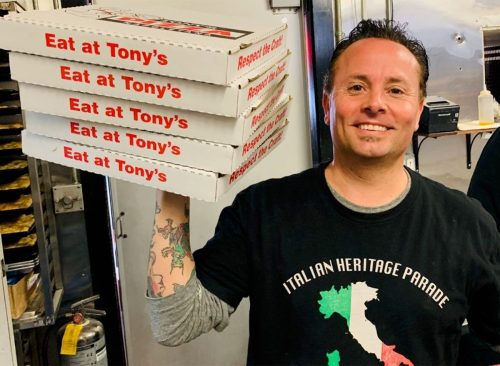 That's the judgment of ESPN.  Gemignani's even performed with the Harlem Globetrotters. "Tricks that you see a Harlem Globetrotter do with a basketball, we do with a pizza," he told the Post.
Pizza acrobatics are sometimes called pizza freestyle or pizza tossing, the Post reports. It's been a competitive sport since the 1980s and now includes the yearly World Pizza Games in Las Vegas and the Pizza World Championships in Parma, Italy. In the sport, pizza acrobats toss stretched pizza dough into the air and perform jaw-dropping tricks, sometimes with two pizzas at a time.
Gemignani uses 10 to 12 pizza doughs per routine, which lasts two to three minutes each, he told ESPN.  And he sets his routines to music. "I always liked something fast — 'Wipe Out,' the theme from Mission: Impossible, 'I'm All Shook Up,'" Gemignani says. "Classic songs with high energy."
There's Even a Move Named After Him
It's called the Gemignani, he told ESPN. "I perfected being able to roll two doughs across my shoulders simultaneously," he says.  Acrobats choreograph their own routines and perform them in front of a live audience. The routines are graded on criteria including dexterity, difficulty, showmanship, synchronization, and creativity. If you drop the dough, you lose points.  "You shouldn't drop it that much," Gemignani said. "You've got to pull it off and be the best you can."
As with any competitive sport, pizza acrobatics requires focus, coordination, physical strength, and practice, Gemignani said.  "It's hard. You need agility," he said. "There's some stamina involved. You'd be surprised."
RELATED: 36 Latest Bone Chilling Details About the Idaho Murder Case