Philly "Chicken Man" Who Completed 40 Consecutive Days of Eating Rotisserie Chicken Reveals Health Side Effects of the Stunt. "Never, Never Again."
Consumption brought some pain.
A Philadelphia man who has attracted viral fame (and many local fans) after deciding to eat 40 rotisserie chickens in 40 days has found the spotlight and the stunt not as appealing as he thought it would be. Recently he revealed his chances of repeating the feat: "Never, never again." Alexander Tominsky, a 31-year-old waiter, announced his campaign on his Twitter account.
This week, he told the New York Times why: Much of the world is in pain, so he wanted to do something that would bring him pain to make others happy. "Sounds weird," he said. "But I just felt like I was doing this for a very important reason." Read on to find out what the reason was, how the 40-chickens-in-40-days campaign proceeded, what his wife thought of the whole thing, and how the big finale attracted celebrity attention.
1
Stunt's Conclusion Brought a Crowd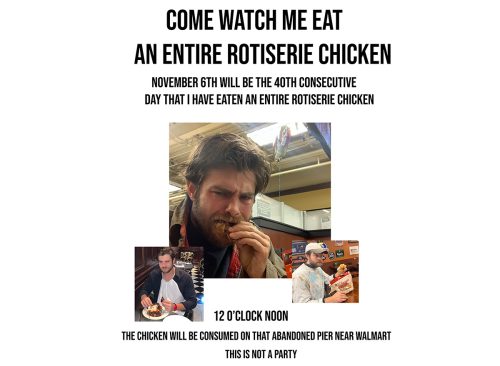 When it came time for Tominsky to consume his 40th chicken on day 40, he posted flyers around the city inviting spectators to "that abandoned pier near Walmart" at noon on Sunday, TK, to witness the feat. The Delaware River Waterfront Corporation tweeted its support, as did U.S. Senate candidate John Fetterman.
What ensued was a true event. "Hundreds of people of all ages (too many to count) gather in front of a line of caution tape, behind which there's a makeshift red carpet, and a table covered in a white tablecloth," Billy Penn reported. "Some folks carry signs with avian-themed encouragements, others bring folding chairs. Several bring their children. One attendee arrives donning a full head-to-toe chicken costume." Keep reading to learn more and see the video.
2
Wife "Really, Really Proud"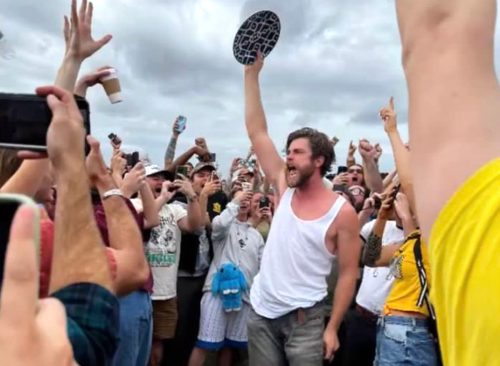 The public gathering was the first time Tominsky's wife, Mallory Weston, had really paid attention to her husband's chicken consumption. She told Billy Penn his efforts made her "really, really proud." "I know that he's been looking forward to it, and has been just thinking about how much it's gonna uplift the people of Philadelphia," she said. "I don't think there was anybody that was disappointed here today. And hopefully people that see documentation of the event wish that they were here to see it themselves."
3
Observers Praise Philly Spirit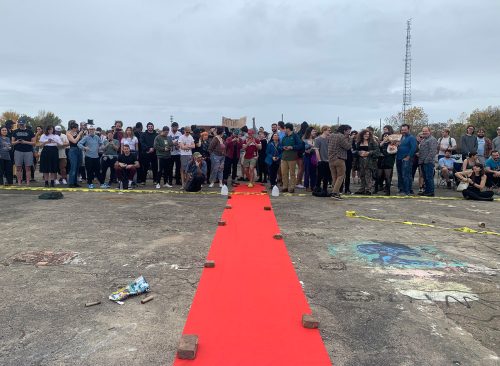 Tominsky consumed the chicken in about an hour, as attendees looked on. He has learned to slow his roll; he put away the original chickens inside 20 minutes. As for what drew the crowd: "Philly's got a sense of identity that feels very different from like a large city," said one observer."I've lived in New York and LA, and I think there's like a sort of underdog element to this city and then I think also to this event … I think people will kind of expect this from Philly." "I think that the best part about it is … in another city, you get a text about chicken guy, you'd be like what on earth are you talking about?" said another audience member. "It felt so normal. Oh, out on the Walmart pier? Yeah."
4
Consumption Brought Some Pain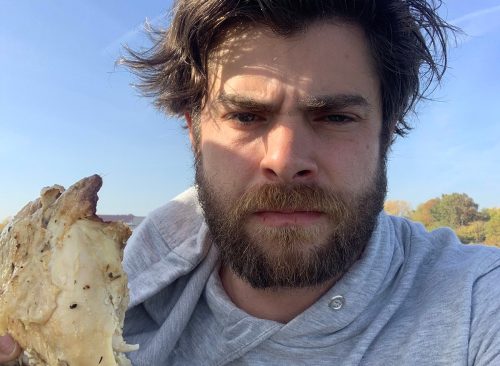 Tominsky told the New York Times that he was originally going to eat thirty rotisserie chickens in thirty days, but he extended the challenge by ten days because he felt he hadn't gone far enough. At first, the experiment brought no ill effects. But after a couple of weeks, he started feeling lousy. Specifically: He experienced cramps, felt bloated from the chickens' sodium content, and said he could "feel the pulse of my heart in my stomach."
He found the dark meat too salty and greasy, and the white meat too dry. The chickens were his only meal of the day. He persevered, he said, because he thought, "This is just a little bit of an inconvenience and a sacrifice for the joy that it seems to be bringing people."
RELATED: 10 Most Embarrassing Ways People Have Gone Viral This Year
5
Stunt Left Him Feeling "Really Gross"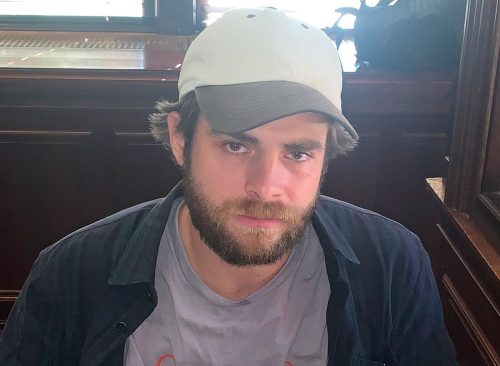 Tominsky told Billy Penn that he felt "really gross" after consuming that 40th chicken. He said that since his campaign began, he had lost 14 pounds, has frequent bouts of dizziness and achiness, and has also been experiencing cramps and brain fog. Asked if he would do another marathon food stunt, he said, "Never, never again," But he said the turnout made him happy and he was glad to provide some joy to Philly residents. He "really liked the idea of a bunch of people enjoying someone eating food," he said. 
Michael Martin is an experienced writer and editor in New York City. He specializes in helping people make life-improving decisions on their health, nutrition, finances, and lifestyle.
Read more