Hero Pastor Stops 4 Masked Men From Potential Armed Robbery and Starts Praying for Them
"God is about to change the plot of the enemy."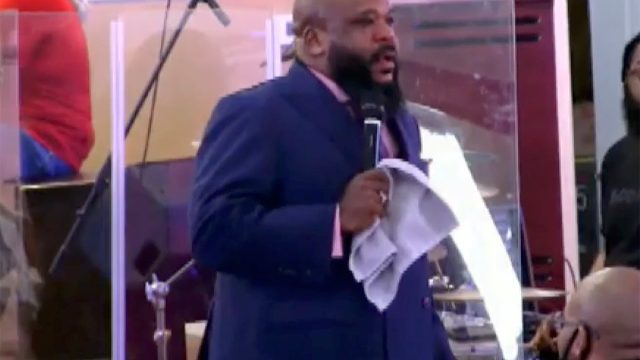 A police officer turned pastor potentially stopped a robbery or shooting when he noticed four masked and armed men attending his Sunday service in Ferguson, Missouri. "I immediately just had the hairs [stand] on the back of my neck. I'm like, 'OK, something's about to happen,"' Marquaello Futrell told local station KSDK. "Me being a former police officer, I immediately noticed their waistbands. I'm like, 'There's something there.'" So, quickly and creatively, he intervened—and it was all caught on video. Read on to find out how he did, and what happened after that.
Sermon Interrupted By Suspicious Group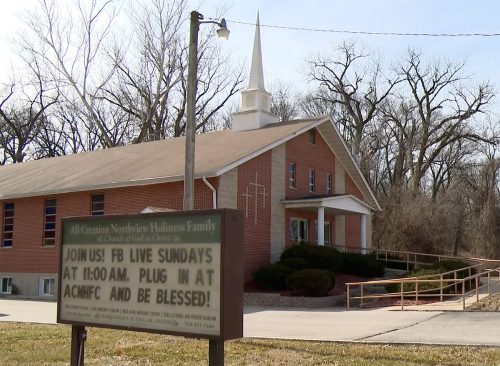 On February 12, Futrell was in the midst of his sermon at All Creation Northview Holiness Family Church when he noticed four masked men had walked in with firearms in their waistbands. They sat near the back of the church. Being a former St. Louis cop, Futrell was immediately suspicious. He instructed the church's camera people, who regularly record the service, to direct their cameras on those four men. 
Pastor Approaches Men With Microphone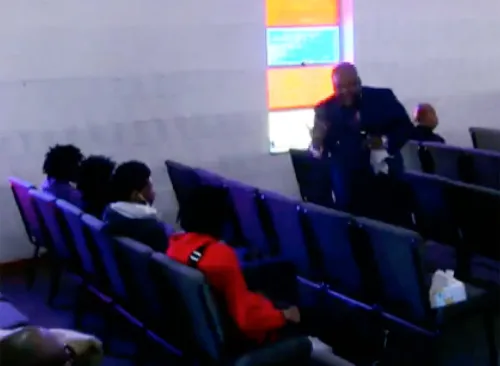 Futrell then directed his congregation to pray for the men while directing staff to lock the church doors and call the police. He told the men they were on "Holy Ghost turf" and that "God's changing the plot." The pastor then walked over to the men with a microphone. "Who sent y'all here?" he asked them. "Just saw the church and decided to come? Talk to me." 
Don't You Play With Me," Pastor Warns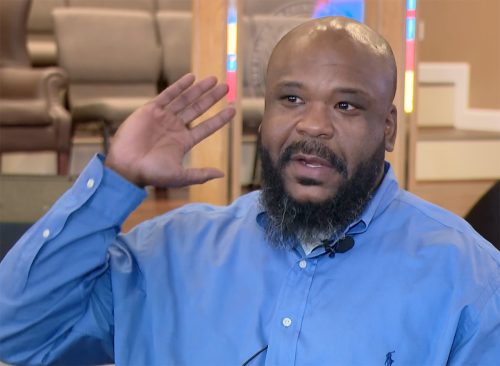 Futrell then addressed the congregation: "Let's praise God for them coming. I said praise God that God sent them here!" The crowd began to applaud. Then he turned his attention back to the suspicious quartet. "Don't you play with me—I still got a cop anointing, and I still know what's going on, and I still know what's about to happen," he said. "God is about to change the plot of the enemy. Lift your voices and shout unto God for what he's about to do!"
RELATED: 36 Latest Bone Chilling Details About the Idaho Murder Case
Congregation Laid Hands
The pastor then asked the men if it would be OK if members of the congregation prayed for them. They assented, and several members of the crowd drew near to pray, some even placing their hands on the men. "See, that wasn't so bad, brothers," Futrell told the group. 'Thank you all for letting us pray for you. And we're thankful that for whatever reason, the Lord let you all come here. That when you walked on the ground, you walked on Holy Ghost turf." He added: "We are thankful that for whatever reason the Lord let you come here and I believe that you will never be the same again." 
Men Connected to Local Robbery, Pastor Said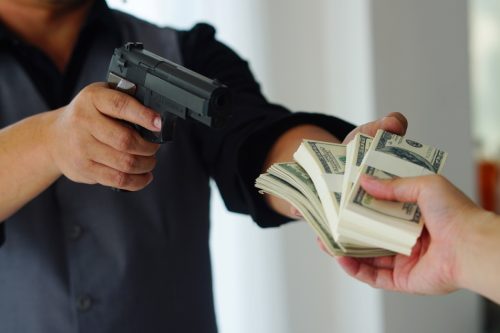 The men were in the church for about 20 minutes before they left, Futrell said. "We believe that they were up to no good," he told Fox News. "I just had that instinct, and I just started maneuvering while trying to conduct service to keep the people calm." "We believe they were intending to rob us, do some harm," he added. "But we believe God is the greatest power and we cannot be defeated." Futrell said one of the men was allegedly connected to an earlier robbery at a convenience store. Police believe the men drove away in a Dodge Charger, and they're still at large.