Mormon Mom Influencer Arrested After Allegedly Throwing Metal Chair at Her Boyfriend That Hit Her 5-Year-Old Daughter
The TikTok influencer faces multiple charges.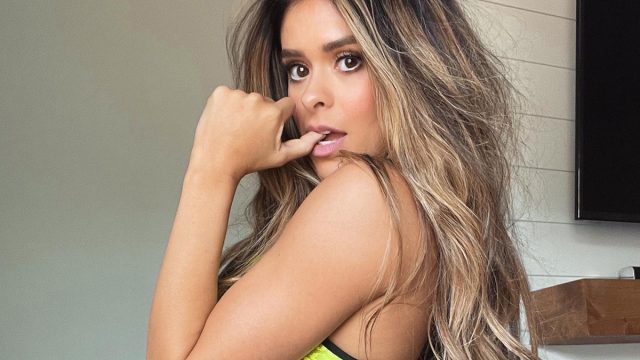 Influencers are famous for sharing details about their lives they want people to know about. Sometimes it comes in the form of cute outfits, transformative beauty treatments, chic interior design choices, or even parenting hacks. However, you never know what is going on behind closed doors of social media's most followed and influential people. Taylor Frankie Paul, a Mormon mom influencer, was arrested for domestic violence last week, and details about the charges filed against her are not something you would expect from her cheeky TikTok videos. 
Paul Allegedly Threw a Chair at Her Boyfriend, But It Hit Her Daughter
Paul was arrested in Utah on February 23. At the time, her boyfriend, Dakota Mortensen, declined to comment about the incident, saying she "didn't mean to hurt anyone" and revealing that he wasn't the one who called 911, as reported by The Daily Mail. 
This week new details have surfaced via court records, which claim Paul threw "heavy mental chairs" at her boyfriend. However, instead of hitting him, she struck her five-year-old daughter. She also "put him in a chokehold," "threw a phone at him," and made him "fear for his life." 
He Reportedly Warned Her, But She Wouldn't Stop
The document explains that Mortensen warned Paul to stop throwing items at him since he was standing beside the child, but she wouldn't stop. 
According to the documents, the chair left her daughter, Indy, with a "goose egg" bump on her head. The documents also reveal that the entire incident was caught on video, which is not yet public. 
She Faces Mulitple Felony Charges
Paul faces multiple charges, including a felony count of aggravated assault, two felony counts of domestic violence in the presence of a child, and one misdemeanor count of child abuse and criminal mischief. 
"I'm not even allowed to speak with her," Mortensen previously said. "I really don't want to talk about it but I want to clarify a few things. "I didn't call 911," he maintained, adding it was probably a neighbor. "We didn't argue. I don't even want the truth to come out. She's so broken right now. I tried to help her."
"She's a good mom, she's going through a lot in her life right now. Taylor's been struggling, it's been a hard year for her. She is racked with guilt on her cheating scandal that cost her her marriage," he added. 
RELATED: Woman Who Found Out She Was Three Months Pregnant Weeks After Divorcing Her Ex Remarries Him and Claims They Are Happier Than Ever
She Lost Her Husband After Stepping Out of a "Soft Swinging" Agreement
Taylor has been documenting her struggles on social media, which largely revolve around her decision to "step out" of a "soft swinging" agreement she had with her husband and other friends. Then after getting pregnant with Mortensen, she suffered an ectopic pregnancy. 
Mortensen believes she has hit "rock bottom," adding, "She needs help, she hasn't had time to process the ending of her marriage. She's having a hard time forgiving herself for the swinging scandal. And then she had an ectopic pregnancy. I love Taylor very much and want to have a future with her," he continued. "We'll just have to let it go through the system and see how it pans out. I have no idea when I'll be able to see or talk to Taylor again. It could be days, weeks or months."