Mongo, a Utah Horse, is Reunited With Owner After Years of Running With Wild Mustangs: "It Didn't Even Seem Real."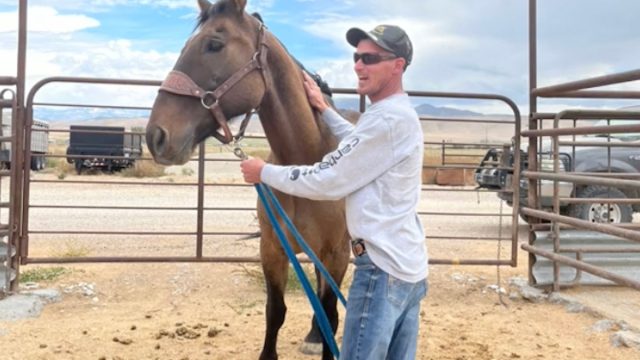 Utah resident Shane Adams lost his beloved horse, Mongo, eight years ago, and he'd long ago given up hope of the animal's return. In the intervening years, Adams experienced more than his share of bad luck—he was divorced, lost his home, and was in a car accident that left him with a severe brain injury. But in September, his luck turned in a major way: He was notified that Mongo had been found. 
When he got the message, he thought, "There is no way. You have got to be kidding me," Adams, 40, told Fox News Digital. "It didn't even seem real … To have him back is still not real." The two had developed a unique bond, Adams told the news outlet. "He is very special and has always been a part of my life," he said. Read on to find out how Mongo got lost and what led to an unlikely, long-awaited reunion.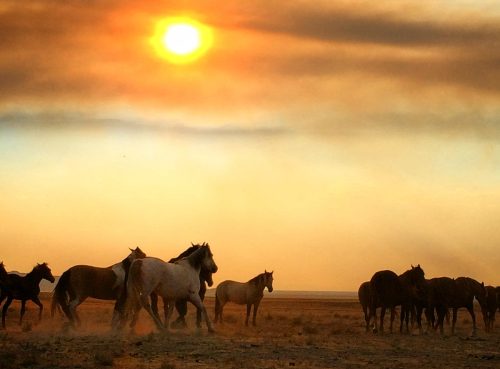 In March 2014, Adams was on a camping trip in the desert two hours from Salt Lake City. In the early morning, he heard horses rustling outside his tent and went to investigate. Then he saw Mongo break free and run after a group of wild Mustangs in the area. Adams attempted to chase after Mongo but was caught up in a snowstorm. "I thought he'd just come right back," Adams told Fox News. "That was his mentality — he never went far. I didn't think he would ever be gone."
2
Search Went On For Years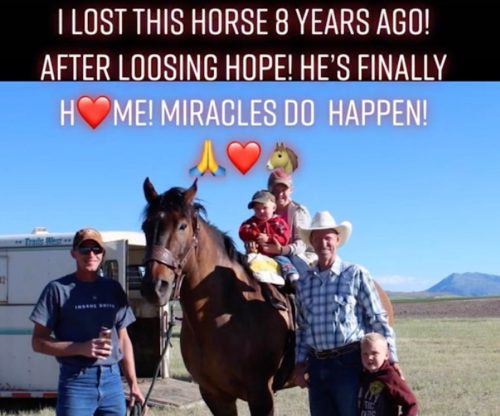 Adams searched for Mongo for three years, he said. Every weekend, he went out looking, accompanied by his father, Scott, who died last August. "I really wish my dad was here to enjoy this," said Adams. "My dad went out looking with me every time." Adams notified Utah's Bureau of Land Management (BLM Utah) and the local brand inspector that Mongo was missing. "I reported him missing and tried every person I could to find him," he told the Washington Post. "But I never saw Mongo again."
3
A Fateful Facebook Message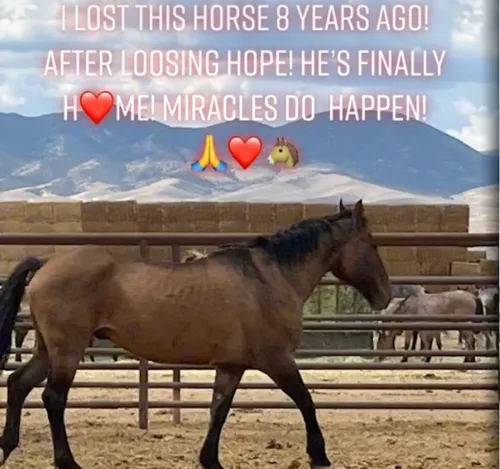 By 2017, Adams had given up hope and abandoned his search. "Since we didn't capture [Mongo] in 2017, we did not know what had happened. We thought maybe he was gone," said Lisa Reid, public affairs specialist at BLM Utah. The Bureau of Land Management estimates that about 71,000 mustangs roam free in the West. But on Sept. 27 this year, Adams got a Facebook message from a BLM Utah employee. They said Mongo had been found.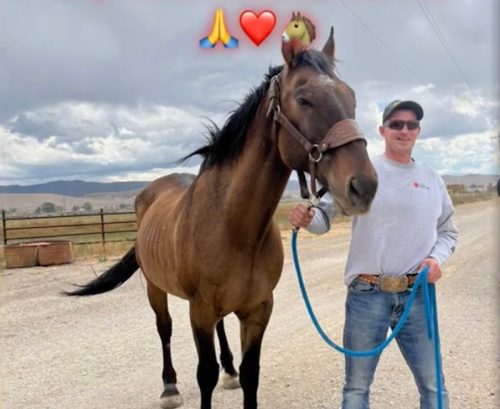 Mongo had been found with a group of horses on Dugway Proving Ground, a high-security location in Utah. The agency's horse specialist thought Mongo stood out in the pack—he was larger than the other horses and didn't try to flee, a sign he was domesticated. BLM Utah contacted the local brand inspector. He discovered Mongo's brand on his left shoulder, which had been covered up with winter fur. That led them to contact Adams.
RELATED: 10 Most Embarrassing Ways People Have Gone Viral This Year
5
Four-Hour Drive and a Smooth Reunion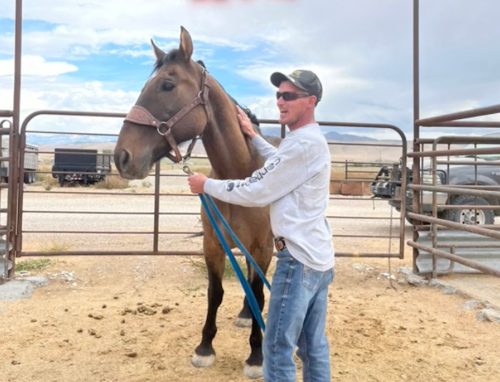 The next day, Adams said he drove for four hours to pick up Mongo. The horse was skinnier—he had dropped nearly 400 pounds during his time in the wild—but the pair recognized each other immediately. Mongo walked directly into the trailer Adams had hitched to his truck. "He was his calm, mellow and normal self — like he had never left at all," Adams told the Post. "But I was overjoyed. I couldn't believe it. It was like a dream come true." 
He's now trying to make sure Mongo regains the weight he's lost. "There's not a lot of food out there with this drought, and the horses look like walking death because they're so skinny," he told the Post. "I get why Mongo ran off — horses are tribal animals and will follow each other. But I'm happy we can take care of him now and make sure he eats enough food."
Michael Martin is an experienced writer and editor in New York City. He specializes in helping people make life-improving decisions on their health, nutrition, finances, and lifestyle.
Read more