Missing Dog Travels 150 Miles Across Frozen Bering Sea Ice to Reunite With Alaskan Family
"Sounds like a Disney movie—but it's real!"
A one-year-old Australian shepherd that got away from its family walked 150 miles through Alaska's frozen terrain before he was returned, sporting a mysterious bite but otherwise not much worse for wear. Last month, Nanuq (Siberian Yupik for polar bear) and his family were visiting Savoogna on St. Lawrence Island when he disappeared along with another one of the family's dogs.
The second dog returned home about two weeks later, but reuniting with Nanuq was a bit more complicated, CBS News reported. Read on to find out what happened during the dog's incredible adventure.
Facebook Post Leads to Reunion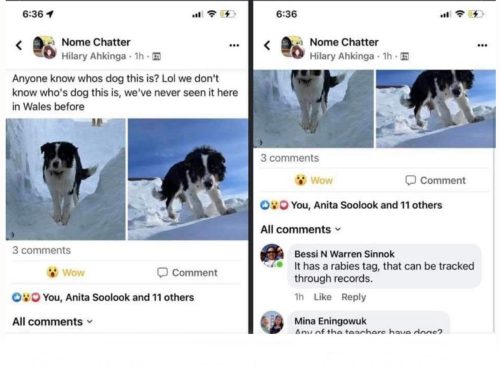 Nanuq's family thought he was gone forever. But about a month after he disappeared, people in Wales, a town about 166 miles northeast of Savoogna, began posting pictures online of what they described as a lost dog. "My dad texted me and said, 'There's a dog that looks like Nanuq in Wales,'" Mandy Iworrigan, Nanuq's dog mom, told CBS.
When she checked out the pictures on Facebook, she instantly knew the lost dog was Nanuq. "I was like, 'No freakin' way! That's our dog! What is he doing in Wales?'" she said.
Reasons for Nanuq's Route Unclear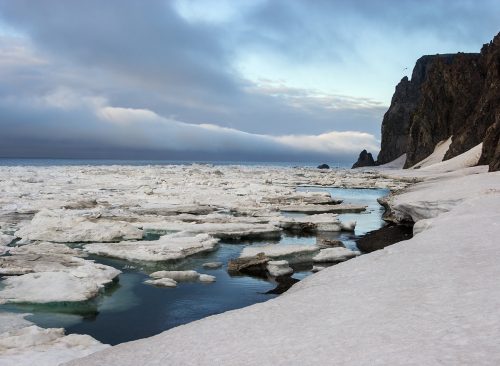 Wales is a tiny town on the far western edge of the Seward Peninsula. To get there, Nanuq likely walked over plates of sea ice that feed into the Bering Strait. Iworrigan couldn't believe the Australian shepherd traveled so far in freezing temperatures and over frozen terrain.
"I have no idea why he ended up in Wales. Maybe the ice shifted while he was hunting," she said. "I'm pretty sure he ate leftovers of seal or caught a seal. Probably birds, too. He eats our Native foods. He's smart."
"Sounds Like a Disney Movie"
Iworrigan used airline miles to put Nanuq on a direct flight from Wales to the family's home in Gambell on April 6. She filmed herself and her daughter Brooklyn greeting the plane. At the end of the 12-minute video, Brooklyn runs toward the plane's cargo, yelling for joy, accompanied by their other dog, Starlight. "Sounds like a Disney Movie—but it's REAL!" Iworrigan wrote on Facebook. 
Healthy, Except for Mysterious Bites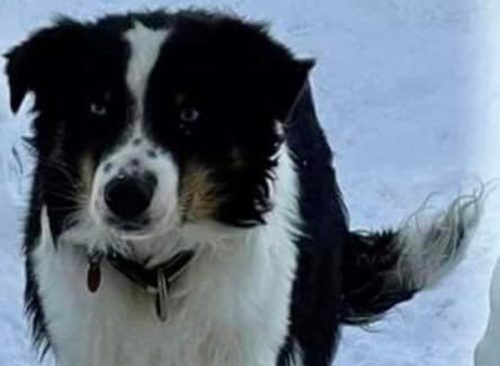 Despite being in the wilderness for a month in the dead of winter, Nanuq seemed to be healthy, except for a swollen leg caused by two bites from an undetermined animal. The family thinks it may have been a polar bear. "Wolverine, seal, small nanuq, we don't know, because it's like a really big bite," Iworrigan said. 
The cost of Nanuq's treatment was $750, which the family couldn't afford. Local animal nonprofit PAWS of Nome stepped in and helped Nanuq get the care he needed. Now the family's two wandering pups are safe at home. "If dogs could talk, both of them would have one heck of a story," Iworrigan said.
RELATED: Newest Bombshell Details in Lori Vallow Daybell Case
In January, Another Incredible Reunion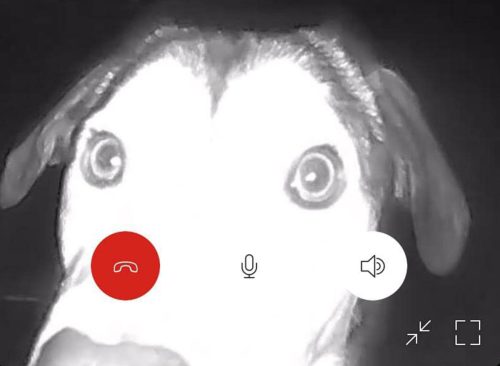 This year has brought at least one other highly unusual and heartwarming dog reunion story. In late January, a rescue dog named Bailey escaped from her new home and ran 10 miles back to her previous home, an El Paso, Texas, shelter, where she rang the doorbell to be let in.
"I'll be darn, at 1:42 in the morning she's ringing the doorbell like, 'I'm home,'" the shelter's director, Loretta Hyde, told USA Today. The next day, Bailey was reunited with her new owner, who promised to fit her with another leash and a GPS collar. "Dogs are smarter than we give them credit for," said Hyde.