NYC's "Evil Elmo" Now Tormenting California Tourists as Cookie Monster
Police "advise the public to not engage."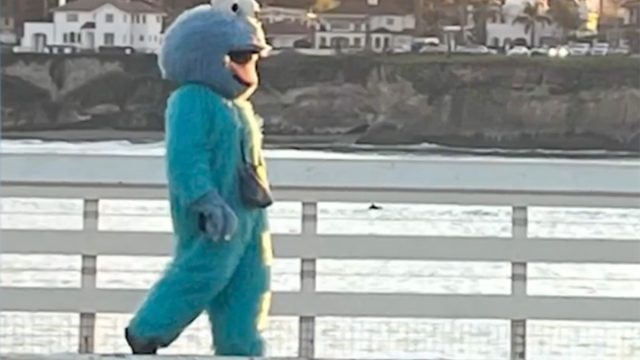 A street performer who once hurled anti-Semitic slurs in New York City while dressed as the Sesame Street character Elmo has apparently changed venue—and costume. The man is now harassing passers-by on the Santa Cruz, California, boardwalk while dressed as Cookie Monster, the New York Post reported this week.
Adam Sandler, 59, is now soliciting tips at the Santa Cruz wharf while yelling obscenities and denigrating tourists, police told the SF Gate. It's the kind of behavior that led NYC media to dub him "evil Elmo" a decade ago.  Read on to learn more about the man's bizarre behavior and criminal history on both coasts.
Police "Advise the Public to Not Engage"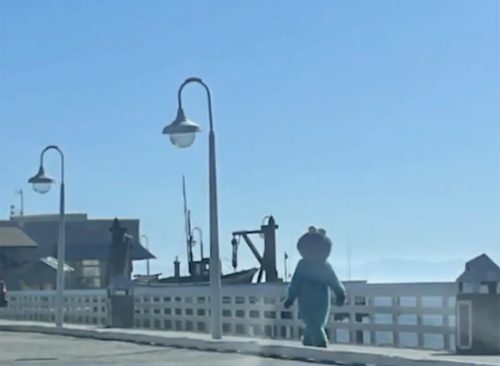 Police in Santa Cruz say they've received numerous reports about a man in a Cookie Monster costume, yelling threats, conspiracy theories, and generally frightening people. They add the man is believed to be Sandler—not related to The Wedding Singer actor of the same name, the Gate helpfully points out.
Santa Cruz police have warned locals to avoid Sandler, who hasn't been arrested or charged with any crimes. "We are getting calls from people who say he is 'creepy.' Based on his history, we advise the public to not engage with this individual," Santa Cruz police spokesperson Joyce Blaschke told KRON. "Steer clear from him."
"The Creepy Monster"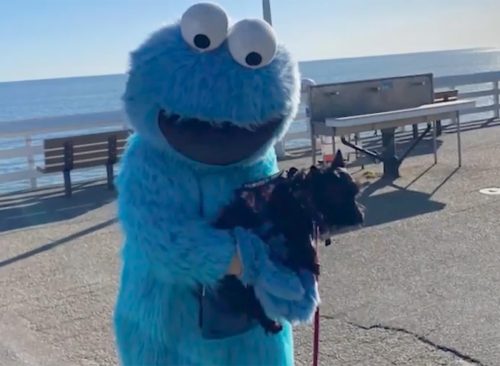 "It's the creepy monster, not the Cookie Monster," a visitor to the Santa Cruz Wharf told KSBW.  "At first glance, it just seemed like maybe it would be fun to do a selfie with him, but we saw him coming out making a commotion and getting in people's faces," another wharf visitor told the station. "I saw him on the day the Sesame Street creator died," a wharf employee said. "He was sad about that. He kept showing up and people started complaining about him."
About That History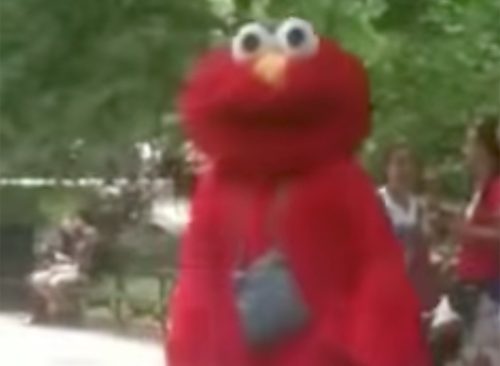 Sandler previously attracted headlines in September 2012 when he was arrested for shouting anti-Semitic remarks and threatening passers-by in Times Square. Then called Dan or Danny in press coverage, Sandler pleaded guilty to disorderly conduct and was dubbed "Evil Elmo" by local reporters.
In December 2012, Sandler told the New York Post he was planning to leave New York City for Hawaii so he wouldn't be associated with a Super Mario impersonator who was arrested for allegedly fondling a woman in Times Square. He also told the paper he was Jewish. "I'm moving to Honolulu to do Elmo," he said. "There's too many people doing it here."  But that's not what happened.
Sentenced to Jail for Stalking, Grand Larceny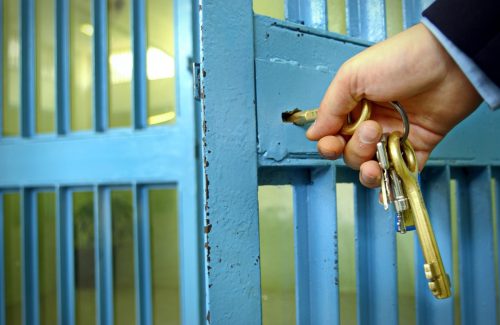 In 2013, Sandler was sentenced to a year in jail for grand larceny and stalking after trying to extort $2 million from the Girl Scouts, where he worked as a temp. Two former co-workers at the organization received permanent orders of protection against him, the SF Gate reported. "In some of his e-mails, Mr. Sandler demanded $2 million in cash and threatened to spread the false story that the Girl Scouts regularly arranged sexual encounters between men and its campers if he did not get the money," the New York Times reported.  Experts said it was likely Sandler would serve only eight months of the sentence; it's unclear how much time he actually did.
RELATED: 36 Latest Bone Chilling Details About the Idaho Murder Case
A Move to San Francisco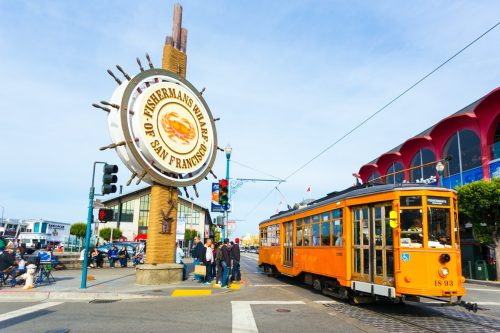 Sandler then changed coasts and became an infamous street performer at San Francisco's Fisherman's Wharf. Local business owners and tourists complained that Sandler made the area feel unsafe. Proprietors of nearby shops even hung signs in their windows saying he had no connection to their businesses.
In 2014, he was arrested for allegedly threatening a food vendor, reportedly shouting. "He goes on rants and raves and accuses people of conspiracy theories," said Troy Campbell, then-executive director of the Fisherman's Wharf Community Benefit District, at the time. "He frightens visitors and locals. Whatever business he's in front of has a horrible day." Sandler was held on $250,000 bond for the San Francisco arrest, although he apparently did not serve jail time. Sandler has also been spotted in Los Angeles and Honolulu. It's not clear when or if he changed his name, how he supports himself financially, or what his affinity for Sesame Street characters is.