Driver Smashes Her Jeep Into Bakery, Then Gets Nails Done Next Door, Says the Owner
Instead of brakes she hit the accelerator, police report says.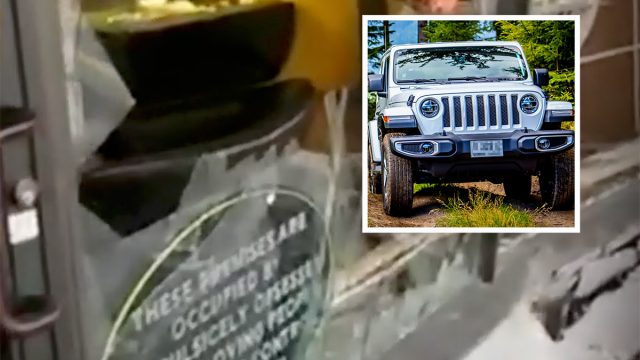 A Canadian woman allegedly crashed her car into the storefront of a bakery last week, then, unfazed, she got her nails done at a salon next door, according to the bakery's co-owner. Security video shows a Jeep driving into the front of Guilty Pleasurez Dezzert Cafe in Woodbridge, Ontario, at 8:38 a.m. on March 3, shattering windows and pushing cake displays into the back of the store, CTV News reported. Read on to find out more, including what the woman said when the bakery owner confronted her, what's next for the business, and if any criminal charges are pending. 
After the Crash, the Driver Reportedly Kept Nail Appointment, Bakery Owner Says
Thankfully, nobody was at the café at the time of the crash; it was due to open at 11 a.m. But the news came as a shock to one of the bakery's owners. "I received a phone call from my mom saying that I need to rush to the store because somebody has crashed into the store," Tanvir Bawa told CTV News.  When Bawa arrived at the store, he discovered that the nail salon next door had contacted his sister, Simran, another co-owner of the bakery, to tell her the driver who crashed into the storefront was inside the salon.
Woman In Nail Salon: "I'm Fine," Bakery Owner Claims
"So, she basically crashed into the store, her husband came [and] picked up the car, while she was getting her nails done," Bawa told CTV.  He confronted the woman at the nail salon, who seemed unbothered. "I asked her, I was like, 'Are you okay?' [..] and she's just giggling. She's like, 'Yeah, I'm fine,'" he said. "I'm telling you, this whole time, not one single apology from them," Simran Bawa told CTV News. "I'm not looking for an apology, but this is a big thing. To me, it's a big thing, this is pretty much my bread and butter."
Store Seriously Damaged
Simran Bawa said the store suffered major damage. "It's not just putting a wood piece up on the window because there was glass broke," she said. "There is serious structural damage. There's no way of just doing patchwork and saying, 'This will work.' They will have to tear the whole thing down."  On Monday, Simran said her insurance provider told her that because the store's electricity and water weren't interrupted, and there's still a door to the bakery, they are required to stay open. "My store is [an] eyesore at the moment, and just looks like a business that is closed for good," she told CTV.  The store plans to reopen fully as soon as the glass inside is cleaned up. 
Nail Salon Offered to Reschedule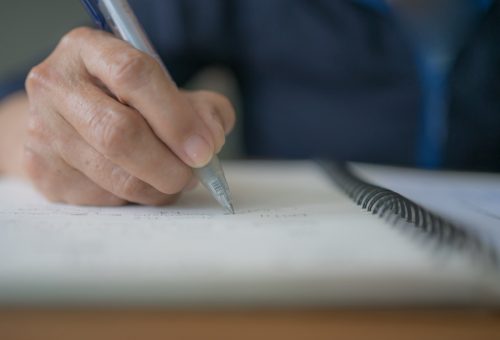 "According to what the police report says, the lady was supposed to brake but instead of braking she hit the accelerator," Simran Bawa told blogTO. "We don't know what speed she was coming out, but to go over that curb you got to have enough speed for the car to have that impact."  Bawa said the nail salon had offered to reschedule the driver's appointment, saying they understood if she was "shaken up by the situation." "The lady told them 'no, I need this done because I have a party to attend tomorrow,'" Bawa said. "Maybe she was in shock, but you can't be in shock and say things like that." 
RELATED: Woman Who Allegedly Used Aunt's Debit Card for Over $12,000 in DoorDash Orders is Held on $18 Million Bond
No Charges Expected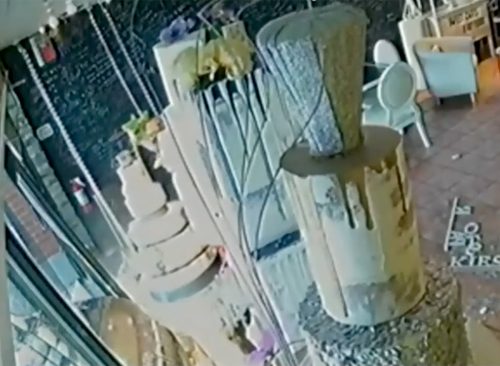 According to CTV, no criminal charges are expected to be filed. A police spokesperson confirmed the collision but declined to provide further information; the crash was considered a minor incident with no reported injuries, no charges made, and no indication of criminality.