Cheerleader Abandoned by Her Teammates Competes Solo at Championships
A Nebraska cheerleader whose teammates quit weeks before the state championships went on to compete solo, earning a top-10 finish and plaudits from observers worldwide. Katrina Kohel, 17, found out she was the only person left on her squad last month when the three other members quit for what has been reported only as "personal reasons." Her coach suggested that she and Kohel go to the championships as observers. "I want to go to state, but I'm not going to watch," said Kohel. "I want to go and still compete." And compete she did. Read on to find out what happened.
"We Became Team Nebraska"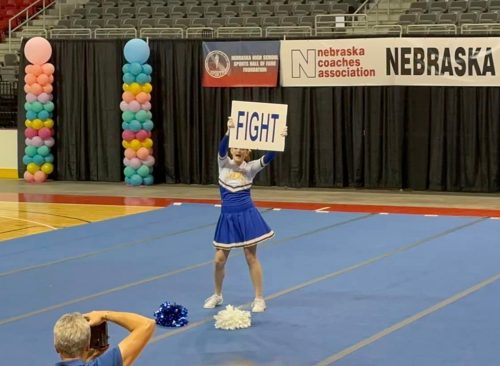 On Feb. 17, Kohel performed a scaled-down three-minute cheerleading routine at the championship, competing against other squads with an average of 10 members. She "won the hearts of the crowd that cheered her on from the second she ran out onto the floor alone," the Washington Post reported.  "At that moment, it was like we became Team Nebraska," said her coach, Cheryl Ott. "Nobody was individual anymore."
"I Just Wanted to Finish What I Started"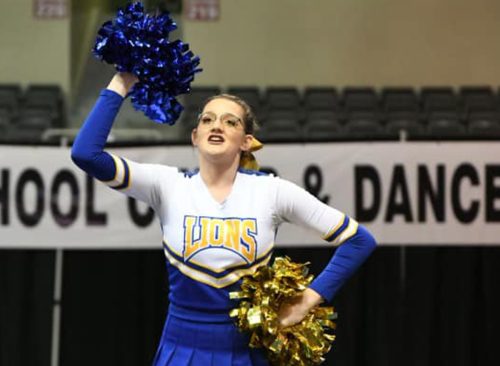 Kohel was a longtime cheerleader who remembers going to her first football games and being transfixed by the cheering women in uniform. For four years, the current high school senior balanced three sports—track, basketball, and volleyball—with cheerleading, a yearlong commitment.  Some wondered how she had the confidence to perform at the state championships alone. "I just wanted to finish what I started," Kohel told the Post. "And just end my career with a bang, no matter what was going to happen."
Coach and Cheerleader Had Two Weeks to Prepare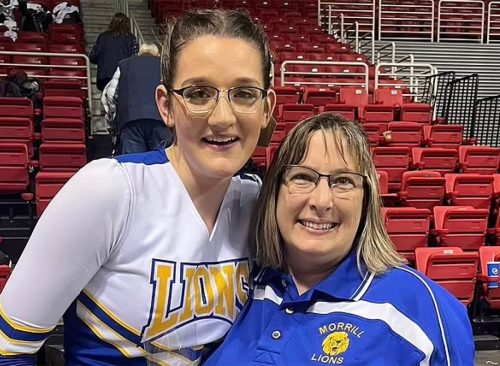 Kohel told her coach she still wanted to compete on Feb. 2. The championships were 15 days away. The pair modified the planned group cheerleading routine, editing parts Kohel wouldn't be able to do by herself and scaling down signs so that Kohel would be able to flip them on her own. She competed in the "Game Day" category, which judges cheerleaders on "their ability to lead the crowd, proper game day skill incorporations/performance, motion/dance and overall routine," the Post reported. The requirements: do a band chant, respond to a football game situation given by the announcer with an offense or defense cheer; lead the crowd in a floor cheer; and end with the school fight song.
"Everybody Was Cheering With Me"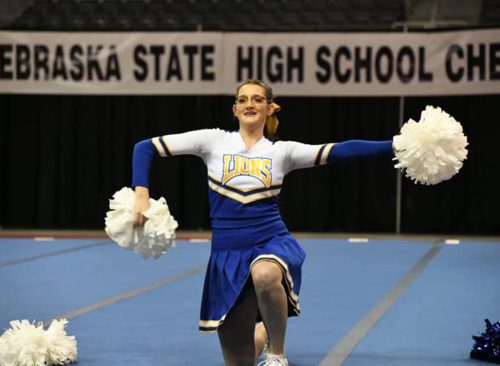 But when she ran out onto the floor alone, Kohel said her mind went blank and she had to rely on "muscle memory" to get through the routine. The crowd supported her the whole way.  "I probably had the loudest crowd involvement there," Kohel told the Omaha World-Herald. "Everybody was cheering with me, and it was an amazing feeling." Even though Kohel couldn't perform team elements like the other squads, she nabbed eighth place out of 12. Kohel's grandmother, who was in the stands taking video, gave her a yellow rose to match one of the school's colors. 
RELATED: Woman Who Found Out She Was Three Months Pregnant Weeks After Divorcing Her Ex Remarries Him and Claims They Are Happier Than Ever
Her Advice: Don't Give Up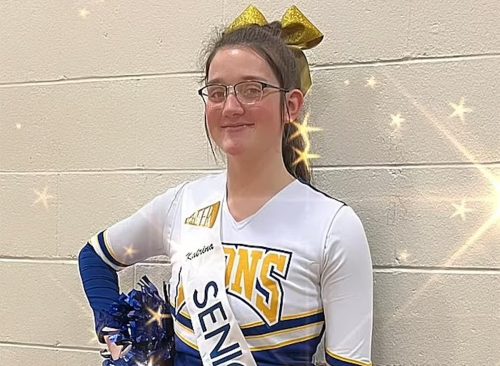 The Morrill High School cheer team praised her performance on Facebook. "She did it! What an amazing routine!" the squad wrote. "Thank you to each one of our cheer friends, family and fans far and near who packed the stands and cheered with Katrina! The crowd was booming with callbacks on her chants and cheers! Her jumps were soaring through the air and her school spirit was contagious." "I was extremely proud of myself and everything," said Kohel. "I couldn't have asked for a better coach or a better season, even if I was there by myself. It still turned out amazing." "I feel really proud of myself for knowing I can do it and not giving up," she said. "Just getting it done."