Biker Pops Wheelies, Runs Red Light, Scoffs at Cops, Gets Hit by Truck and is Arrested
"Here's a good way to get yourself killed," the Volusia Sheriff's Office said.
Joshua Richardson did not have a good night. The Florida motorcyclist faces multiple charges and is accused of evading sheriff's deputies before being hit by a truck Friday in Volusia County, Florida. The Volusia Sheriff's Office posted a video of the incident on Facebook. "Here's a good way to get yourself killed," the office said. Here's what happened.
Deputies Spot Bikers Reportedly Popping Wheelies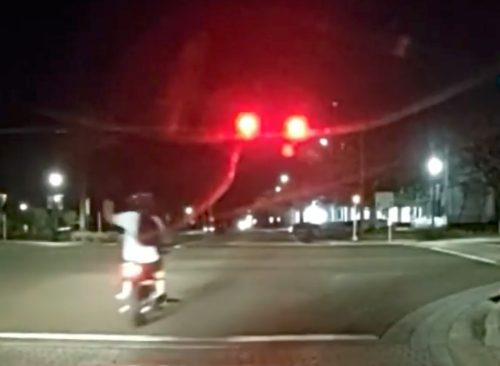 Richardson was part of a group of bikers accused of popping wheelies on Old Dixie Highway in Volusia County. Deputies pursued the bikers, according to the county sheriff's office. "The group accelerated, fled at high speed and continued driving recklessly, passing vehicles across solid double lines," the sheriff's office said on Facebook. Dashcam video shows the bikers weaving among the cars at high speed.
The bikers ignored a red light at the intersection of North Beach Street and West Granada Boulevard, the sheriff's office said.  "One of them took the opportunity to look back and flip off the deputies behind him, after which he entered the intersection," the sheriff's office said.  The biker proceeded "directly into the path of an oncoming truck," it added.
Biker Gets T-Boned by a Truck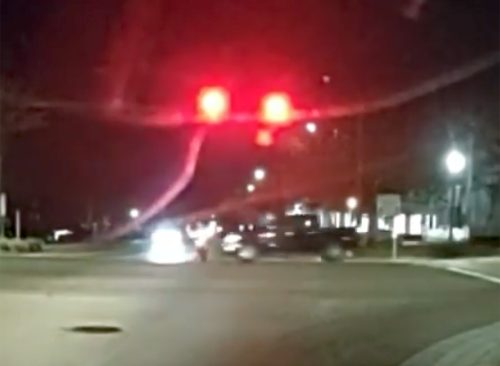 The biker, identified as Richardson, was apparently T-boned by the truck. Surprisingly, the biker not only survived the crash, he also got up and tried to run away, the sheriff's office said.  But deputies quickly caught up with him and arrested him.
"Do You Think This Is Funny?"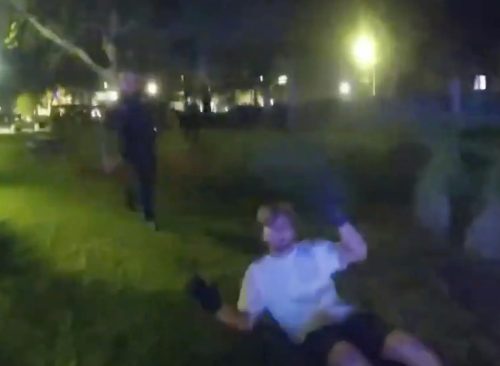 Sheriff's office video captured the conversation between deputies and the man, identified as Richardson, as they took him into custody.
Biker: "I'm hurt."
Deputy: "Idiot."
Biker: "I know."
Deputy: "You know how your leg doesn't get hurt? You don't run from the cops and crash your bike."
Biker: "Do you think this is funny?"
Deputy: "No, I don't think it's funny. It's incredibly stupid."
Biker: "We're being chased by 12 cops in the middle of nowhere. What am I supposed to do?"
Deputy: "Stop and figure out why we're chasing you."
RELATED: 36 Latest Bone Chilling Details About the Idaho Murder Case
Richardson is charged with fleeing or attempting to elude law enforcement, resisting without violence, and leaving the scene of a crash.  He is cited for failing to stop at a red light and passing in a no-pass zone.  It's unclear if the truck's driver was injured.