The 10 Deadliest Beaches in the U.S. Known for Shark, Surfing and Hurricane Fatalities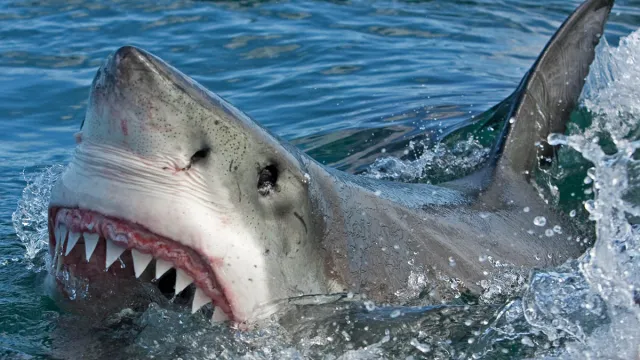 Not since the release of Jaws in 1975 have Americans been casting such an anxious eye on the nation's coastal beaches. Increasingly strong storms, more devastating hurricanes, and—yes—a seeming increase in shark sightings and attacks have dominated the warm-weather news cycle. All of them have been at least partially attributed to climate change. (One factor in the rise of shark sightings may be due to water becoming warmer closer to shore.)
Warming atmospheric conditions are causing stronger, more destructive storms. Surfing—never the least risky activity—may have an increased degree of difficulty as sea-level rise makes waves get bigger. And atop all that, the rise in social media ensures that dramatic incidents are more often documented and reported.
Travel Lens recently rounded up the ten deadliest beaches in the U.S.—those known for the most surfing, shark, and hurricane fatalities. Using data collected by the National Oceanic and Atmospheric Administration and The Shark Institute, the site assessed those risks on a scale of 1 to 10. Here are the ten most dangerous.
10. Fort Lauderdale, Florida – 5.37 Danger Score
With 3 surf zone fatalities and 2 shark attacks since 2010, and 120 hurricanes between 1851 and 2020, this sunny tourist destination just made the top ten. "Florida was the state most affected by hurricanes which explains why seven out of the top 10 most dangerous beaches are found in this state," says Travel Lens.
9. Gulf Shores, Alabama – 5.38 Danger Score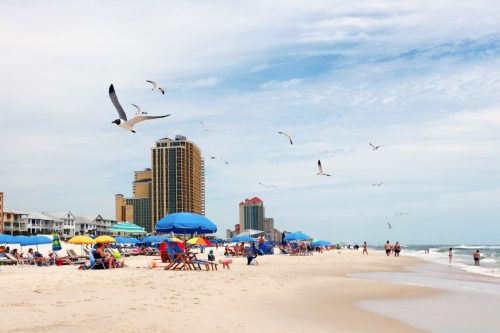 This Alabama beach ranks high because it's had 3 surf zone fatalities and 3 shark attacks since 2010, and 23 hurricanes between 1851 and 2020. "To stay safe in the water, the American Red Cross recommends swimming in designated areas supervised by lifeguards and always with a buddy. You should also check the weather and surf zone forecast before heading to the beach," say WHNT.
8. Oak Island, North Carolina – 5.54 Danger Score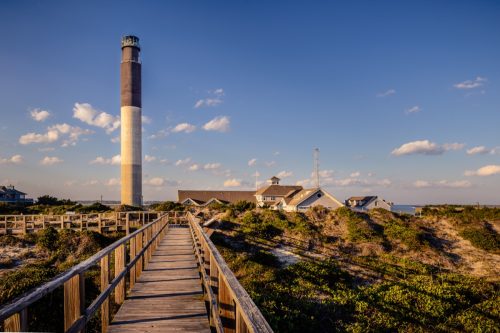 This Southern beach ranks high because it's had eight surf zone fatalities and two shark attacks since 2010 and 58 hurricanes between 1851 and 2020. "The list was published Jan. 27, and Oak Island town officials quickly took exception, noting Travel Lens didn't mention 'roughly a half a million beachgoers' who safely visited Oak Island during that same 12-year time frame," reports the News Observer.
7. Jacksonville Beach, Florida – 6.02 Danger Score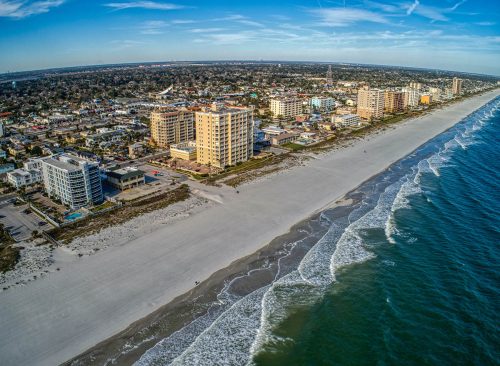 This north Florida beach ranks in the top ten, with three surf zone fatalities and three shark attacks since 2010 and 120 hurricanes between 1851 and 2020. Keep in mind, "The United States recorded 47 confirmed cases of unprovoked shark attacks in 2021, according to the University of Florida's International Shark Attack File. Considering the millions of tourists who visit beaches annually without dangerous encounters with sharks, that's not very many," reports AL.com.
6. Melbourne Beach, Florida – 6.35 Danger Score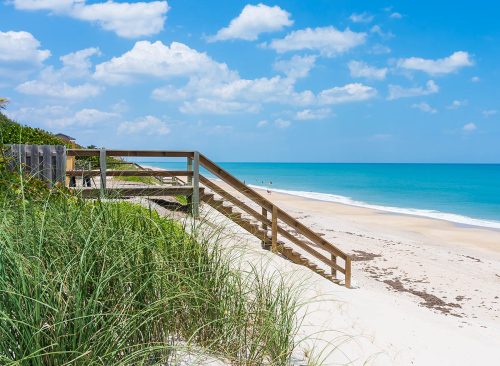 Melbourne Beach has had six shark fatalities and three surf fatalities since 2010. In 2021, a Melbourne Beach surfer had a close call with sharks, WPTV reported. Eli McDonald was surfing near an inlet when he had two close encounters with sharks that were chasing a school of fish, hoping for a quick meal. Luckily, he escaped uninjured. Other shark sightings in recent years: In 2021, a six-foot shark washed up on the beach, and in 2014, a shark bit a woman on the hand. 
5. Myrtle Beach, South Carolina – 6.61 Danger Score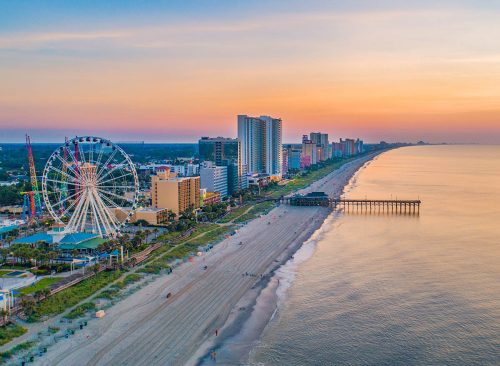 Myrtle Beach, with 15 surf zone fatalities and nine shark attacks since 2010. The most recent of these attacks came on Aug. 15, when two were reported within the space of an hour.  In one of those attacks, grandmother Karen Sites was in waist-deep water with her grandchildren when "I felt a sharp kind of intense pain on my right arm," she said. "And my first thought was, 'It's anything but a shark.'" At first, she thought she must have been stung by a jellyfish. Not quite: "I looked down and there was a shark attached to my arm." Stites received hundreds of stitches to close her wounds.
4. Panama City Beach, Florida – 7.16 Danger Score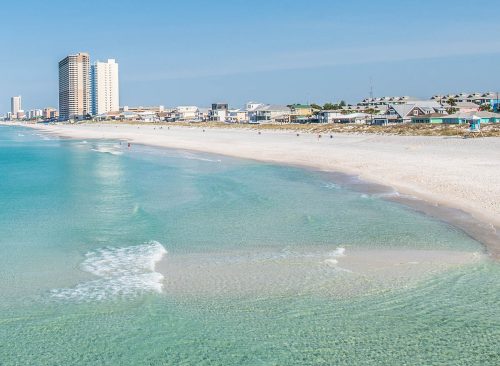 Travel Lens ranks Panama City Beach as the most dangerous for surfing—24 surf zone deaths have been reported since 2010, eight more than any other beach. Two shark fatalities were reported during that time period, relatively few for the top 10.  Last summer, an expert attempted to ease fears about sharks at the beach. "It's more dangerous for you to drive to the beach, than it is for you to actually go swimming," John Carlson, research biologist at NOAA Fisheries, told Panama City station WJHG. "You have a much better chance of getting hurt walking to the beach, carrying all of your stuff, than you do getting in the water where there would potentially be sharks."
3. Ormond Beach, Florida – 7.48 Danger Score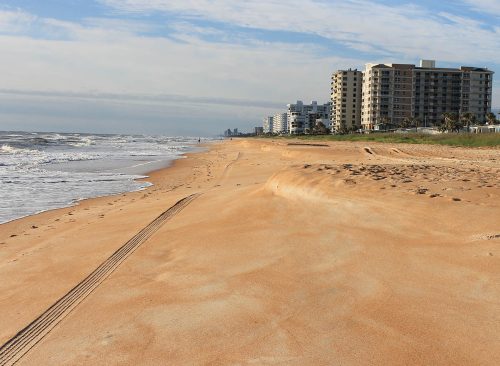 With eight surf zone fatalities and four fatal shark attacks since 2010, Ormond Beach comes in third with a danger score of 7.48. In 2017, Global News reported that a woman was bitten on the calf by a shark as she jumped off her surfboard at Ormond Beach. Luckily, she survived with only minor injuries. 
2. Cocoa Beach, Florida – 7.57 Danger Score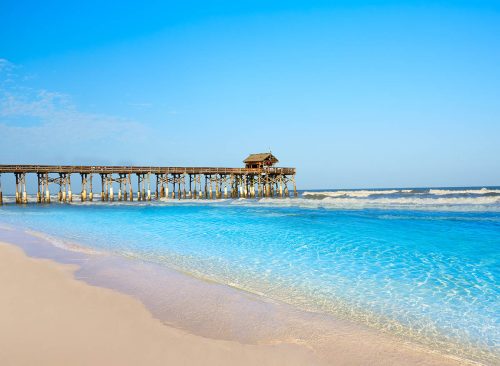 Cocoa Beach rated an overall danger score of 7.57. The beach has had as many surf zone fatalities as shark attacks—seven. Florida is the state most affected by hurricanes, which influences its beaches' ratings—Cocoa Beach, like the other beaches in the state, was slammed by 120 hurricanes in the period tracked. 
RELATED: Woman Who Went on Non-Refundable Holiday With Her Ex Despite Breaking Up 7 Months Ago Sparks Outrage
1. New Smyrna Beach, Florida – 8.14 Danger Score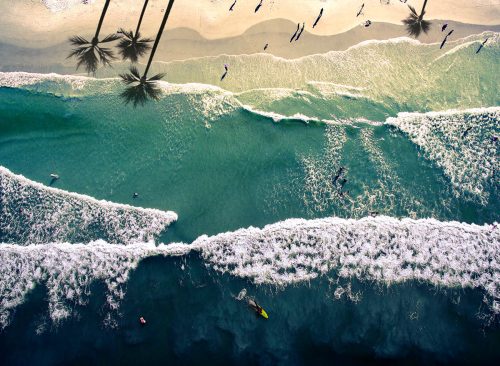 The deadliest beach in the U.S. is Florida's New Smyrna Beach, with an overall danger score of 8.14. New Smyrna Beach had more shark attacks than any other beach at 32—more than twice as many as any other U.S. beach.