Bride Criticized for Saying Sister Got Pregnant to Take Attention Away From Wedding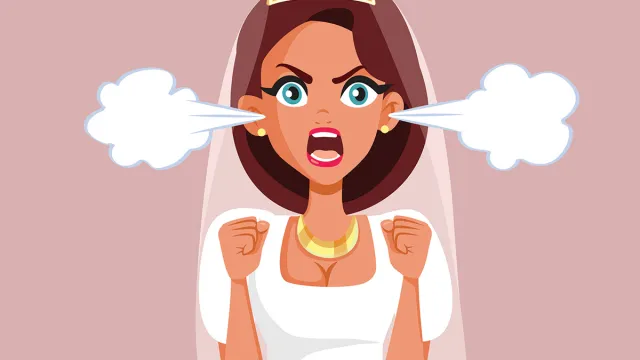 Here comes bridezilla! A woman is slammed for accusing her sister of getting pregnant deliberately to take "the attention away from her" on her wedding day. The unidentified bride said her sister is her maid of honor and wants to "kick her out" of the event. She originally took to Facebook to complain about the situation, asking if she was being "dramatic" before deleting the post. However, it was reposted in the Reddit subgroup Wedding Shaming and readers are outraged by the bride's "selfish" behavior.
1
The Bride's Sister Has Been Trying to Get Pregnant for A While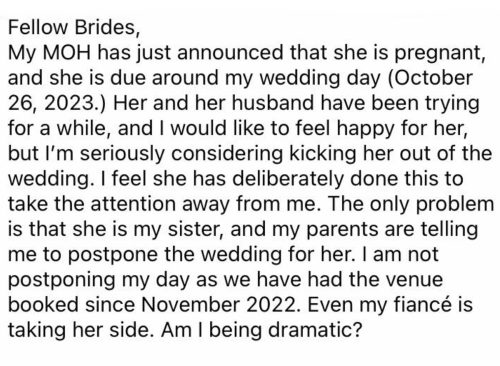 In her post, the bride revealed that her sister has been trying to get pregnant and it finally happened. "My MOH (maid of honor) has just announced that she is pregnant, and she is due around my wedding day (October 26, 2023.) Her and her husband have been trying for a while."
2
Bride Wants to Kick Her Sister Out of the Wedding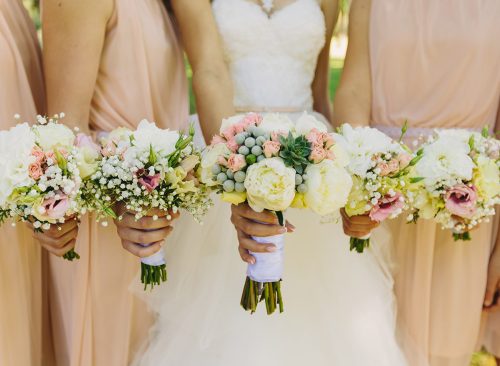 Even though the unnamed woman knows her sister has been trying to start a family, she is upset it happened around her big day. She's so angry over the situation that she no longer wants her in the wedding. "I would like to feel happy for her, but I'm seriously considering kicking her out of the wedding". 
3
The Woman Feels her Sister Intentionally Got Pregnant to Ruin Her Day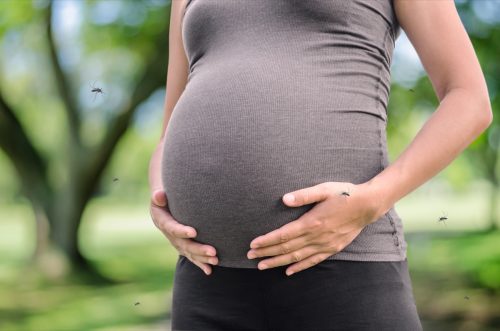 The bride went on to accuse her sister of getting pregnant intentionally to take the spotlight away from her.  "I feel she has deliberately done this to take the attention away from me." 
4
Bride's Parents Want Her to Postpone the Wedding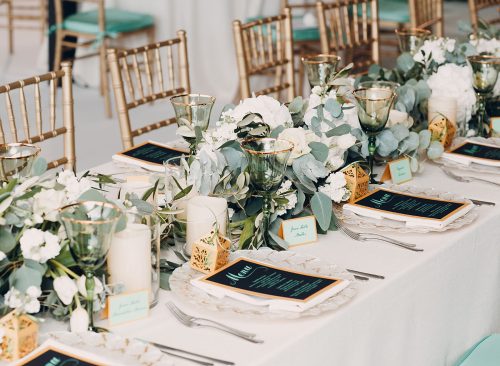 The woman concluded her post by sharing that her parents want her to change the date of the wedding and that her fiancé is on her sister's side. "My parents are telling me to postpone the wedding for her. I am not postponing my day as we have had the venue booked since November 2022. Even my fiancé is taking her side."
5
People Rushed to Defend the Sister
Before the woman deleted the Facebook post, social media users criticized her for being "selfish." The original poster of the Reddit thread took screenshots of the comments from Facebook, and they're not so kind. One person wrote, "This is the most selfish thing I've read in this group. You and Your sister should be happy for each other. You both have major life-changing events happening, and this is such an exciting time. Just be happy for each other." Another added, "So you know her and her husband have been trying for a while? But you still think she deliberately planned this? Hunny." Someone wrote, 'There's still time to delete this." Someone else commented, "You don't understand how giving up months of trying can reduce a couple who is struggling with infertility's chances of conceiving then I don't really know how to explain that to you. If you or no one you're close to have had to deal with that then I'm happy for you but some people can't afford to stop trying."
6
Readers Slammed the Bride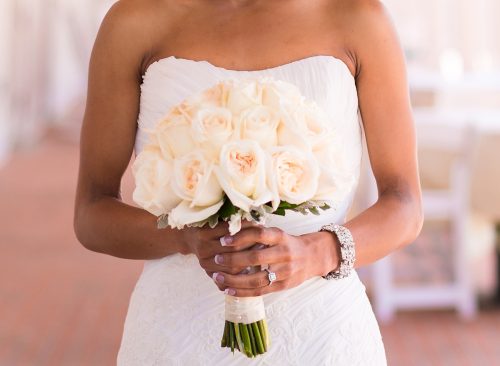 Not only did readers defend the bride's sister, but they had some harsh words for the woman. "Wowwwwww. If I were you, I'd read this again," someone wrote. "And if I were your fiancé, I'd probably reconsider my relationship with you. How dare someone else have a life that doesn't revolve around your wedding." Another added, "Her and her husband have been trying for a while. 'I feel she has deliberately done this to take the attention away from me. How does that make sense lol" Someone else commented, "I would re-read this… how could she deliberately plan to get pregnant if she's been struggling for a while to even have a baby? Just keep her included, if she goes into labor before/after just have a plan B. I'd be ecstatic for my sister if she was pregnant and had been struggling to get pregnant…"
7
The Parents Also Received Backlash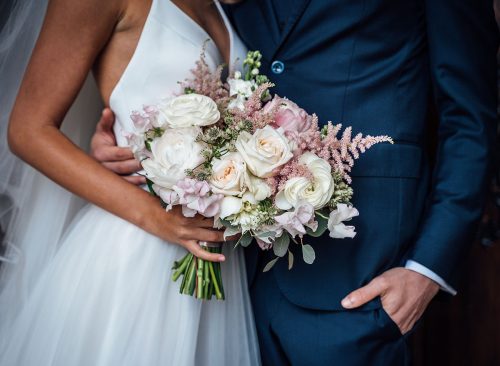 Many Reddit users were shocked that the parents suggested the bride postpone her wedding, and although they didn't agree with the bride, they had plenty to say about her mom and dad. "Asking one daughter to postpone a wedding that's 5 months out for another daughter's pregnancy is ridiculous," one person criticized. "The bride to be sounds super off the wall for saying it was done intentionally. Yikes." Another agreed, "Yeah asking them to postpone the wedding is kinda nuts." Someone else stated, "The bride is obviously nuts – nobody in the history of forever has deliberately gotten pregnant specifically to mess with another person's wedding. But the parents are also nuts. Postpone the wedding!? Do they not realize the expense involved in changing a wedding date after non-refundable deposits have been paid and contracts signed? After guests have already bought plane tickets?"
Heather Newgen has two decades of experience reporting and writing about health, fitness, entertainment and travel. Heather currently freelances for several publications.
Read more