Woman Finds 4-Foot Snake Hiding in Toilet For Days, "I Don't Think I Have Ever Screamed Louder"
The unwanted houseguest refused to leave for days. 
You've heard of Snakes on a Plane. But have you ever heard about snakes in a toilet? In what sounds like the ultimate horror movie, one woman was terrorized by a four-foot snake for several days. The creepiest thing about it? She discovered the reptile in her toilet while trying to go to the bathroom. Here are all the details about the bizarre story. 
1
Woman Returned From Vacation and Found a Snake in Her Toilet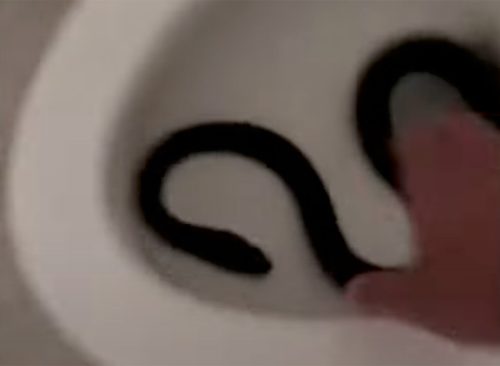 A Tuscon, Arizona woman, Michelle Lespron, returned from a vacation in mid-July and found an unwanted houseguest had taken up in her home. She tried to use the bathroom and found a 3-to-4-foot coachwhip in the toilet. 
2
It Was a "Very Large Snake"
"I lifted up the toilet seat, and he or she was there, kind of curled up, and it filled up almost the whole bowl. It was a very large snake," Lespron told McClatchy News.
3
She Never "Screamed Louder" in Her Life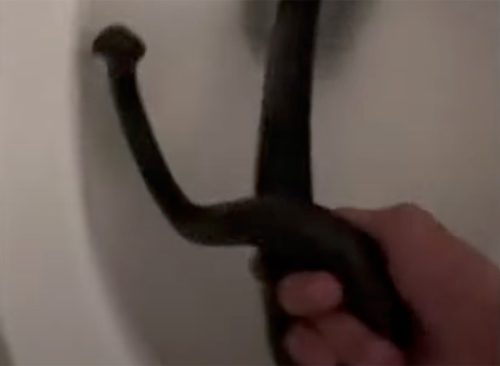 She maintains the snake was a toilet diva. "I don't think I have ever screamed louder in my life," she continued. "Then I slammed the toilet lid back down and ran."
4
They Tried to Catch the Snake for Three Days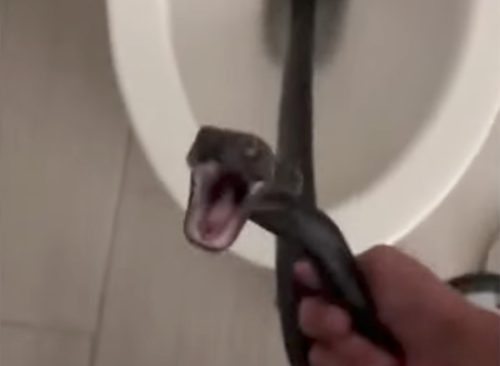 Over a three-day period, several attempts were made to catch the snake. Her father made the first attempt, but when he got close, the snake disappeared back into the pipe. She was forced to use the guest bathroom during this period. 
5
She Hired a Professional Snake Catcher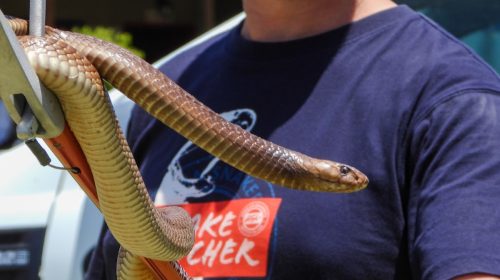 Finally, she called a snake-catching service, Rattlesnake Solutions. They sent a professional three times. In the first two, the snake escaped back into the pipe. In a video shared by the service, Nikolaus Kemme walks into the bathroom and snatches the snake from the bowl in less than 2 seconds.
6
Catcher Caught It on the Third Try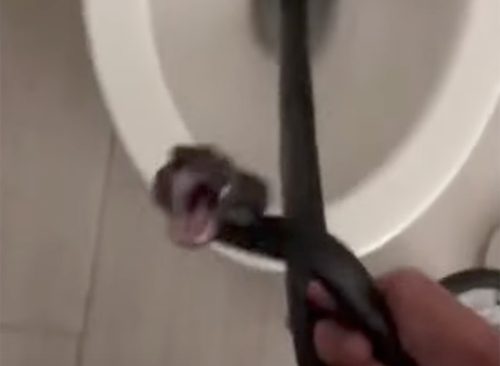 It bit and hissed at him and then bit him again while he rinses it off in the shower. "Nik is a hero," Lespron said. "That snake was like a toilet diva. It felt like it had ownership of that toilet and wasn't letting anyone get it out of there."
7
It Was a Black and Pink Coachwhip, a Rattlesnake
"A snake in a toilet!" they wrote in a Facebook post. "It happens – Nikolaus was called to a home to catch what was called in as a rattlesnake seen in the toilet. After 3 visits over 2 days, he was able to finally get hands on it – a beautiful black and pink Coachwhip!"
RELATED: 30 Area Codes to Watch for in Latest Phone Scam
8
Snakes Get into the Plumping "Through Vaults in Septic Systems"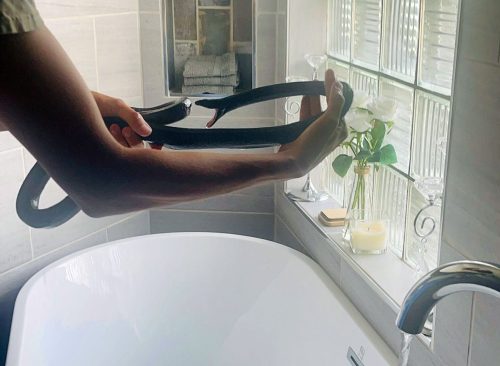 "This was in the Catalina Foothills near Tucson. We are called to catch one or two snakes in toilets each year, and it is very uncommon. These snakes may get into the plumbing through vaults in septic systems, flushed in from other homes, and a variety of other situations. If you're seeing this and thinking you need to put your home on the market, you should know this is among the rarest of situations we are called to handle," they added.