People Are Only Now Realizing the Bizarre Reason Behind Snickers' Name
It has a darker history than you think.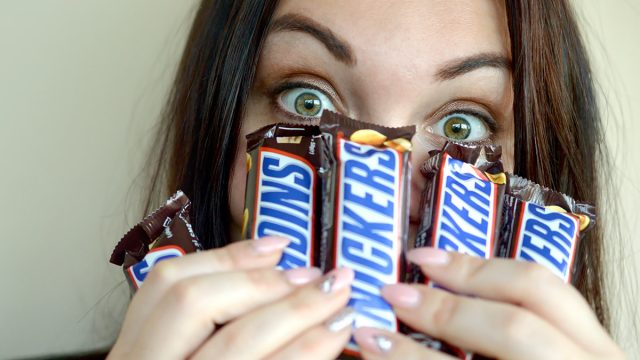 The Snickers bar. It's one of the most popular candies in the U.S, and it has been since it was introduced in 1930. But although most of us can name one of the brand's ubiquitous marketing slogans—from "Snickers satisfies you" to "You're not you when you're hungry"—the origin of the Snickers name is much more obscure. Read on to find out where it came from.
1
Who Were Snickers' Creators?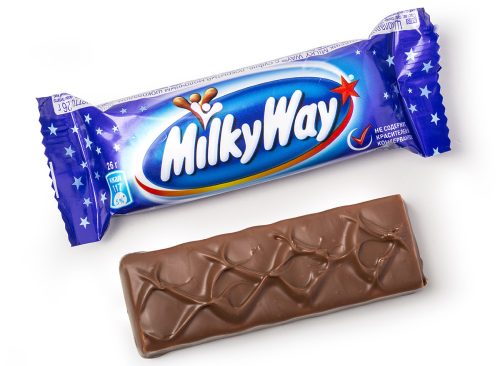 In 1911, Frank and Ethel Mars started a candy factory in Tacoma, Washington. Unfortunately, it failed because of local competition. In 1920, the couple moved to Minneapolis, where their Mar-O-Bar company—and its first offering, the Milky Way bar—became a smash hit in 1923.
2
How the Milky Way Farm Led to Snickers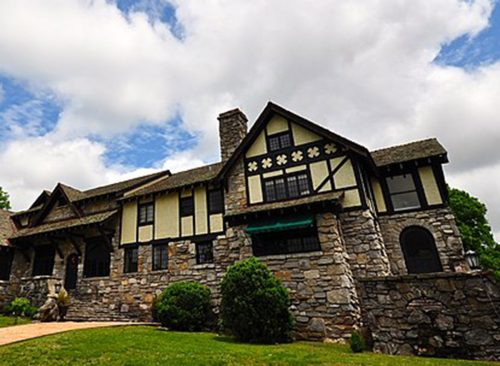 In 1920, the couple moved to Chicago. Frank, a horse-racing enthusiast, bought a 3,000-acre horse breeding farm in Tennessee with their newfound corporate wealth. They named the property "The Milky Way Farm." In 1930, the Marses began to develop a new chocolate bar they were certain would be a hit.
3
Who Was Snickers' Namesake?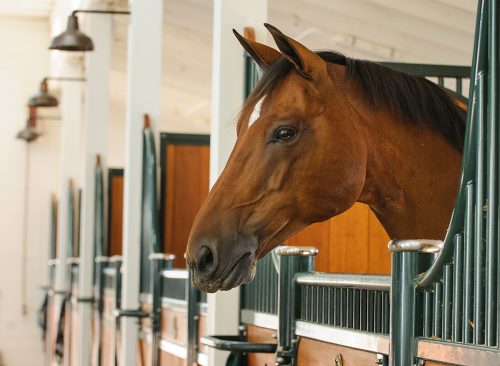 Just before the couple introduced their new creation, Ethel's favorite horse, Snickers, passed away. They decided to name the candy bar after him. 
4
The Price: Just Five Cents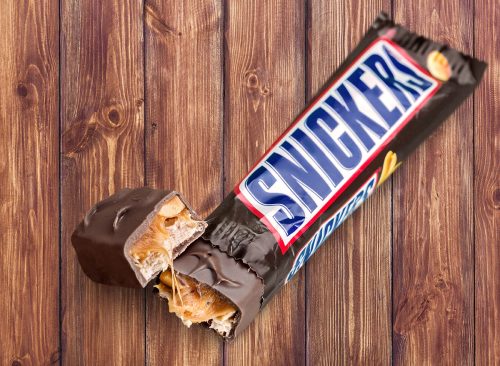 Manufactured in Chicago, the Snickers bar originally cost five cents. The irresistible recipe—nougat, caramel, and peanuts, coated in milk chocolate—was an immediate hit in the U.S. However, British authorities mandated that the candy be marketed under a different name in the U.K. to avoid a scandal.
5
Why It Couldn't Be Snickers In England
Unfortunately, "Snickers" rhymed with "knickers"—British slang for underwear—which was wholly unacceptable in just-post-Victorian English culture. So, the bar was sold under the name Marathon. That lasted until 1990 when it was rebranded Snickers to match the rest of the world.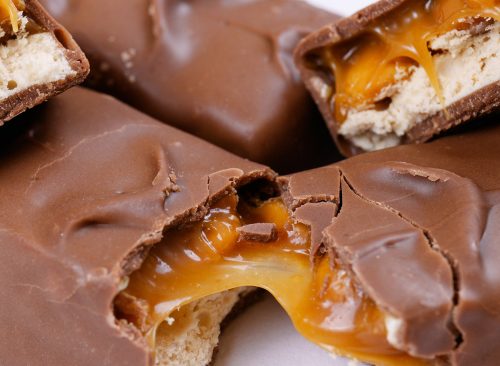 Snickers' first ingredients list included white sugar, sweet milk chocolate, corn syrup, peanuts, milk condensed with sugar, coconut oil, malted milk, "whites of eggs," and salt. Today, the rundown includes milk chocolate (sugar, cocoa butter, chocolate, skim milk, lactose, milkfat, soy lecithin, artificial flavor), peanuts, corn syrup, sugar, palm oil, skim milk, lactose, salt, egg whites, and artificial flavor.
7
Who Was Snickers' Inventor Frank Mars?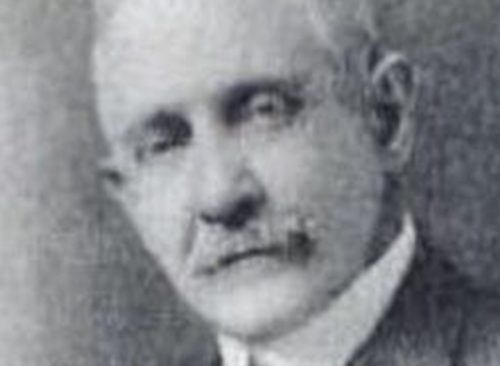 Frank Mars, founder of the Mars Company, was born in 1883. As a child, he was stricken with polio, and to entertain him during his illness, his mother taught him to hand-dip chocolates. Mars found a calling, and by age 19, he was selling molasses chips to local stores. He married two women named Ethel (the second was the inspiration for Snickers) and passed away in 1933. 
8
Snickers' First Big Spinoff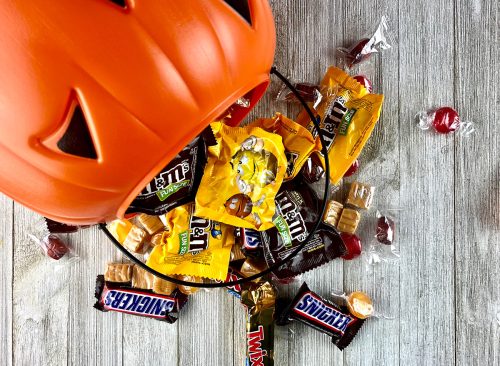 But nearly a century after Mars's passing, Snickers has continued to occupy a prominent place in the candy aisle and in pop culture. In 1968, the company introduced the "fun size" Snickers. It's been a staple of Halloween handouts—and the label popular slang for people shorter of stature—ever since.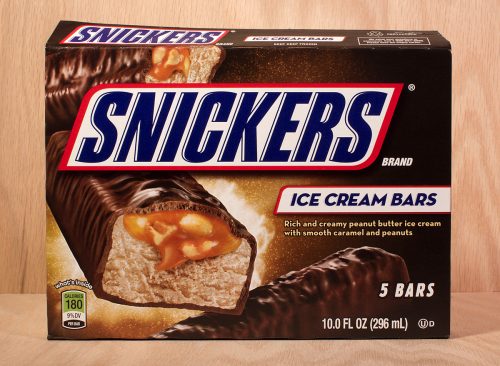 In 1989, Mars introduced the Snickers ice cream bar. Like the original recipe, the new version was an immediate smash hit—perhaps because generations of kids already knew how good Snickers bars tasted right out of the icebox.
RELATED: 30 Area Codes to Watch for in Latest Phone Scam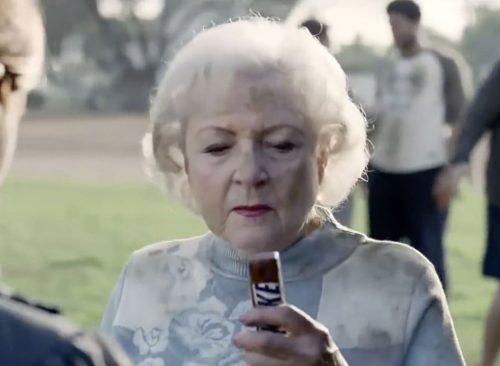 In the '80s, the long-running ad campaign "Snickers satisfies you" marketed the candy as a kind of energy bar. In 2010, the award-winning ad campaign "You're not you when you're hungry" debuted and became a viral hit. It helped that the first commercial, starring newly confirmed national treasure Betty White as a ruthless football-playing grandma, aired during the Super Bowl to instant acclaim.