Police Pull Over Man Driving Jet Ski on Highway, Stunned to Learn It's Legal
"Sometimes we think we have seen all there is to see."
When a man driving a jet ski like a motorcycle was pulled over on an Alabama highway, police were shocked to learn it was perfectly legal. "Law enforcement is often a grim occupation. Sometimes we think we have seen all there is to see," the Daphne Police Department wrote in a May 5 Facebook post. 
"But all of a sudden, there are 9-1-1 calls about a guy driving a jet ski on (US Highway) 98, making us glad we do what we do." Read on to find out what happened at the traffic stop and where other "boatercycles" have made headlines lately.  
1
Turns Out, It Was Street Legal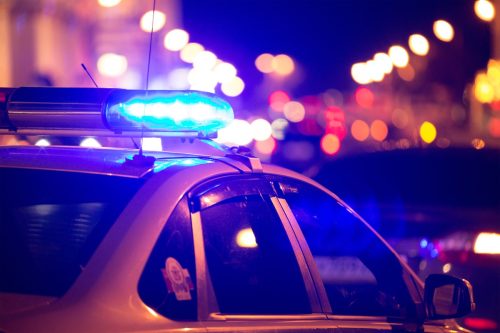 When police stopped the driver, they closely inspected the vehicle and discovered it had been modified with hidden wheels and other tweaks that made it legal to drive. "This thing was tagged and street legal and he was from out of state," police said.
"We sent him off with a warning and instructions to get a helmet." A photo attached to the post shows the man sitting on a bright yellow jet ski with pink stripes while a Daphne police vehicle sits behind him with lights flashing. The driver's name and home state were not made public.
2
Eyewitnesses Weigh In: "See…We Aren't Crazy!"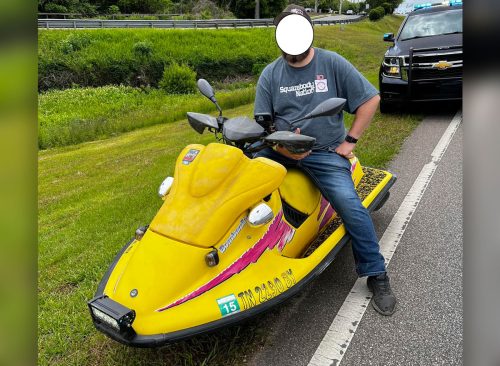 News of the bizarre traffic stop was a hit on Facebook, drawing more than 500 comments on the police department's official page. Some said they saw the man on the highway or watched the traffic stop in progress and couldn't believe their eyes. "This guy passed me on 75 south," one man wrote. "He was going so fast I couldn't tell if it was a motorcycle or WHAT."
"See…we aren't crazy!" one woman commented to her friend. "It was a damn jetski!"  "I thought I was losing my mind," the friend replied.  "His wife rides one too," one woman offered. "We saw them at Sturgis [Motorcycle Rally] a couple years ago."
"Some of y'all have never been to Cruisin' The Coast [Festival] in Mississippi and it shows lol," another woman wrote. "There is more than one over that way."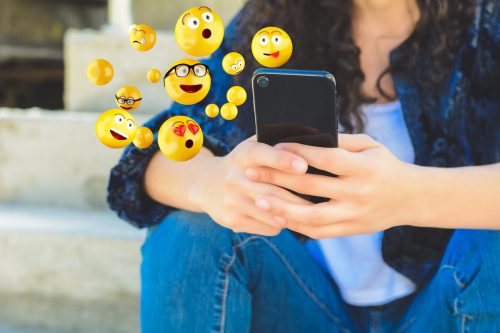 Many commenters appreciated the comedy in the situation. "Well least it wasn't Florida Man this time," one commenter posted on the police department's page. "Should have cited him for not wearing his life vest," another person said.
"Obviously, he's from out of state. If this was an Alabama resident, he would be towing a cooler behind it," a woman said.
"With the amount of rain we get here in Tennessee I'm surprised there aren't more of these on the road," one man wrote.
4
Similar Vehicle Seen Last Month in Florida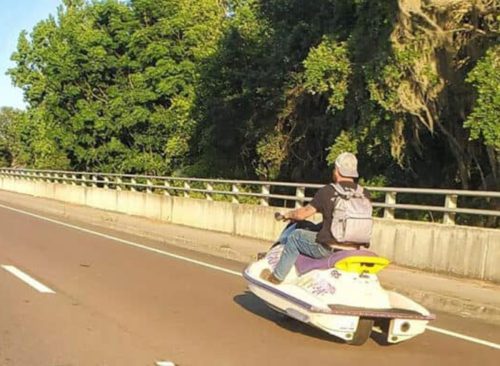 Some commenters called the souped-up jetski a "boatercycle," referencing a vehicle that has come to be known by that name in Cape Coral, Florida. Last month, a man was seen driving a jetski with wheels and a handlebar around town.
An amused driver posted a photo that went viral and led the local news to cover it with the headline "Only in Florida." It's unclear who the man was, where he was going, or if he interacted with police along the way; the vehicle had no license plate. 
5
Boatercycles Not Street Legal Everywhere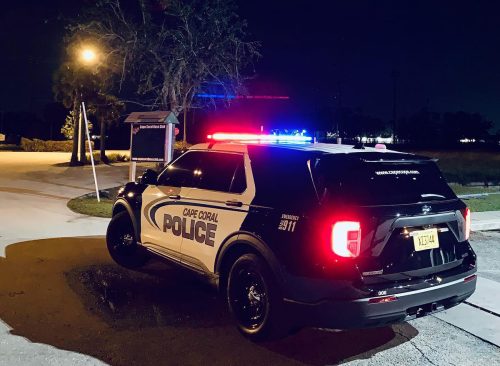 NBC2 spoke with a representative of the Cape Coral Police Department, who said the "boatercycle" was most likely illegal in Florida. The missing license plate was the biggest issue.
And according to Florida law, motorcycles must have headlights, handlebars not higher than the rider's shoulders, at least one rearview mirror, and turn signals, the station reported.