Whale Attack Sinks Sailboat in Pacific, Leaving Crew Stranded for 10 Hours Before Dramatic Rescue
For Rick Rodriguez and his three friends, it was a long-awaited adventure.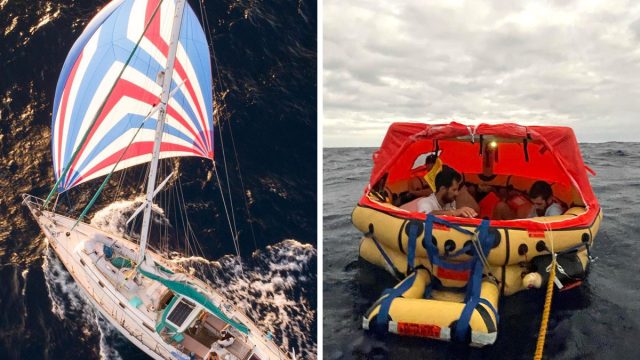 For Rick Rodriguez and his three friends, it was a long-awaited adventure: A three-week sailing trip crossing the Pacific Ocean to Polynesia on his sailboat, Raindancer. Rodriguez, a 31-year-old former professional yacht captain, was eager to take out his boat, which he'd lived on for a year, fixing it up in preparation for many voyages ahead.  What the group didn't anticipate was hitting a giant whale, which caused the boat to sink. Forced onto life rafts, the group floated on the water for hours before being rescued. The story of the dramatic rescue involves a volley of distress signals, text messages, and a fateful Facebook post. Read on to find out what happened. 
"It Just Happened In An Instant"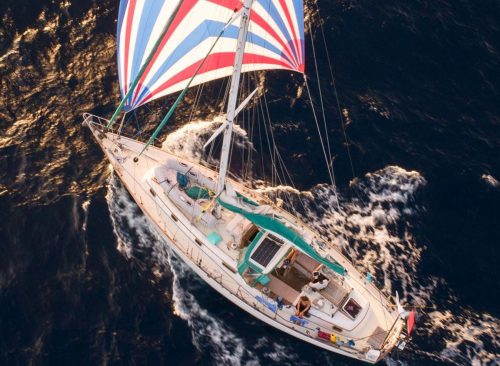 Thirteen days into their trip, Rodriguez and his friends were eating a lunch of vegetarian pizza; the ship had good winds and was sailing at about 6 knots. Suddenly, they heard a loud bang. "The second pizza had just come out of the oven, and I was dipping a slice into some ranch dressing," Rodriguez recalled to the Washington Post. "The back half of the boat lifted violently upward and to starboard." The ship had hit a giant whale. "It just happened in an instant. It was just a very violent impact with some crazy-sounding noises and the whole boat shook," Rodriguez told Today. "It sounded like something broke and we immediately looked to the side and we saw a really big whale bleeding," he said.
Boat Sank In 15 Minutes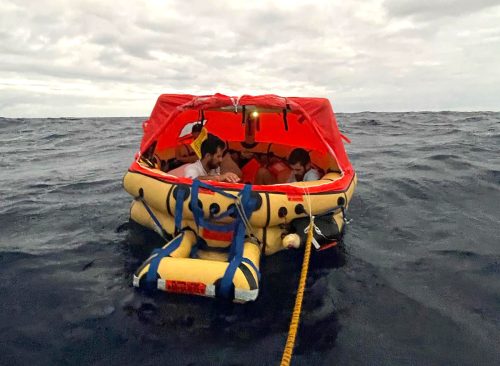 In the impact, the boat's propeller was ruptured and the fiberglass around it shattered. Within five seconds of the impact, an alarm went off indicating the bottom of the boat was filling with water. It sank completely in just 15 minutes. Rodriguez and his friends were able to scramble onto a life raft and a dinghy. They spent 10 hours drifting on the water, floating about nine miles before a ship rescue them from the Pacific Ocean just before dawn. "There was never really much fear that we were in danger," Rodriguez told the Post. "Everything was in control, as much as it could be for a boat sinking."
Quick Thinking Leads to Efficient Escape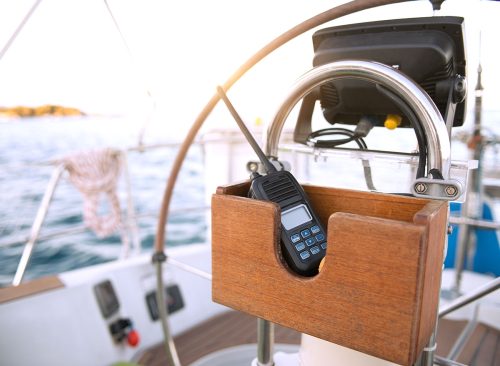 What happened after the impact was a study in quick thinking. After the alarm went off, Rodriguez made a mayday call on the VHF radio and set off the ship's Emergency Position Indicating Radio Beacon (EPIRB). The distress signal was picked up by officials in Peru, who alerted U.S. Coast Guard District 11 in Alameda, California. Meanwhile, the others gathered safety equipment, emergency gear and food. They filled "water bottles, tea kettles and pots" before the salt water rose above the ship's sink, Rodriguez told the Post. "There was no emotion," he said. "While we were getting things done, we all had that feeling, 'I can't believe this is happening,' but it didn't keep us from doing what we needed to do and prepare ourselves to abandon ship."
"This Is No Joke … We Hit a Whale"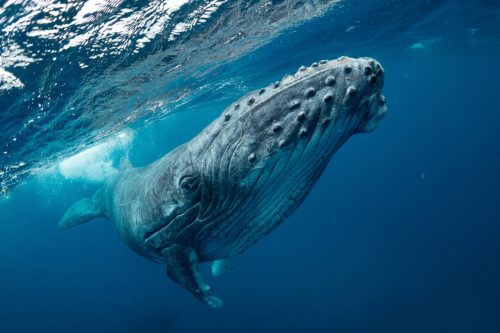 They escaped with enough water for about a week and with a device for catching rain, the Post reported.  They had about three weeks worth of food, and a fishing pole. Alana Litz, a member of the crew, described the ordeal as surreal. "Even when the boat was going down, I felt like it was just a scene out of a movie. Like everything was floating," she said. Rodriguez fired off text messages to his brothers and to a friend, Tommy Joyce, who was sailing in a "buddy boat" in the area as a safety measure. "Tommy this is no joke," Rodriguez wrote in a text message. "We hit a whale and the ship went down. We are in the life raft. We need help *ASAP."
Facebook Post Leads to Rescue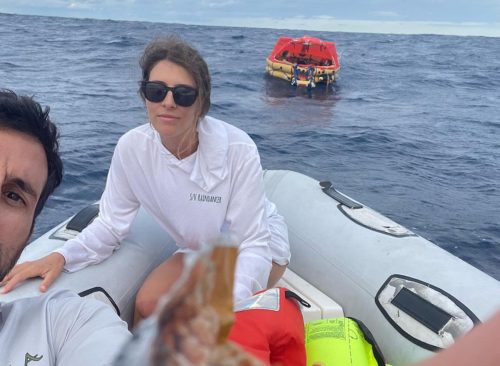 After Joyce shared the incident on a Facebook boat watch group, a civilian ship, the Rolling Stones, came to the group's rescue. Geoff Stone, 42, captain of the Rolling Stones, told Today they were about 60 or 65 miles away when the crew realized they were the closest boat. Nine hours later, the crew was able to see the light from the group's dinghy bobbing in the darkness. "We were shocked that we found them," Stone said. "There was dead silence," Rodriguez told the Post. "They were curious what kind of emotional state we were in. We were curious who they were. I yelled out howdy" to break the ice." The group said they feel lucky to be alive and glad their experience made the escape as smooth as it was. Rodriguez tried not to think about the loss of his ship, which he considered a good friend. "I feel very lucky and grateful that we were rescued so quickly," he said. "We were in the right place at the right time to go down."