Video Shows Public Marriage Proposal at Major League Baseball Game Go Horribly Wrong
It could not have gone worse.
Public marriage proposals are tense at the best of times—being rejected in private is bad enough, but what if it's in front of thousands of people? That's exactly what happened to one man who thought it was a good idea to propose to his girlfriend at a public sporting event, not with an actual ring, but with a candy ring pop. The response from the woman—beamed across massive screens at the event—was a slap across the face and some rather fruity language. Here's what the video footage shows.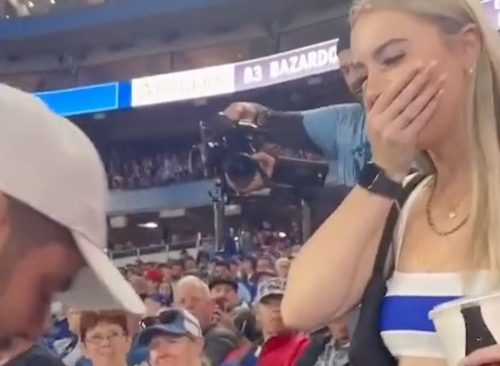 The incident happened at a Toronto Blue Jays and Boston Red Sox Major League Baseball game at Rogers Centre in Downtown Toronto. Onlookers were delighted when a fan stopped his girlfriend from walking down the stairs to her seat, kissing her and saying, "I love you." He then got down on one knee, causing the girlfriend to gasp and cover her mouth in anticipation of what was (very publicly) about to happen. Keep reading to learn more and see the video.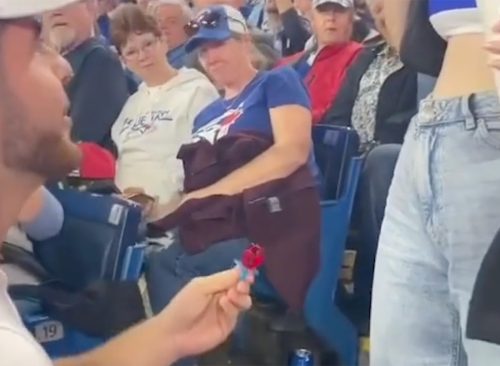 As fans started filming the proposal on their phone cameras, the official camera crew for the game saw what was happening and started filming the couple, playing on the jumbo screens. The man took a small box out of his left jeans pocket and opened it to reveal… a red ring pop, much to his girlfriend's (and the crowd's) confusion.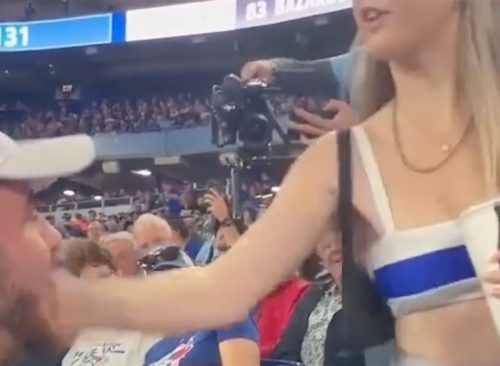 The young woman was clearly furious with the whole situation and made her feelings crystal clear. She slapped her boyfriend when she saw the ring pop, throwing her drink at him and saying, "What the f–k is wrong with you." The crowd was clearly shocked by what happened, and it's safe to say that was a "no" from the girlfriend.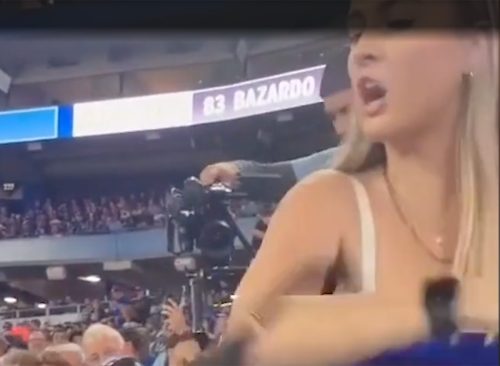 Some people think the man was in the wrong, others think the woman overreacted. "All her life a woman waits for this. And for him to do this in front of fans and cameras? Ooomfph. He's lucky to be alive," one commenter said. "She needs a sense of humor. He's in for a long life if he goes through with marrying her. I've been married for 28 years and wouldn't be if not for the constant ribbing we do to one another!" another response.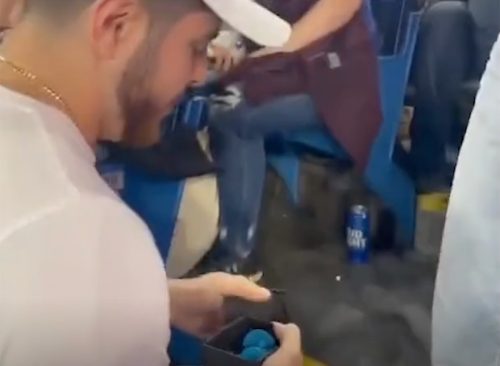 There is speculation that the man had a real ring that he was going to give his girlfriend after the "joke" proposal, but he obviously never got the chance. "The guy pulled a jerk move," said one commenter on Reddit. "If he cannot be serious for something important imagine what type of clown he is day to day." 
Ferozan Mast is a science, health and wellness writer with a passion for making science and research-backed information accessible to a general audience.
Read more