Video Shows Orcas Killing and Eating Great White Sharks For the First Time
"This is the world's first drone footage of killer whales predating on a white shark."
Scientists believe they have discovered the reason sharks have been disappearing off the coast of South Africa—and killer whales might be to blame. According to a paper published in the Ecological Society of America's journal Ecology, there is video footage for the first time of orcas hunting and killing a great white shark. "This behavior has never been witnessed in detail before, and certainly never from the air," says lead author Alison Towner, a senior shark scientist at Marine Dynamics Academy in Gansbaai, South Africa. Here's what the video shows.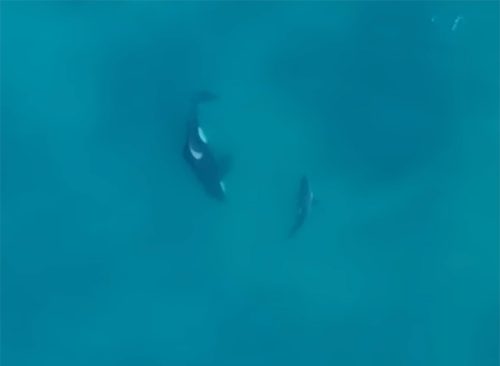 Researchers in South Africa suspected specific orcas were behind the shark killings, but this is the first time it's been confirmed via video footage. Five orcas are seen circling a shark, biting into its liver. "Killer whales are highly intelligent and social animals. Their group hunting methods make them incredibly effective predators," says marine mammal specialist and study co-author Dr. Simon Elwen, Director of Sea Search and a research associate at Stellenbosch University. Keep reading to learn more and see the video.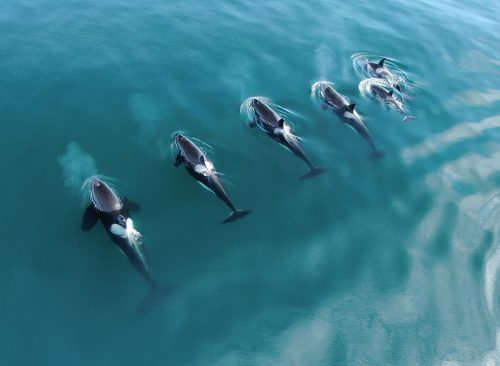 One of the shark-eating orcas has been identified as "Starboard," a killer whale suspected as responsible for several other shark deaths. "I first saw Starboard in 2015 when he and his close-associated 'Port' were linked to killing seven gill sharks in False Bay. We saw them kill a bronze whaler [copper shark] in 2019 – but this new observation is really something else," says whale-watching operator David Hurwitz.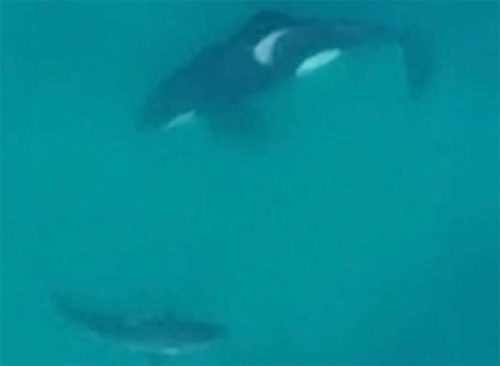 The local sharks have abandoned the area following the killer whale attacks, with just one being spotted in the 45 days after the attack. Before the attack, including the day of, there were plenty of sharks in that part of the ocean. Researchers are worried about what will happen to them if they continue to stay away.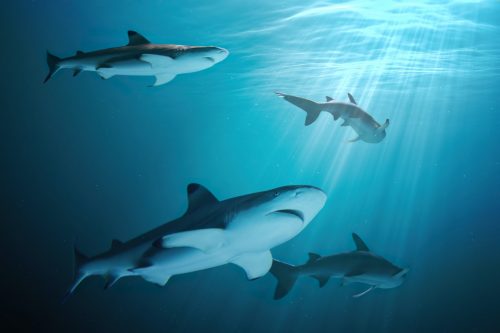 "We first observed the flight responses of seven gills and white sharks to the presence of killer whales Port and Starboard in False Bay in 2015 and 2017. The sharks ultimately abandoned former key habitats, which has had significant knock-on effects for both the ecosystem and shark-related tourism," says South African National Parks' shark expert and marine biologist, Dr. Alison Kock.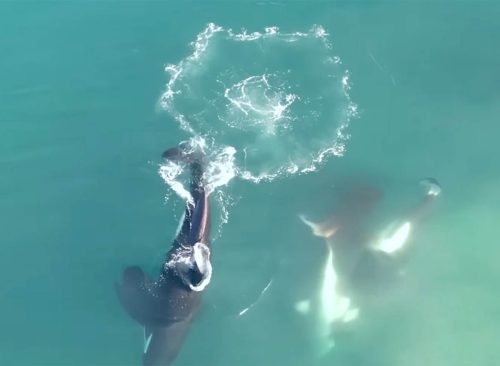 "It's probably one of the most beautiful pieces of natural history ever filmed," says Towner. "I really do think once that footage airs, it's going to go viral. The whole world is going to go into a frenzy about it because it's just so unique. We've had all the evidence for killer whales being responsible for killing white sharks. But this is the world's first drone footage of killer whales predating on a white shark. It's the first time in South Africa it's ever been documented as direct evidence." 
Ferozan Mast is a science, health and wellness writer with a passion for making science and research-backed information accessible to a general audience.
Read more