Video Shows Man Taking 97-Year-Old Veteran For a First Disneyland Ride in 50 Years
Internet's heart melts as pair pal around the park.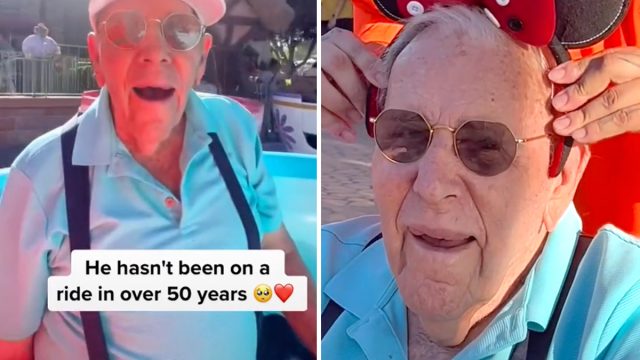 Disneyland bills itself as "the happiest place on Earth," and it was the site of a viral video that delighted the internet this week. TikTok star Isaiah Garza surprised 97-year-old veteran William Goode with a spontaneous trip to the theme park, which Goode called "one of the best days of my life." Read on to see the video and find out what happened. 
1
"You Really Want to Take Me?"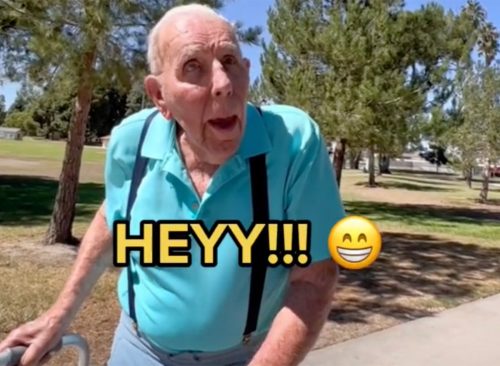 In the video, Garza, 32, is seen approaching Goode, who is using a walker. "I'm sorry to bother you. I've had a really, really rough day," said Garza. "I just wanted to see if you'd be willing to go to Disneyland with me today." "Hey, that's great," the older man replied, laughing. "You really want to take me?" Garza affirmed the offer and said he would pay for everything. "My gosh, I can't believe this," said Goode. It was just one afternoon, but it's given the WWII vet a new lease on life. "I thought my life was just about over and then this Isaiah comes along," Goode told CBS Los Angeles. Keep reading to learn more and see the video.
2
Internet's Heart Melts As Pair Pal Around Disneyland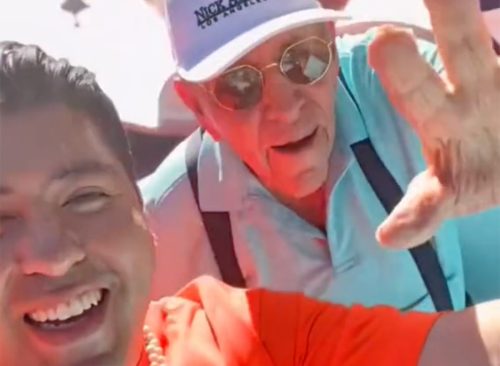 In the video, the two went to the park as promised, where Garza pushed Goode in a wheelchair from attraction to attraction. They were seen riding the spinning teacups—Goode hadn't been on an amusement-park ride in 50 years—meeting Disney characters, and snacking on mouse-shaped frozen treats. Toward the end of the video, Garza acquired a pair of Mickey Mouse ears and placed them on the head of his "best friend for the day." 
3
"One of the Best Days of My Life"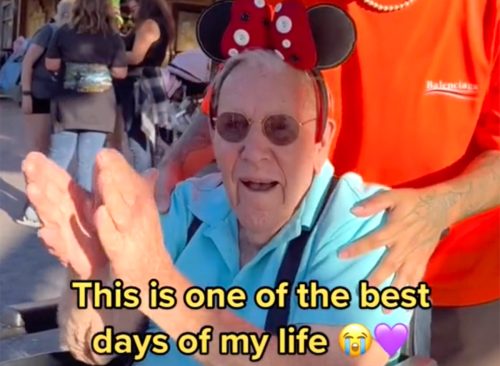 At one point, Garza asked the man how it felt to be at the park. "Oh my gosh, this is one of the best days of my life," the man said. "I feel like I might be dreaming or something." "I thought my life was over," he added, choking up a little. "I will remember this day for a long time. You don't know how much I appreciate this. You really don't know."
4
Goode's Caregiver Responded to Craigslist Ad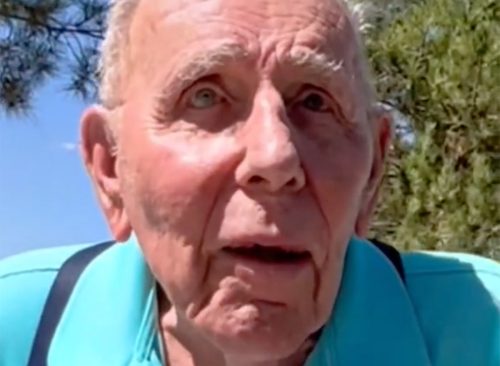 Garza, 32, is a designer who spent two years homeless in Los Angeles. His TikTok account, which has more than eight million followers, is focused on acts of charity. The Disney outing came about when Goode's caregiver responded to a Craigslist posting Garza made looking for a senior citizen to star in a "fun video project." "I submitted two pictures of him with some shades on and another without and I got a response," Goode's caretaker, Nelva Aguilar, told CBS Los Angeles. "I didn't know who [Garza] was at all." Garza asked Aguilar to bring Goode to a public park but not tell him about the surprise. "It was just so right," said Garza. "He's smiling. I was like, 'Oh man, this is perfect.'"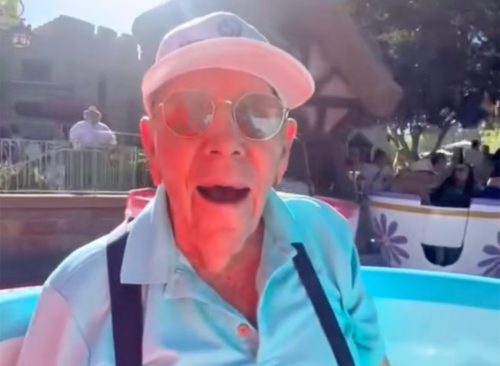 Garza's video has been viewed nearly 16 million times and has racked up more than 95,000 comments. Several commenters said it left them in tears. "This is honestly one of the best videos I've possibly ever seen," said one TikTok commenter. "It was so awesome to see the joy brought to this man." "The 'you really would take me' makes me feel like he was worried he'd be a burden," said another. "So glad you found him and made his day." "Can we make this a trend of taking senior citizens out to do fun things?" one person asked. Garza said he does intend for this to be a series—he's preparing a bucket list of activities he and Goode can do together on video. 
Michael Martin is an experienced writer and editor in New York City. He specializes in helping people make life-improving decisions on their health, nutrition, finances, and lifestyle.
Read more