Video Shows Rhino Charging Into a Speeding Truck on a Highway
The driver has been fined for the incident.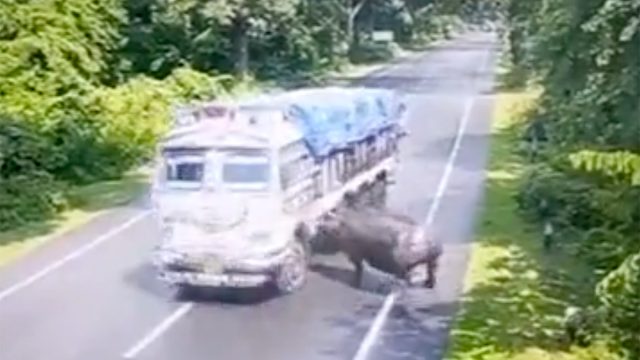 A truck driver in India has been fined for speeding after a rhino crashed into his truck on a highway in Assam, India. The driver was reportedly driving through the Kaziranga National Park area when the rhino suddenly stepped out into the road and ended up smashing into the truck. "Rhinos are our special friends; we'll not allow any infringement on their space," says Assam Chief Minister Himanta Biswa Sarma. The incident was caught on camera: Here's what happened to the rhino, and the driver of the truck.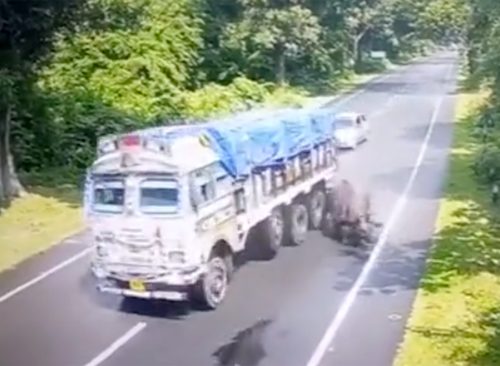 A man was driving his truck on National Highway 37 when the rhino appeared and slammed into the side of the vehicle. The truck continued on its journey as the animal reeled and fell over. Finally, the rhino got back on its feet, and displaying a slight limp, wandered back into the bushes by the side of the road. Keep reading to learn more and see the video.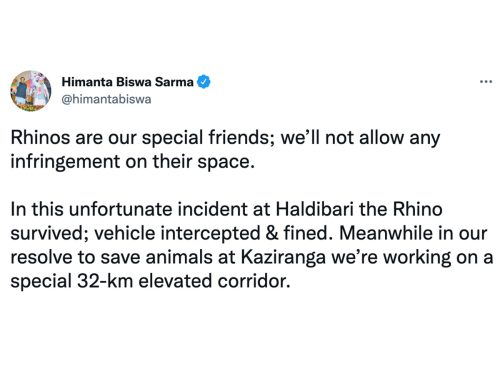 Assam Chief Minister Himanta Biswa Sarma tweeted about the incident, posting the video online. "Rhinos are our special friends; we'll not allow any infringement on their space. In this unfortunate incident at Haldibari the Rhino survived; vehicle intercepted & fined. Meanwhile in our resolve to save animals at Kaziranga we're working on a special 32-km elevated corridor."
The speed limit in Haldibari corridor is 40 km per hour, but the truck was reportedly going at 52 km per hour, according to a forest official. Elevated roadways are common sights in parts of India that are protected spaces. Kaziranga National Park became a UNESCO World Heritage Site in 1985.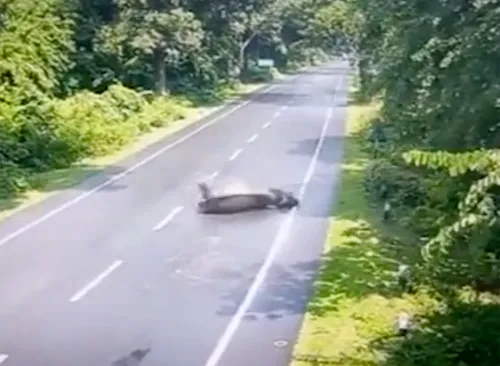 Commenters on Sarma's video are defending the driver of the truck, saying the incident was not his fault. "The driver who totally tried to avoid the mishap by steering the heavy vehicle was fined, how about the people who cleared this highway sans the mitigation measures? This should be an eye opener for authorities to put in mitigation measures where there are none & make sure future linear development has mandatory ones," says one commenter.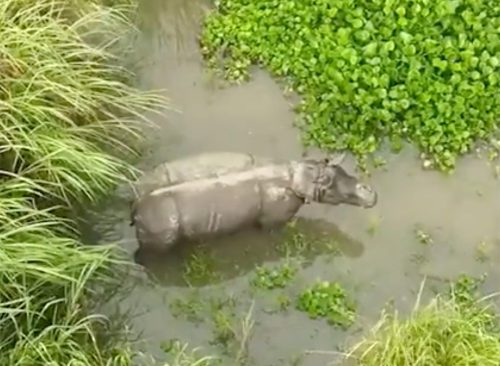 According to Sarma, the rhino was not seriously injured in the accident. "An urgent update: Our Rhino friend, who met with an accident in Haldibari recently, is found to be doing good. I am sharing a drone video taken this morning. Urge all to be kind to our animals. Go slow while passing through corridors, where you know some animals might cross." 
Ferozan Mast is a science, health and wellness writer with a passion for making science and research-backed information accessible to a general audience.
Read more