Video Shows Diver Narrowly Dodging Tiger Shark Just as She's About to Enter the Water Off the Coast
"I always love seeing their white belly coming up from the depths."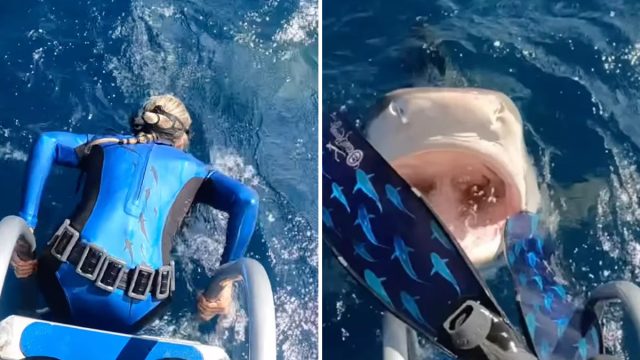 A diver had a very lucky break just as she was about to slip into the water during a diving expedition in Haleiwa, Hawaii. Researcher Ocean Ramsey almost leaped straight into the jaws of a tiger shark that suddenly came out of the water—but she wasn't even slightly alarmed.
"Moments after the video I shared in my last post I saw a shark bumping some floating plastic so I rushed in and this was my greeting," Ramsey says. Here's what video footage shows—and why Ramsey wasn't afraid of the shark.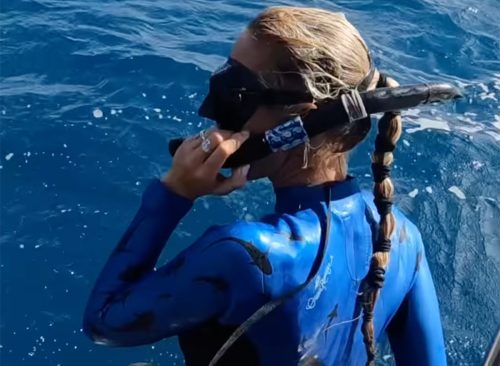 Ramsey is an old hand when it comes to swimming with sharks, and seemed completely unfazed by the incident. The shark in question is actually one Ramsey is familiar with—she previously said the shark, named Queen Nikki, or Ali'i Nikole, is one of her favorites. Ramsey, who operates Oahu-based One Ocean Diving, says she doesn't believe Nikki was actually trying to attack her, but instead was excited by all the bird and fish activity. Keep reading to learn more and see the video.
2
Knowing When To Back Up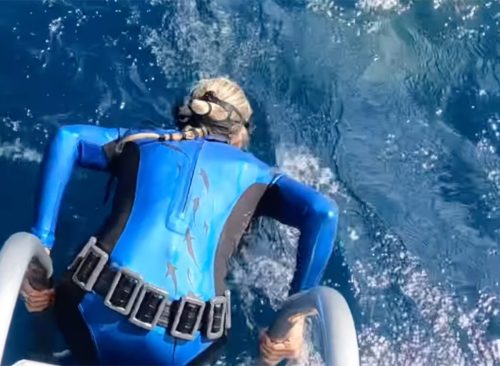 Photographer Juan Oliphant took footage of the incident, and backed up Ramsey's assurances that the shark wasn't being aggressive. "We love Tiger shark Queen Nikki's enthusiasm to greet @oceanramsey 😂," he said. "Ocean reading an approach quickly and accurately knowing when to respectfully back up. @oneoceandiving the safety diver is always the first person in the water and the last person out and the one responsible for respectfully evaluating the sharks behavior before inviting others into the water 💙."
3
Jumping Out Of the Water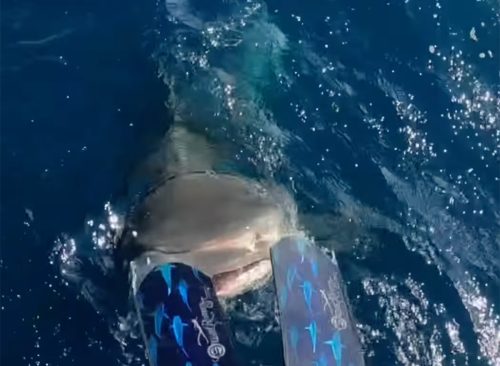 Oliphant explains that certain conditions can lead to such extra active shark behavior. "Murky water and a lot of bird activity and the little opelu fish trying to hide from hunting kawa kawa under the boat made this day extra exciting with both fish and sharks practically jumping out of the water 🦈," he says. "Glad I ended up turning on the @gopro and my @canonusa camera before we got in @oneoceandiving so we have this moment to share and appreciate."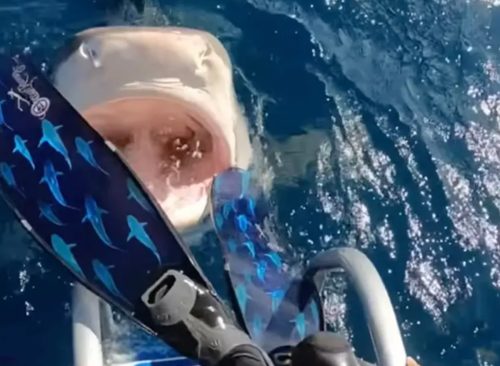 According to Ramsey, it was fairly easy to spot the shark coming up, which is how she managed to back up quickly. "I always love seeing their white belly coming up from the depths and in this case it's what gave her position away," Ramsey says. "She was actually easier to spot coming up vertical compared to the others already near the surface… I wanted to share my POV from days even with multiple Tiger sharks so people could maybe feel better seeing that its actually not that common that we need to redirect a shark, right away, but it's best to always be respectfully ready."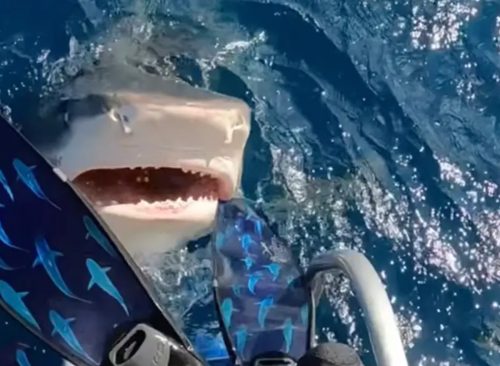 Ramsey says she has dove with this particular shark many times and is not afraid of her in the least. "I LOVE Tiger shark Queen Nikki, and have dove with her for several decades and I don't want people to get the wrong idea about sharks, or her, she's incredible and also usually the most dominant individual of course, but generally she's more like an old Grandma and she just keeps the young spunky ones in check which is actually better for us. Large species are capable apex predators not monsters who need and deserve respect and protection." 
Ferozan Mast is a science, health and wellness writer with a passion for making science and research-backed information accessible to a general audience.
Read more