Wild Moment Enraged Tesla Driver Smashes Cars With Metal Pipe in Road Rage Rampage
The man seems to be responsible for a string of road-rage attacks around Los Angeles.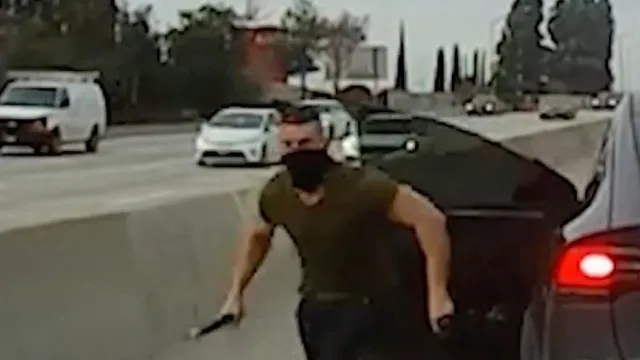 Driving on L.A. highways can be less than pleasant in the best of circumstances, but for one woman, it became downright harrowing last week. A man driving a Tesla jumped out of his car and started smashing other cars on the freeway with a metal pipe—and it was all caught on video.
What's more, the man seems to be responsible for a string of road-rage attacks around Los Angeles, striking cars and hurling abuses at their drivers. Other affected drivers have taken video of the suspect, but police haven't apprehended him yet. Read on to find out what happened in each of the incidents and why police say the suspect may be hard to catch despite the video evidence.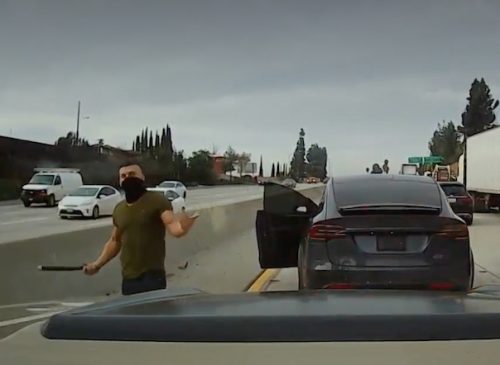 The most recent attack happened near 8 a.m. Wednesday in the southbound lanes of the 2 Freeway in Glendale. In a video of the incident, a man in a T-shirt, jeans, and mask jumps out of his gray Tesla, holding a pipe, and begins whacking the truck behind him. He smacks the car several times before getting back in his car and driving away. 
The affected driver didn't know what to do. "Initially, you think, 'Should I pin him to the wall with my car?' 'Should I run him down?' 'What should I do?'" he told KTLA. "And I tried to stay focused and think, 'I don't want to go from victim to criminal in an instant.'"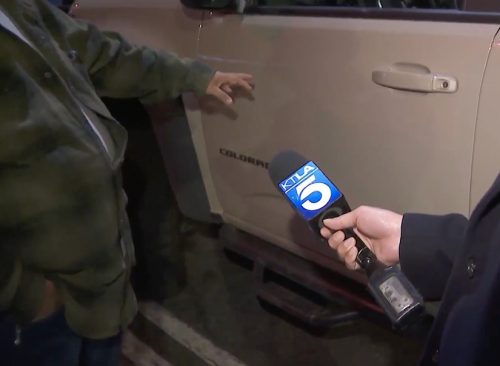 Another incident occurred the same day, also caught on video. The driver of a white sedan told ABC 7 she had honked at the Tesla because it was taking too long to merge. The driver became enraged and followed the sedan onto the side of the road.
Leaving his Tesla, he beat the side of the woman's car with a pipe before she sped away. The attack damaged the car and left the driver unnerved. "I honestly did feel like he was either going to break my windows or pull me out," she said.
3
Man Caught on Tape in Another Confrontation, Driver Claims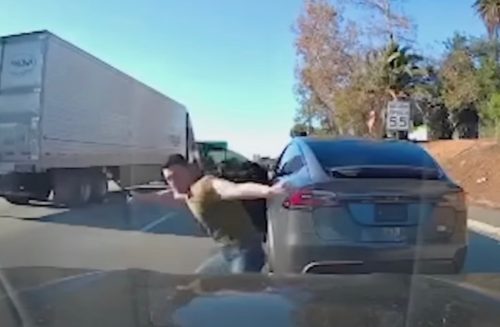 Since news of the attacks broke, other drivers around Southern California have been sharing videos of what appears to be the same Tesla driver attacking cars in Atwater Village, Echo Park, and Pasadena in the last several months, ABC 7 reported. One woman said she encountered the Tesla driver at a storage facility in Atwater Village two months ago.
The woman said the man harassed her, then followed her. She recorded their encounter on her phone. The man swore at her, then yelled, "You better go outside Cali where you came from." "You don't even know where I'm from," she replied. "I'm born and raised in LA."
4
Two More Incidents Caught on Video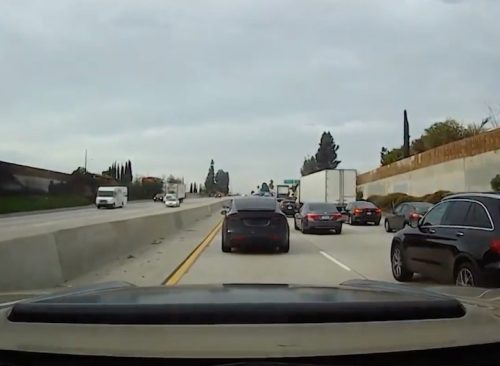 And two other cellphone recordings appear to show the same man harassing drivers. In Pasadena, the man the gray Tesla reaches out of his car and strikes a vehicle that's passing by. In Echo Park, the man apparently gets out of his car on the 101 Freeway and hits the front of another person's car.
5
One Missing Detail Could Complicate Investigation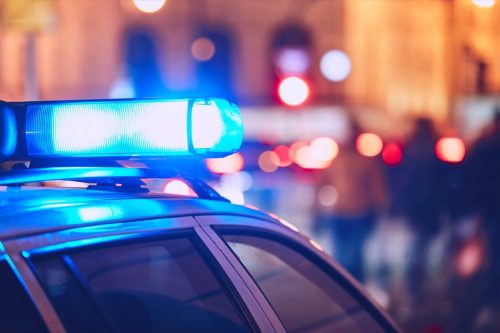 With all the video evidence, the man might seem to be an easy target for investigators. The affected drivers have filed police reports, and the California Highway Patrol is investigating. But tracking the suspect down could be difficult—there are no license plates on the Tesla.
6
Best Ways to Respond to a Road Raged Driver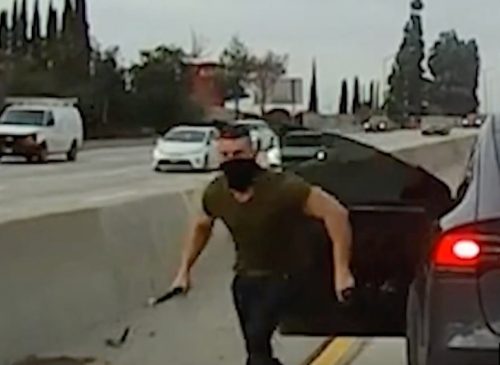 Dealing with road rage can be difficult and stressful, but it is essential to stay calm and take steps to protect yourself and others. Here are some tips for responding to a road rage driver:
Keep your distance: If you notice a driver displaying aggressive behavior, try to keep a safe distance between your vehicle and theirs. This will give you more time to react if they do something dangerous.
Avoid eye contact: Making eye contact with an angry driver can escalate the situation. Instead, focus on the road and drive defensively.
Avoid responding to gestures or verbal taunts: If a road rage driver is trying to provoke you, don't engage. Responding to their gestures or verbal taunts will only escalate the situation.
Use your horn sparingly: If a road rage driver is tailgating or driving recklessly, honking your horn may cause them to become more aggressive. Only use your horn as a warning if it is absolutely necessary.
Get to a safe place: If the situation becomes dangerous, try to get to a safe place as soon as possible, such as a gas station or police station.
Report the incident: If you feel threatened by a road rage driver, or if you witness dangerous behavior, it's important to report the incident to the police. Provide as much information as possible, including the make and model of the other vehicle, license plate number, and a description of the driver.