Terrifying Video Shows Woman Smashing up a California Home's Windows with Pickaxe
"I feel like we lost our safe place."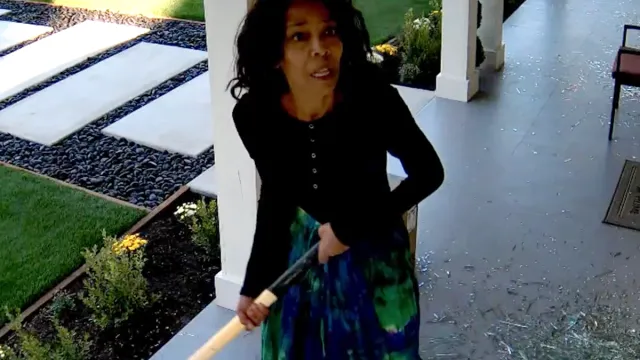 Halloween came early for a family in Pasadena, CA, when a woman came to their home wielding a pickaxe and violently smashed through their windows.
Homeowner Arman Tchoukadrian captured the incident on security footage and was left horrified by the attack, especially as his newborn baby and 65-year-old mother-in-law were alone in the house when it happened.
Thankfully the baby and Tchoukadrian's mother-in-law were unharmed, but the family is still shaken by what happened. Here's what the footage showed.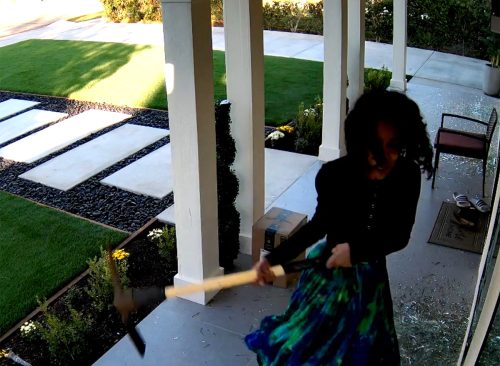 Tchoukadrian's footage shows a woman in her 60s appearing at the house wielding a giant pickaxe. She then starts vandalizing the home, smashing the pickaxe through the windows and shattering glass everywhere.
According to Tchoukadrian, his baby was in a bassinet by one of the windows and was moved just in time. "If my mother-in-law didn't act as fast as she did, my daughter wouldn't be here," he said. Keep reading to learn more and see the video.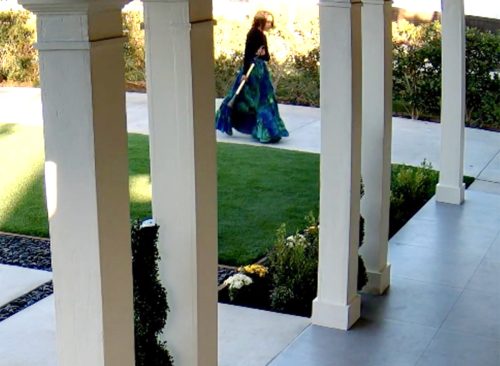 The violent woman didn't stop there—she returned several times in the course of just a few minutes to inflict further damage to the house located in the 1700 block of Asbury Drive and harass the family.
"She broke one window, went back," Tchoukadarian said. "My mother-in-law came out screaming and yelling to get my attention."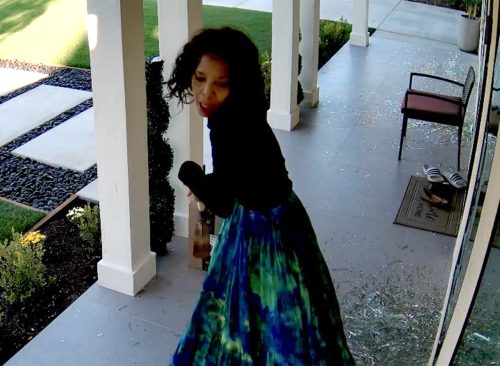 Security footage shows a woman strolling off down the drive with the pickaxe over her shoulder. Before she leaves, she can be heard yelling ominous threats. "Questions? Questions, anyone? I'll be back. Get out," woman can be heard and seen saying.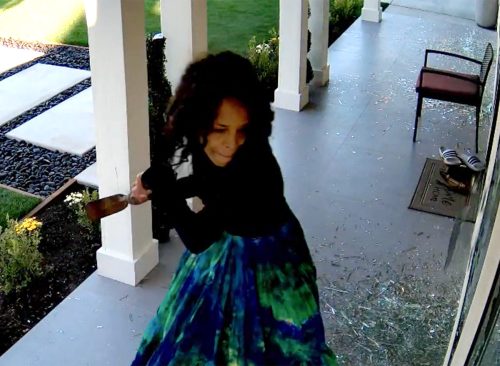 Pasadena police arrested the woman at her home a few blocks away in the 1600 block of Casa Grande Street, where she was found still holding on to the pickaxe. Investigators say they suspect she might be battling some sort of mental illness.
"Police found her, nonchalant, walking with a pickaxe on her back, like she'd just finished working with it," Tchoukadarian says. Woman reportedly refused to surrender but finally gave in after 30 minutes, and is now facing charges of felony vandalism.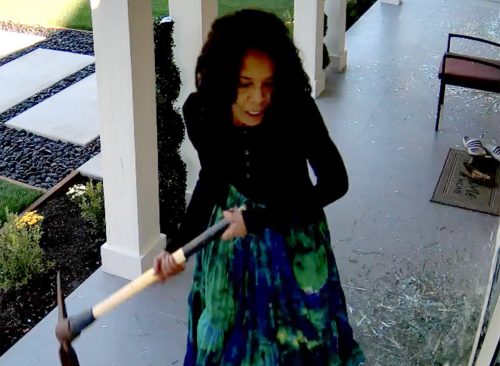 Tchoukadarian says the family is deeply upset about the incident and is dealing with $20,000 worth of damage to their home. "She needs to be in the right place, getting the right help," he says of the attacker.
"That's no excuse to go attack someone's family, attack someone's newborn and ruin their dream home, and ruin their life and sanity."
Ferozan Mast is a science, health and wellness writer with a passion for making science and research-backed information accessible to a general audience.
Read more