North Carolina Man Steals Tractor, Tries to "Mow Down Pedestrians," and Leads Police on Slow-Motion Chase
"Mr. Hicks was intentionally driving the tractor toward on-coming traffic."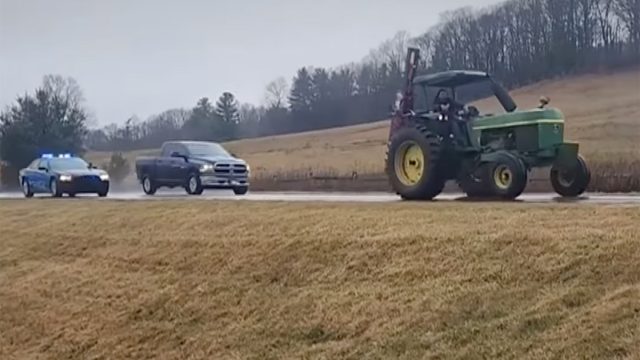 A North Carolina man led police on a 20mph chase after stealing a John Deere tractor as he reportedly tried to mow down pedestrians and run into oncoming traffic. The knife-wielding suspect managed to evade capture for over an hour, despite police using stop sticks.
"Our officers tried to use stop sticks but because it's a tractor, the stop sticks were not effective on the back tires," said Boone Police Chief Andy Le Beau. "When he got outside of town into an area that didn't have any homes or businesses, we did shoot one of the tractor tires in an effort to get the vehicle stopped." Here's how they finally stopped the driver.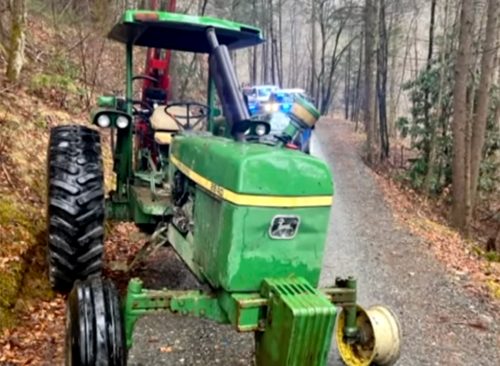 Boone Police Department got a phone call warning there was a man driving a John Deere tractor in a parking lot, behaving erratically and deliberately targeting pedestrians. "What a day… So, many of you have heard, or have seen the videos, that we got in a pursuit with a tractor," the Town of Boone Police Department posted on Facebook.
"The stolen tractor was being operated by a person who we are very familiar with, Mr. Ronnie Hicks. We received a call about the tractor being driven erratically in a parking lot trying to hit pedestrians and did in fact hit a vehicle off 421 on the east side of town. He actually hit several vehicles, a dumpster and a church. We are still trying to sort it all out." Keep reading to learn more and see the footage.
Apparently, the tractor tires were too tough for tire deflation devices. "We did attempt to use stop sticks, but they were not terribly effective on the tractor," the statement continues. "Our officers were concerned for the welfare of our citizens as Mr. Hicks was intentionally driving the tractor toward on-coming traffic. Mr. Hicks also intentionally rammed a Boone Police vehicle. Once he turned onto Old 421, we were next concerned about Parkway Elementary and were determined not to let him get that far."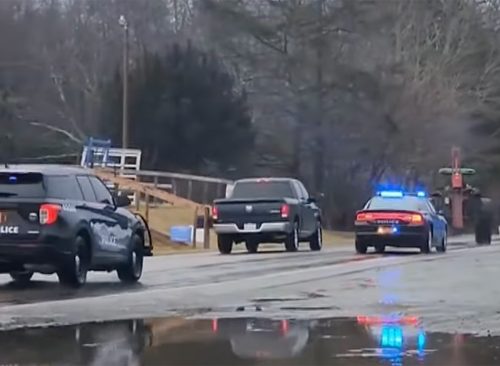 "When the tractor was in an isolated area, one of our officers shot the tires of the tractor (with my authorization) since the spike strips were ineffective," the statement continues. "The Tractor then turned onto Elk Creek Rd. After a few miles of driving without a front tire Mr. Hicks turned onto a private drive and ran out of road."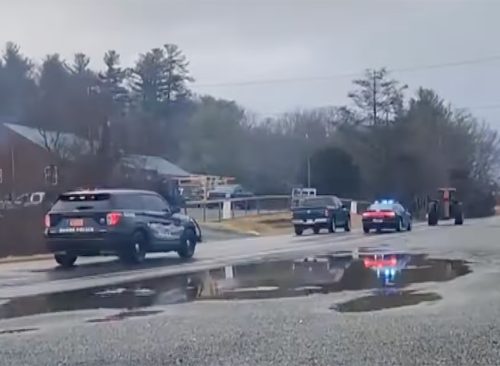 The police finally took Hicks into custody after he jumped out of the tractor. "Mr. Hicks then jumped off the tractor and was wielding a knife," the police statement continues. "A Boone officer utilized a Taser, and the suspect was taken into custody without injury to the suspect or the officers. Fortunately no injuries occurred throughout this incident. I would like to thank our officers for putting themselves in harm's way to protect our community. We were assisted by the Watauga County Sheriff's Office and the North Carolina State Highway Patrol."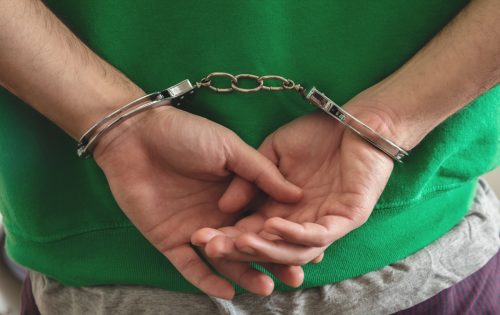 Hicks was placed under a $50,000 secured bond and is due in Watauga District Court on March 10, 2023. He has been charged with: felonious fleeing to elude arrest, felonious assault with a deadly weapon on a government official, misdemeanor driving while impaired,  misdemeanor resisting a public officer, misdemeanor reckless driving, and infraction driving left of center. 
Ferozan Mast is a science, health and wellness writer with a passion for making science and research-backed information accessible to a general audience.
Read more