A Raccoon and a Woman Enter a Bar. Woman Gets Arrested. Here is What Happened Next.
Woman brought in the animal during happy hour.
A woman was arrested after walking into a North Dakota bar carrying a raccoon, and now she faces multiple criminal charges, including tampering with evidence. "I don't know what she was thinking," said the bartender who asked the woman not to bring the wild animal into her bar. Read on to find out how the situation spiraled into an arrest, what happened to the raccoon, and why a GoFundMe page has now been created by the woman's family.  
1
Showing Off Raccoon Pet Results in Arrest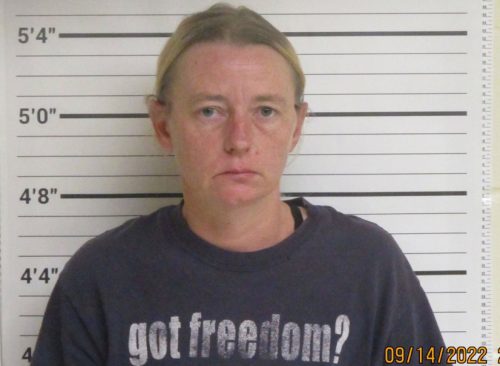 According to the Benson County Sheriff's Office, Erin Christensen, 38, was charged with North Dakota Game and Fish violations, tampering with evidence, and providing false information to law enforcement. The animal was euthanized, the sheriff's office said, and will be tested for rabies and other diseases.
2
"You've Got to Get It Out of Here"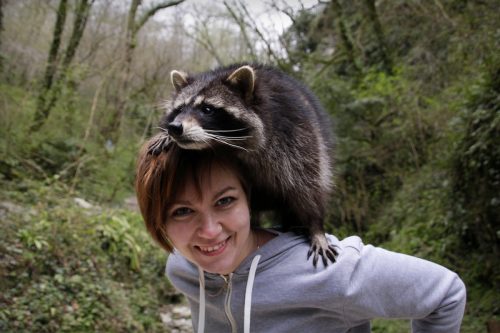 Bartender Cindy Smith told The Fargo-Moorhead Forum that she was serving drinks at the Maddock Bar on Sept. 6 when Erin Christensen brought in the animal during happy hour. There were about 10 people in the establishment. 
"I saw she was carrying something, and I asked her what it was, and she showed me, and I said, 'You've got to get it out of here,'" Smith told the Bismarck Tribune. Instead, Christensen took the raccoon around the bar to show other patrons. The woman eventually left with the animal after about five minutes. Smith said the raccoon never left Christensen's arms and didn't bite anyone.
"I don't know what she was thinking," Smith said.
3
Owning Raccoon Illegal in State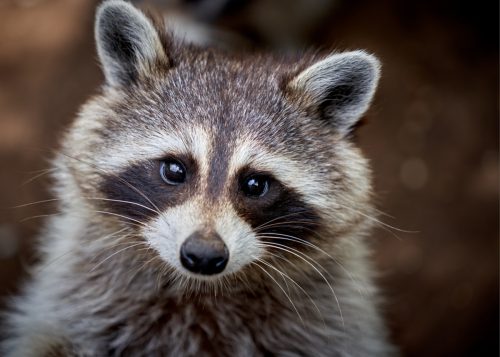 Raccoons may look cute, but they are among the most common carriers of rabies. Owning them as pets is illegal in many areas, as it is in North Dakota. 
Health officials issued a warning last Tuesday to those who had contact with the animal about possible rabies exposure and asked anyone who may have been bitten or had contact with the raccoon's saliva to seek medical care. 
"Because rabies is such a serious disease with a nearly 100% fatality rate, we are making this information available to the public as a precautionary measure," said Amanda Bakken, a state epidemiologist.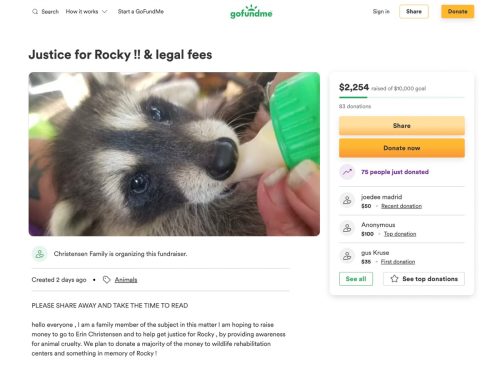 Christensen said her family found the raccoon three months ago, injured on the side of the road, and had been caring for it. But raccoons and skunks are listed as prohibited animals on the North Dakota Game and Fish's website because of their rabies risk.
Christensen told the Forum that the Benson County police needlessly killed the animal. A GoFundMe page has been launched titled "Justice for Rocky & legal fees." On the page, the Christensen family alleges that police told Christensen that they were going to quarantine the animal for 10 days and release him if he didn't show any signs of rabies. She refused to hand over the raccoon, resulting in her arrest and being held on $1,500 bond.  
5
Family "Devastated" By Loss of Raccoon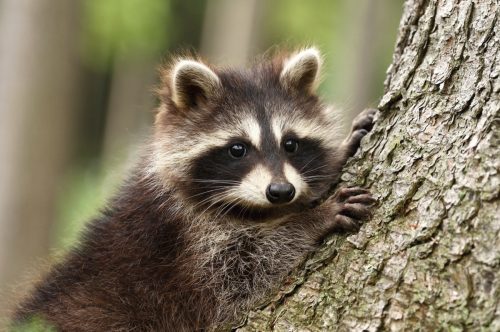 "Our family is devastated by loss of Rocky, a racoon we were rehabilitating, and frankly, we are traumatized by our experiences with law enforcement agencies in Benson County," Erin Christensen wrote on the GoFundMe page. "We believe that Benson County police used excessive force to obtain Rocky and it was killed unnecessarily as alternative methods (observation for 10 days) were not utilized."
Michael Martin is an experienced writer and editor in New York City. He specializes in helping people make life-improving decisions on their health, nutrition, finances, and lifestyle.
Read more