Man Sets Own Car on Fire to Deter Thieves From Stealing the Items Inside
"If there was nothing left of the vehicle then there would be nothing left to steal."
Car owners nationwide have been frustrated by the uptick in auto-related thefts, particularly smash-and-grab robberies and the theft of catalytic converters. One Indiana man tried a novel approach to protecting his car and the items inside it: He set the vehicle on fire.
Fox 59 reports that Bloomington resident Austin Bristoe, 26, was discovered by police standing next to a car that was aflame inside an apartment parking lot. He told them the car belonged to him, and had set it on fire to prevent people from stealing the items inside it. Read on to find out what happened to the car owner after that. 
"I Hoped the Explosions Would Be Bigger"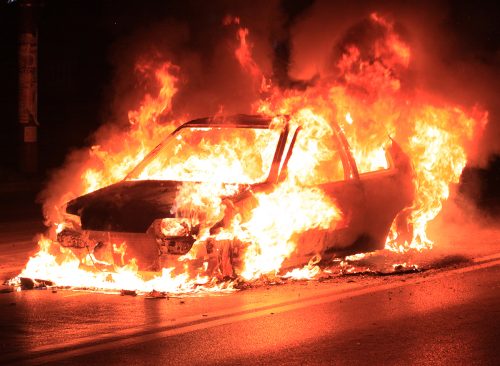 On February 12, just after midnight, police responded to a report of a suspicious person inside the parking lot of the Crawford Apartments. When they arrived, they found Bristoe standing next to a 1998 Buick that was burning. He claimed ownership of the vehicle and said he had set it on fire to deter thieves.
While the police were talking to Bristoe, the car became engulfed, and the fire caused several small explosions. At one point, Bristoe reportedly said, "I hoped the explosions would be bigger," as he watched the vehicle burn, Fox 59 reported.
"Nothing Left to Steal"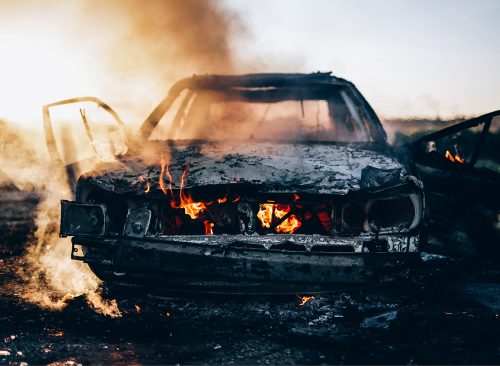 According to court documents, Bristoe started the fire by cutting the fuel line, dumping gas and oil onto the car, setting a bandana on fire, then throwing it into the trunk. "Austin then stated that if there was nothing left of the vehicle then there would be nothing left to steal," a police officer said in an affidavit. It was unclear what Bristoe was referring to, for example if he had experienced car-related thefts in the past. 
Charged With Arson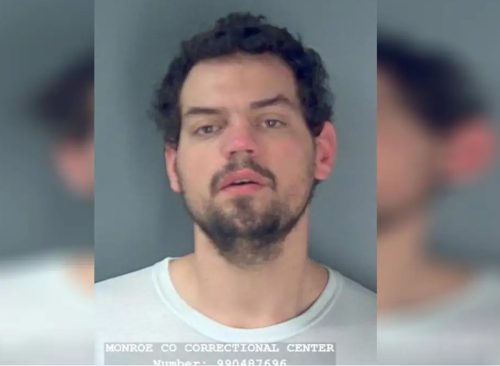 Police arrested Bristoe and charged him with arson. When searching him, they found several packed syringes and a yellow powder he identified as benzodiazepine, Fox 59 reported. Bristoe was then booked on arson plus additional charges of unlawful possession of a syringe, hypodermic needle, and controlled substance.
Another Strange Car Theft Prevented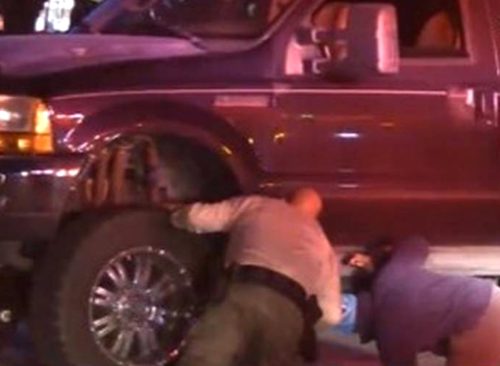 In other bizarre auto-theft-related news, a Los Angeles woman who was sleeping in her SUV in a retail parking lot was awakened by a man attempting to saw off her catalytic converter. She started the car and put it in reverse, then she "felt a bump, like she ran something over," police said. Police responded to her 911 call around 6 p.m. on Feb. 14. They found the woman had apparently backed over and killed the would-be thief.
Catalytic Converter Thefts Have Soared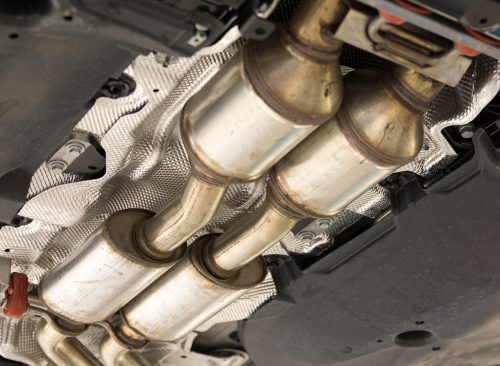 Another man and two women were detained at the scene. Police didn't release their identities but said they had pulled into a parking space next to the woman's Ford Explorer in the parking lot.  Thefts of cars' catalytic converters containing precious metals have skyrocketed across the country. The National Insurance Crime Bureau says more than 14,433 catalytic converter thefts were reported in 2020, compared to 3,389 in 2019.