Laboratory-Grown Blood Has Been Put Into People in a First Clinical Trial
It could potentially solve blood shortages.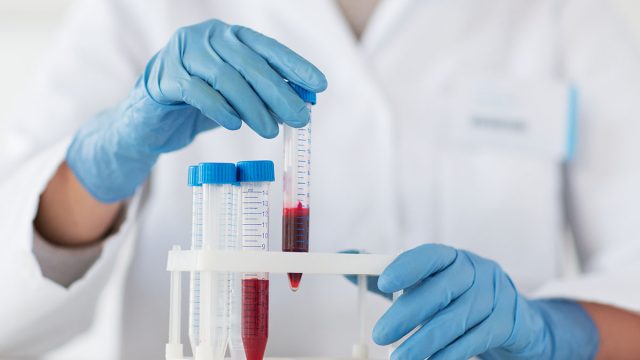 British scientists have announced that blood created in a lab has been infused into humans. The amount of blood was small—just a few spoons—but the potential scientific advancement is significant. It could improve medical treatment for people with rare blood types. BBC News reports that research teams across the UK created the blood from a typical blood donation. From that, they removed stem cells capable of becoming red blood cells. Those stem cells were encouraged to grow to large numbers in a lab, then guided to become red blood cells.
"This world-leading research lays the groundwork for the manufacture of red blood cells that can safely be used to transfuse people with disorders like sickle cell," said Dr. Farrukh Shah, medical director of transfusion at NHS Blood and Transplant. "The need for normal blood donations to provide the vast majority of blood will remain. But the potential for this work to benefit hard to transfuse patients is very significant." Read on to find out how and why.
1
Some Blood Extremely Rare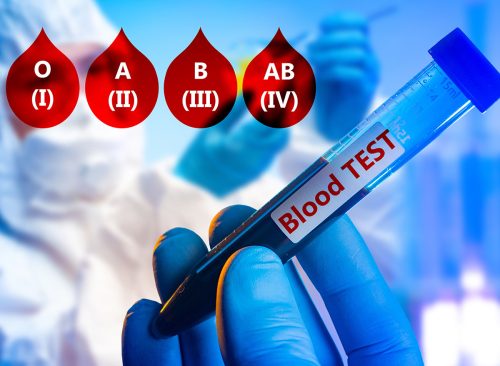 Supply chain issues resulting from the pandemic have made all of us aware of medical shortages. But some supplies are chronically limited—such as rare blood types needed for transfusions. Some people (including those who have sickle cell disease) need these infusions regularly, and their blood types must be precisely matched, or the transfusion will fail.
"Some blood groups are extremely rare, to the point that only 10 people in a country can donate blood," said Dr. Ashley Toye of the University of Bristol. "We want to make as much blood as possible in the future, so the vision in my head is a room full of machines producing it continually from a normal blood donation," Toye told BBC News.
2
Trial To Involve 10 Volunteers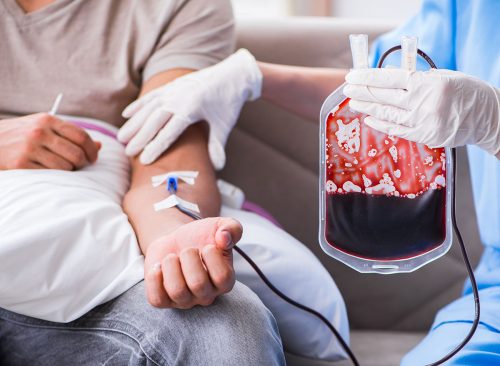 The manufactured blood has been infused into two people as part of a clinical trial. Researchers hope to test the blood in at least 10 volunteers, BBC News reports. Each will receive two donations of 5 to 10 milliliters at least four months apart—one of normal blood and one of lab-created blood. Scientists have added a radioactive substance to the blood so they can gauge how long it lasts in the body.
They hope the blood will be more potent than normal blood. This would allow a patient to receive fewer transfusions over time. It could also help prevent iron overload, a condition in which too much iron accumulates in the body from transfusions and needs to be removed.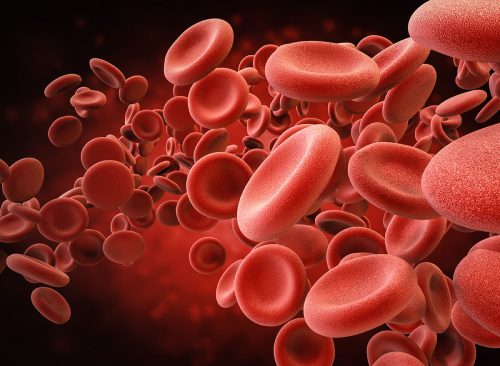 An advantage of lab-grown blood is that it can last longer than blood donated by humans. Red blood cells normally last about 120 days before they're replaced. A typical blood donation contains a mix of young and old red blood cells.
Lab-created blood would contain cells that are all the same age and could last the full 120 days. But the technology is expensive. BBC News reported that the average blood donation costs the UK's National Health Service about $150. Lab-grown blood will cost significantly more, although it's not clear how much.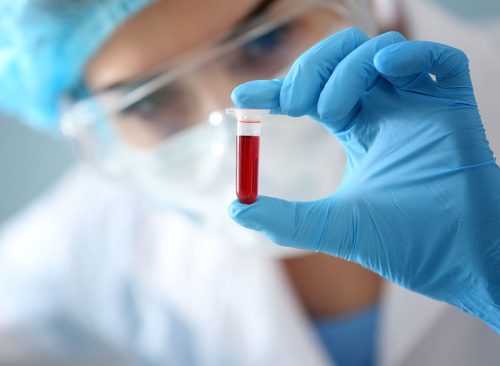 "We hope our lab-grown red blood cells will last longer than those that come from blood donors," Dr. Cedric Ghevaert, chief investigator based at the University of Cambridge. "If our trial, the first such in the world, is successful, it will mean that patients who currently require regular long-term blood transfusions will need fewer transfusions in future, helping transform their care." "This challenging and exciting trial is a huge stepping stone for manufacturing blood from stem cells," said Toye."This is the first time lab grown blood from [from donor stem cells] has been transfused and we are excited to see how well the cells perform at the end of the clinical trial."
RELATED: The 10 Most "OMG" Science Discoveries of 2022
5
Blood Donations Still Needed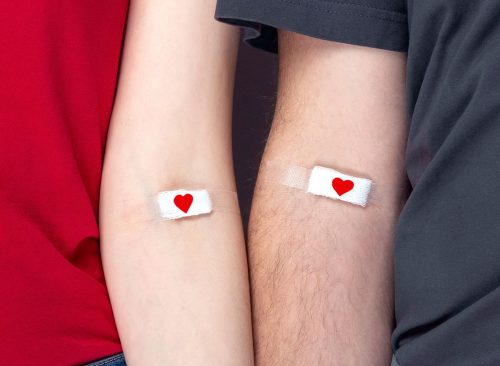 "This research offers real hope for those difficult-to-transfuse sickle cell patients who have developed antibodies against most donor blood types," said John James, chief executive of the Sickle Cell Society. "However, we should remember that the NHS still needs 250 blood donations every day to treat people with sickle cell and the figure is rising."
He added: "The need for normal blood donations to provide the vast majority of blood transfusions will remain. We strongly encourage people with African and Caribbean heritage to keep registering as blood donors and start giving blood regularly."
Michael Martin is an experienced writer and editor in New York City. He specializes in helping people make life-improving decisions on their health, nutrition, finances, and lifestyle.
Read more