Controversial Moment San Francisco Art Gallery Owner Hoses Down Homeless Woman
He said "she was so out of control."
A San Francisco art gallery owner was caught on camera spraying a homeless woman with a hose Monday in front of his establishment has started a firestorm on social media, with some condemning it and others saying the incident is just the latest sign the city's homeless situation has spiraled out of control. In the video, Collier Gwin, owner of Foster Gwin Gallery in the posh Jackson Square district, is seen spraying the woman with water as she cries out.
In subsequent interviews, Gwin defended his actions, saying she had become a nuisance in the area. Some social media commenters condemned him; others came to his defense. For months, local businesses have faulted the city's response to the issue of the unhoused. What's clear is that it's a viral video that won't be irrelevant after the next news cycle. Read on to find out what Gwin told local media and how the public has responded.
1
"She Was So Out of Control"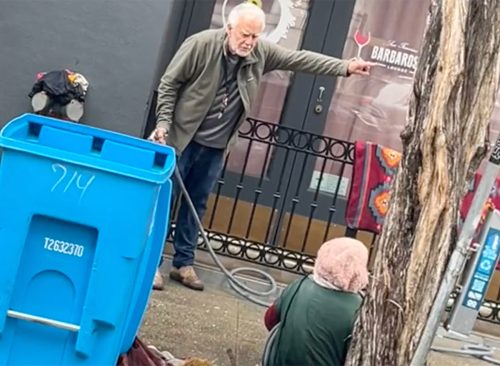 Gwin admitted to being the man in the video and defended his actions in an interview Tuesday with the San Francisco Chronicle. He said the homeless woman had become violent and was turning over garbage cans, strewing her possessions around, and turning people away from his business.
"I said you have to move, I cannot clean the street, move down," Gwin told the news outlet. "She starts screaming belligerent things, spitting, yelling at me… at that point she was so out of control… I spray her with the hose and say, 'Move, move. I will help you.'"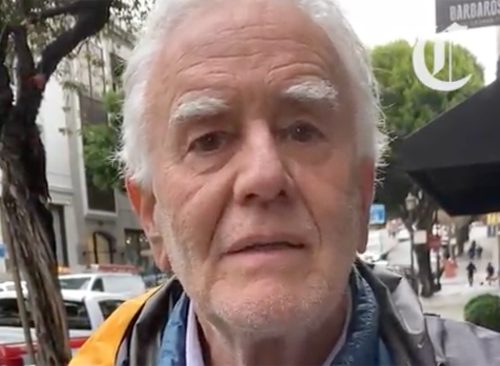 Edison Garcia, a chef at nearby Brioche Cafe, spotted the scene around 6 a.m. and pulled out his phone to record. "I was shocked," he told the Chronicle.
"I know that lady," Gwin said that before the incident, he had allowed the woman to sleep in his entryway for days and called the police and other agencies in an effort to help her. "You know, spraying her's not the solution, but spraying her was something that woke her up, and that calmed her down," said Gwin. "So am I sorry? I'm only sorry that… my way of helping her countlessly has gotten nothing done."
3
Business Owners Had Tried to Get Woman Help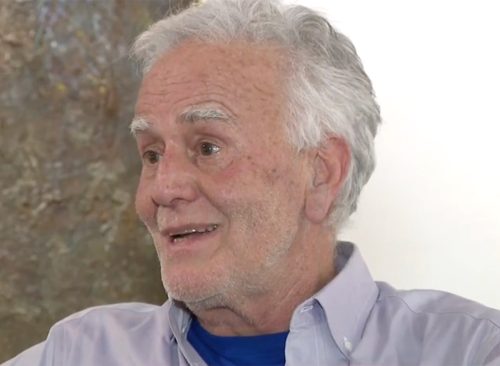 "What they saw is very regrettable," Gwin, a 40-year San Francisco resident, later told local station KPIX. "I feel awful, not just because I want to get out of trouble, or something like that, but because I'd put a tremendous amount of effort into helping this woman on the street."
He said he and other neighboring business owners had called social services to get the woman assistance more than two dozen times in the last two weeks. "I said she needs psychiatric help," Gwin said. "You can tell, she's pulling her hair, she's screaming, she's talking in tongues, you can't understand anything she says, she's throwing food everywhere."
4
"He Should Consider Leaving"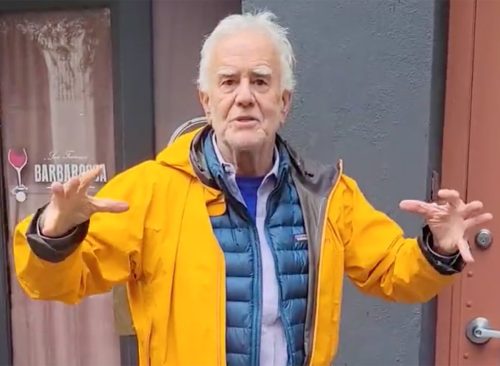 Gwin's video interview was posted to Twitter, where commenters promptly weighed in. "He's frustrated. I totally understand why he did what he did," said user @giovigang. "He shouldn't have done it though. Unfortunately, SF isn't gonna change anytime soon. He should consider leaving." "Either way the man should NOT be hosing down a distressed sentient being in winter," said @SK_Hurley.
"He needs to be arrested for elder abuse and assault," said @javert2323. "If that's how she wants to live great, but in that case she shouldn't be allowed to stand on public paths in front of businesses," said @petrichorldn_. "If she literally admitted she wants to be homeless I find hard to feel bad for her living in the street, and she should relocate."
5
Homeless Problem Growing in City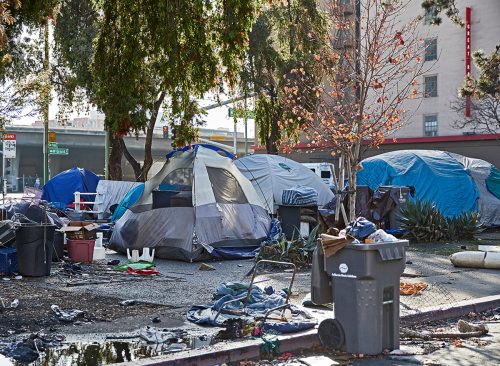 San Francisco is grappling with a growing homeless problem. The number of homeless in the city stands at 8,000, the second-highest figure since 2005, government figures indicate. In August, local business owners with the Castro Merchants Association said some homeless people outside their establishments had been harassing customers, and they asked the city for help.
"They need shelter and/or services and they need them immediately,' the association told city officials in a letter. 'Our community is struggling to recover from lost business revenue, from burglaries and never-ending vandalism/graffiti (often committed by unhoused persons) and we implore you to take action."