Elderly Worker Fights With Customer Allegedly Trying to Steal Cart of Groceries
The video has been viewed on TikTok more than 4 million times.
How far is too far to go for your employer? Viral video shows an elderly employee of an Australian grocery store tussling with a customer who has apparently stolen a cart full of groceries. The video—which has been viewed on TikTok more than 4 million times—engaged online commenters in a vigorous debate.
Was the older woman justified in using force to try and stop the thief? Or was it above the employee's pay grade and an unnecessarily risky act? Read on to find out what happened, and what people had to say about it. 
1
Struggle Over Loaded Grocery Cart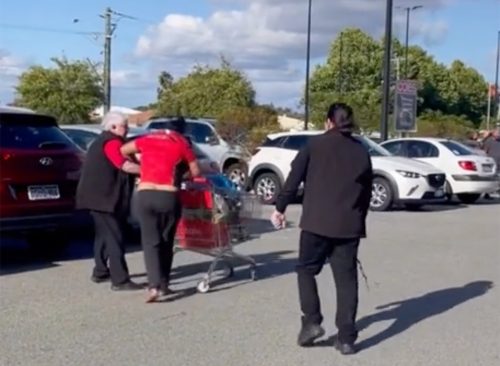 Bystanders captured the video outside a Coles grocery store in Perth, Australia, this week. Footage shows two employees—one of whom appears to be elderly—trying to physically stop a woman from taking a cart full of groceries. The shopper struggled to get free from the employees, at one point pulling off her own sweater and dropping her purse.
The woman, who is barefoot, runs over to the full shopping cart and tries to push away an employee who seems to be attempting to take the items back. 
2
Goods Ultimately Retrieved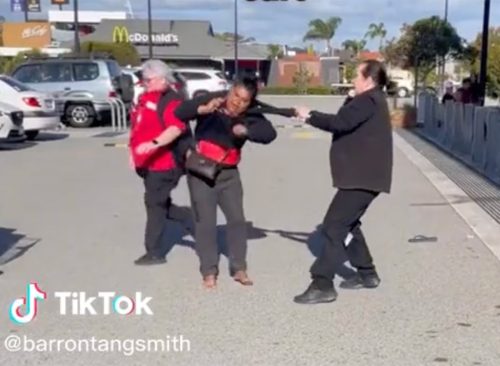 As a crowd watches outside the supermarket, the woman grabs a box from the cart and walks away. The supermarket employees are seen taking the cart with the rest of the items back into the store.
Several TikTok commenters praised the employees' actions; others said they wouldn't have gone as far. "I used to go over and beyond for my work until I got hurt and work did the bare minimum in support. Now I would never put myself at risk like this," said one commenter.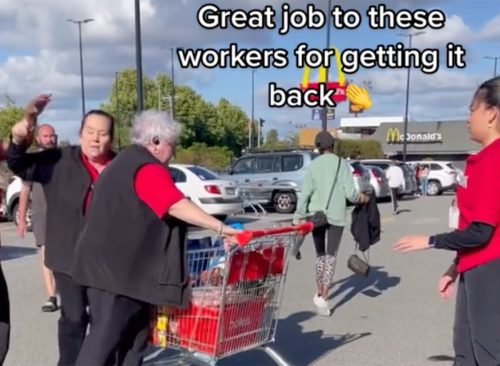 "I have had the same experience … I will never put my health on the line for my work again we are just a number easily replaced," another commenter said. "Too bad the workers risked their life but don't get paid for that," wrote another.
"They won't even make employee of the month. Should have left it to store security," said another. Some commenters pointed out that certain retailers tell their employees not to chase after a shoplifter—the person may have a weapon, and pilfered items are easily replaced.
4
Another Recent Foiled Theft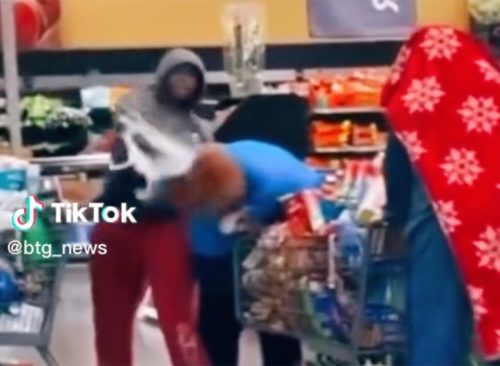 This isn't the only recent case of a store employee confronting a violent shoplifter on video. On Tuesday, the US Sun reported on a Walmart employee who sustained blows to the head when trying to stop a pair of shoplifters. In the video posted to TikTok, the alleged shoplifters attempted to take two full grocery carts out of the Walmart store without paying.
When confronted by the employee, the frustrated thieves smack her head and shoulders with clothes hangers before fleeing the store "Walmart employee stops theft and pays for it. Walmart please give this woman a raise," wrote BTG News, which posted the video. 
5
Protect Yourself First, Commenters Say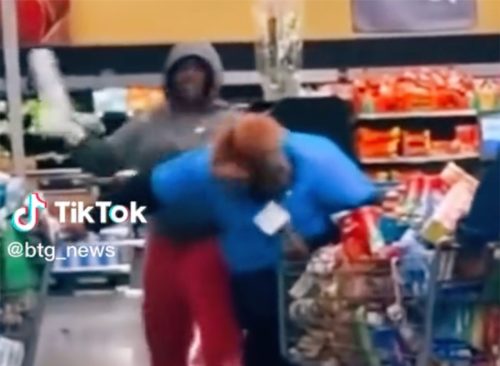 "No job will ever pay me enough to do that!" said one commenter on the video. "She's waaaaaay better than me, that's all I can say," wrote another. "It's a multi billion dollar company and they pay her maybe $13-$16 which is not enough to put her own life in danger," said another.