10-Foot Alligator Kills Woman Who Was Trying to Save Her Dog in Florida Retirement Community
Shocking photos and video show at least six people wrangling the alligator.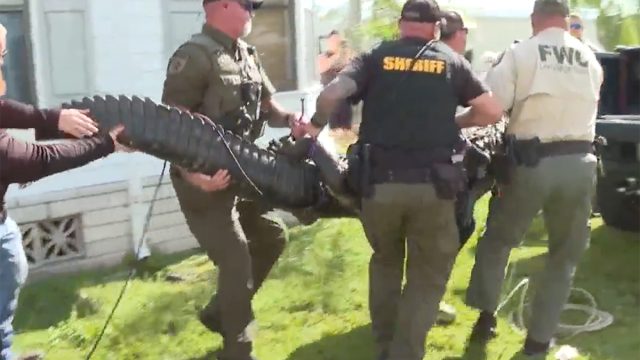 An 85-year-old Florida woman was killed by a 10-foot-long alligator near her home this week, after the giant reptile lunged from a pond and dragged the octogenarian into the water. The attack happened on Monday, as the woman was walking her dog at the Spanish Lakes Fairways retirement community in Fort Pierce, Florida, officials said. Neighbors told multiple news outlets that the alligator emerged suddenly from the water and pulled the woman under. Shocking photos and video show at least six people wrangling the alligator and placing into the back of a pickup truck. Read on to find out more, including a dramatic eyewitness account from a neighbor who saw the attack and tried to save her friend. 
Alligator Went For Dog, Then Owner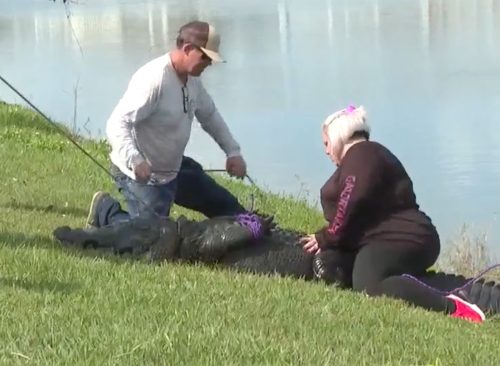 Gloria Serge was walking her dog around a retention pond when the attack happened. The gator grabbed Serge by the foot after trying and failing to nab her pet, CBS 12 reported. "The victim has been recovered and a contracted nuisance alligator trapper has captured the alligator involved in the incident," the Florida Fish and Wildlife Conservation Commission said in a statement. The alligator was euthanized. Serge's dog survived.
Dramatic Eyewitness Account: "Gloria Was Down"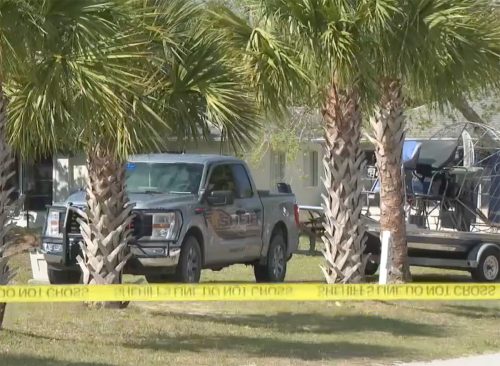 Carol Thomas, a retiree lives beside the lake, said she was in her bedroom when she looked out her window and saw the gator attacking her neighbor. "I heard something, and I looked and Gloria was down. The dog was running up the hill, and I saw the alligator come out and grab her leg," said Thomas. "She came up for air, and she pushed her hair back, you know, out of her eyes and her arm was out, and I said, 'Gloria swim toward the paddle boat!' We have one overturned in the lake, 'cause I figured if she could get there I could shove it out, she could grab it. She said 'I can't. The gator has me!'" Thomas said. Thomas then grabbed a pole and ran out to attack the gator, but when she reached the water, Serge was no longer visible.
"You Don't Go Near Them"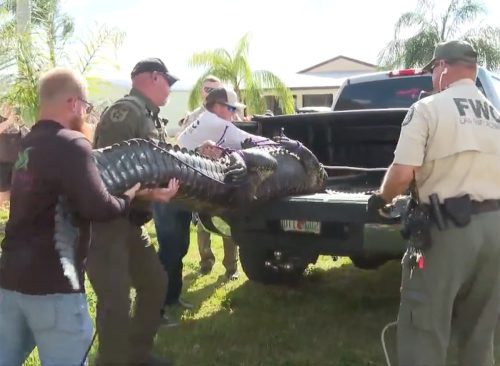 Neighbors told CBS 12 that alligators are commonly seen in the area. "We count them, we stop and take pictures, as long as you don't go near them," resident Bill Large said. "They move around at night, you'll see them walking from pond to pond. We just have to be vigilant and watch out for them." The Fish and Wildlife Commission said alligators usually don't attack people and that fatal alligator encounters are rare. In the last decade, Florida has averaged eight alligator bites requiring medical attention each year. Experts advise that if you see an alligator, stay at least 15 to 20 feet away.
Some Fatal Attacks Reported Recently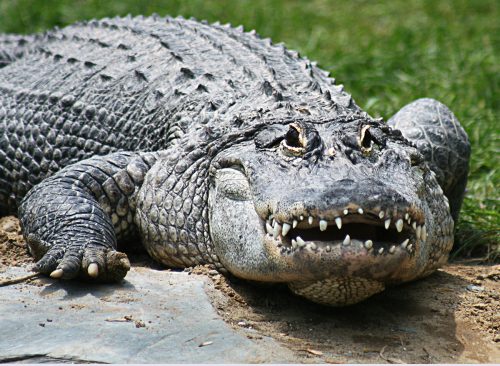 But fatal attacks have occurred in Florida in recent years. On June 6, 2018, 47-year-old Shizuka Matzuki was killed while walking her dogs at the edge of a lake in Broward County. The alligator that killed her was a 12-foot, 3-inch male. In April 2019, Jardan Battle, 31, was killed by an alligator while trying to evade police. He tried swimming across the retention pond in Fort Meyers when he was attacked. The alligator in that incident was 10 feet, 3 inches long.
"There's Nothing You Can Do"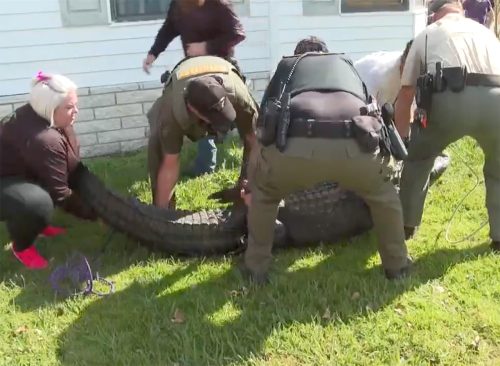 The neighbor who witnessed the attack says she's traumatized by the experience. "There's nothing you can do. Just kind of haunted by that, you know, I don't know what else I could've done," said Thomas. "That was just a terrible, horrible experience, you know and I know her family, my feelings are probably minuscule to what their family is feeling, and her friends," she added.