10 Shocking Claims as Alex Murdaugh Testifies in Murder Trial. "I Did Lie."
The former attorney finally tells all while under oath.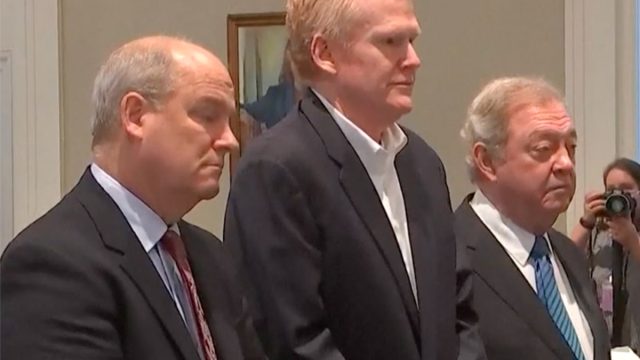 Ever since the beginning of Alex Murdaugh's murder trial, everyone has been wondering if the former South Carolina attorney accused of shooting his son, Paul, and wife, Maggie, would testify on his own behalf. On Thursday, as the defense's final witness, he took the stand. During his hours-long testimony, he answered all the questions people have been asking for years and made some seriously shocking confessions about what exactly went down on June 7, 2021, the day of the heinous crimes.
He Asserts That He "Didn't Kill My Wife or My Son"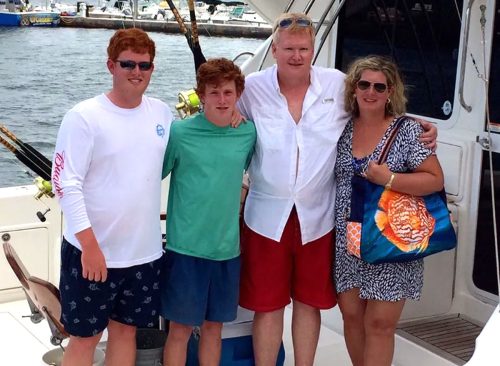 The first thing Alex Murdaugh did when he took the stand to defend himself, was repeatedly tell the jury that he didn't kill his family. "Mr. Murdaugh, on June 7, 2021, did you take this gun or any gun like it and shoot your son Paul in the chest" at his property?" aks his lawyer, Jim Griffin. "No, I did not," he responds. "Did you take this gun or any gun like it and blow your son's brains out on June 7 or any day, any time?" he asks him. "No, I did not," Murdaugh replies. Then, he is asked if he killed his wife, Margaret "Maggie" Murdaugh. "I didn't shoot my wife or my son anytime ever," he insists. 
He Says He Lied About Not Being at the Dog Kennels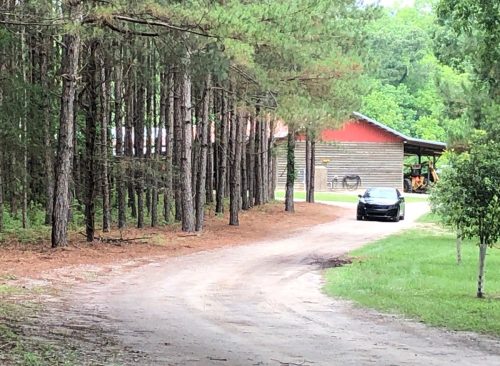 One of the major pieces of evidence presented by the state is a Snapchat video placing Alex at the dog kennels just before Maggie and Paul were killed. He has vehemently denied being there, saying he was asleep at the house. "Did you lie to SLED Agent Owen and Deputy Laura Rutland on the night of June 7 and told them that you stayed at the house after dinner?" Griffin asked him. "I did lie to them," Alex confesses. "Did you lie to Agent Owen and Agent Croft on the follow-up interview on June 10, that the last time that you saw Maggie and Paul was at dinner?" Griffin asks. "I did lie to them," he responds. "And then, in the interview of August 11, did you tell Agent Owen and Agent Croft, did you lie to them by telling them that you were not down at the kennels on that night?" Griffin continues. "Yes," he says. He claims that he lied because of his drug addiction, saying it "caused me to have paranoid thoughts." He continues: "On June the 7th, I wasn't thinking clearly. I don't think that I was capable of reason," he says, apologizing to his family for lying. 
Alex Says That He Went to the Dog Kennels After Dinner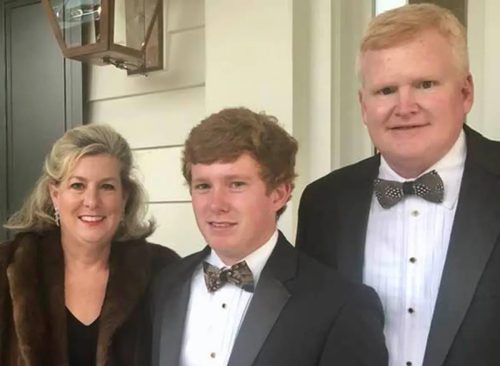 In his new confession, Alex explains that the family had dinner at the house and Paul, then Maggie, went to the kennels but that he didn't want to go. "Like many times when Maggie asked me to do something that I did not want to do or didn't start out doing, I changed my mind and decided I am going to ride up there. And I did," he says, adding that he went there in his golf cart. Upon arrival there was "a little bit of chaos" and he removed a chicken from one of the dog's mouths. Then he returned home in the golf cart. "I went straight back to the house to the air conditioner," he continues. After lying on the couch, he decided to go visit him mother. 
Alex Claims He Saw Paul's "Brain Laying on the Sidewalk" When He Returned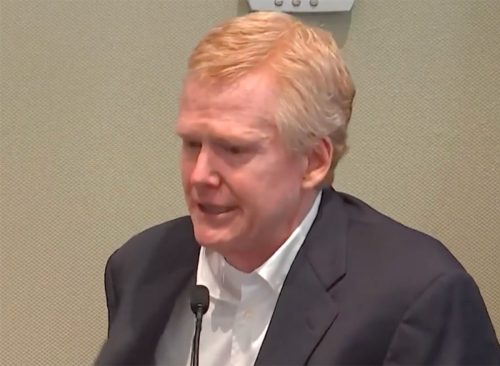 After returning home, he is "not positive" if he tried to call Paul and Maggie before he drove back to the kennels. When he arrived he immediately saw their bodies and got out. "I am not sure exactly what I did, but I know that I got out of my car. I know I ran back to my car, called 911. I was, I called 911, and I was on the phone with 911 and trying to tend to Paul Paul, I was trying to tend to Maggie. I just went back and forth between them," he says. "Paul was so, he was so bad. At some point, I mean, I know that I tried to check him for a pulse. I know that I tried to turn him over," he continues. "I could see his brain laying on the sidewalk," he adds. He "didn't know what to do" so he tried to turn him over, and his phone popped out of his pocket. He then set it on top of him.  He also says he thinks he touched Maggie around her waist, but isn't sure. 
He Says "He Should've Known" That People Wanted to Murder Paul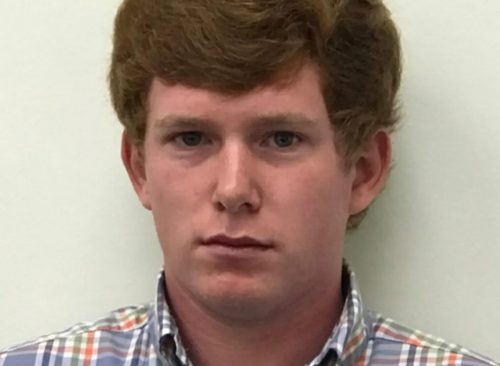 In the 911 call played throughout the trail, Alex can be heard saying "I should've known." Griffin asks him what he meant by that, and he responds that Paul was repeatedly threatened on social media after the boating accident that took a young woman's life. "He got the most vile threats. I mean, the stuff that was on social media, I mean it was, you couldn't believe it. You couldn't believe it. It was so over the top, truthfully, we didn't think anything about it. I mean, it was just so crazy. You know, just, I mean, people talking about what he was going to get and how they were going to do this and get him," he says. "We disregarded it because it's so over the top, thought it was so over the top."
He Went Back to Grab a Gun Because He "Didn't Know" if the Murderer "Was Still Out There"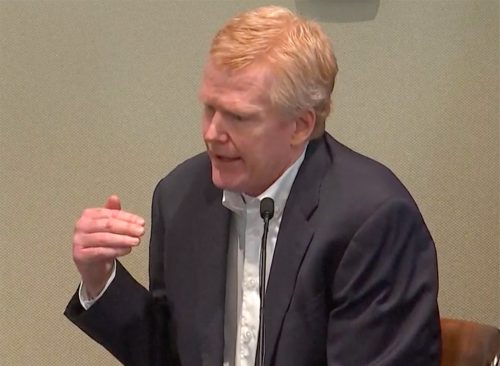 After finding his wife and son dead and calling 911 he explains that he returned to the home to get a gun because he "didn't know if somebody was still out there." He found one that was "laying on the pool table," he maintains. "It would have been the place I came to, I know I was grabbing the first gun I could get." 
He Claims There Was No "High-Velocity Blood Spatter" on Him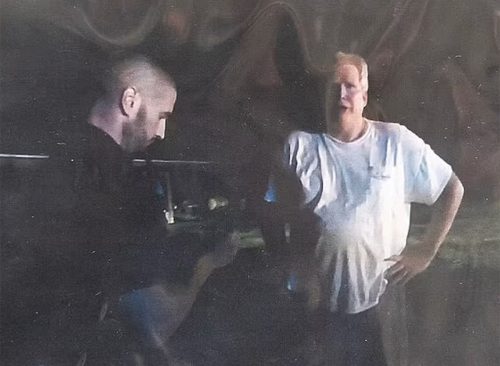 The state has presented reports finding blood spatter on Alex's shirt from the night of the murders. "Did you get, on your shirt, high-velocity blood spatter from being within the distance of shooting of Maggie or Paul?" Griffin asks. "There's no way I had high-velocity blood spatter on me," Murdaugh responds. "I have seen reports that said that," he continues. "I was nowhere near Paul and Maggie when they got shot." However, he says that if Maggie's blood was on his shotgun it is because he got blood on his fingers when touching the bodies. "I put it there," he says.
He Denies Bringing a Blue Raincoat to Almeda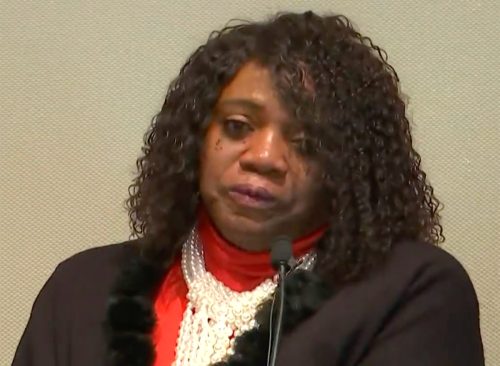 Shelley Smith, Alex's parent's longtime housekeeper, testified that she saw Alex with a blue raincoat/tarp at the Almeda house early one morning. "I know for a fact I didn't go to Almeda at 6:30 in the morning. I was in Summerville," he testifies. He continues to deny ever taking such an item int he week after his father's funeral. 
He Details His Drug Addiction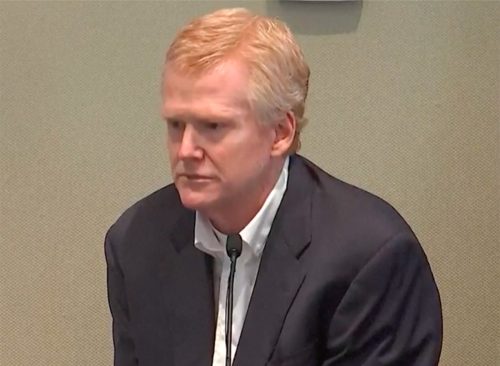 Murdaugh detailed his drug addiction, claiming that he stole to fund his habit. "My addiction is to opiate painkillers, specifically oxycodone, oxycontin," he says, revealing that he first gor addicted to hydrocodone around 2004 moving on to oxycodone around 2008. "It just escalates. It escalates." He says he went to detox three times and also rehab. He claims he has been sober for "535 days — and I'm very proud of that."
Cousin Eddie Was Supposed to Bring Him Pills, But Then He Told Him to Shoot Him, He Claims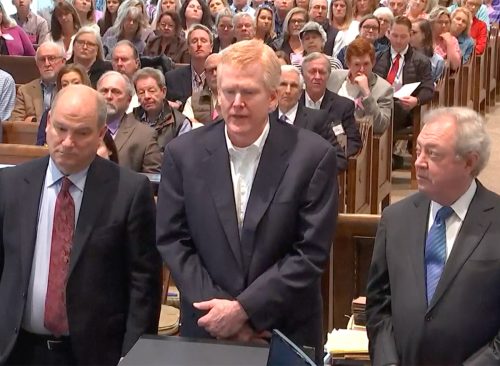 Alex claims that initially, he asked Cousin Eddie to bring him more pills because he was going through withdrawal. But then he changed the plan when he was experiencing serious withdrawal symptoms. "Not to get the pills from him anymore and instead I asked him to shoot me," he says. "I meant for him to shoot me so I would be gone."
Leah Groth has decades of experience covering all things health, wellness and fitness related.
Read more