Alex Murdaugh Murder Trial: 5 New Revelations
Here are the latest developments in the bombshell trial.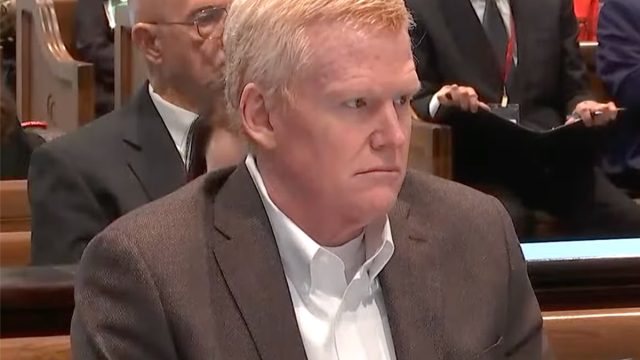 The Alex Murdaugh trial continues to drop major bombshells about the events surrounding the murders of  Maggie, 52, and Paul, 22, Murdaugh at their South Carolina hunting lodge on June 7, 2021. What is so riveting about the case is that the accused allegedly committed multiple other crimes – ranging from trying to cover up Paul's involvement in a boating accident that took the life of a young woman, hiring someone to kill him so his surviving son, Buster, could collect life insurance and lying about it to being involved in various financial crimes. This week there have been a handful of developments as the murder trial continues and new witnesses are called to the stand. 
Alex Allegedly "Stole" Money From His Lawfirm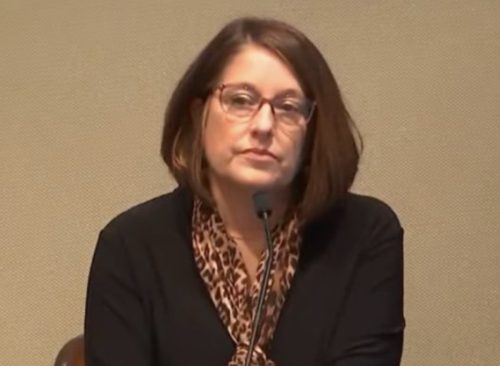 Jeanne Seckinger, CFO of The Parker Law Group, testified on Tuesday that Alex "stole" hundreds of thousands of dollars in fees from the law firm in addition to stealing millions by depositing settlement checks into an account he controlled. The firm is currently paying the money back to clients, "Because Alex Murdaugh stole it," Seckinger said in her testimony. 
The CFO Says She Confronted Him Hours Before the Murders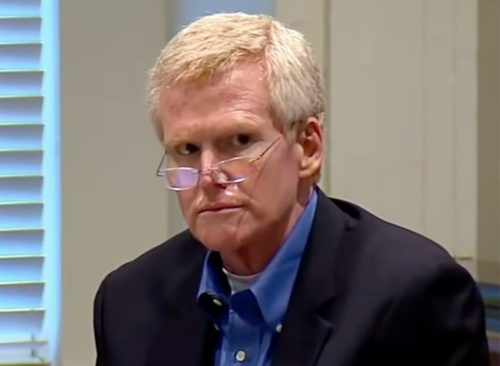 On June 7, 2021, Seckinger testified that she confronted Alex about the $792,000 in missing fees she believed he had stolen. However, he tried to tell her the money was in a trust. "He looked at me with a pretty dirty look – one I had not seen before," she told jurors. "[He] said, 'What do you need now?' clearly disgusted with me, which kind of raised my hackles, so I said let's go in your office and talk about it." However, Alex told her he received a phone call that his father was back in the hospital with a "terminal" condition. Later on that afternoon, Alex called her to ask for his 401k balance, claiming that he needed the information for a hearing later that week in the wrongful death lawsuit surrounding the boating death of Mallory Beach.
Alex Allegedly Asked His Mother's Caregiver to Lie About the Timing of His Visit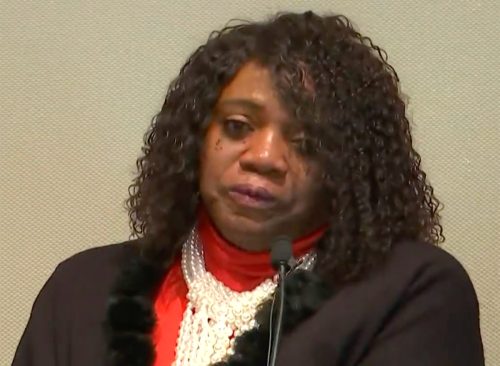 Libby Murdaugh's caregiver, Muschelle "Shelly" Smith, testified on Monday that Alex showed up at his mother's house on the night of the murders acting "fidgety" and only staying for 20-minutes. Later on, he claimed he was there for 30 to 40 minutes and asked her to confirm his alibi. In exchange he would help her financially and with her other job.
Alex Allegedly Brought A Blue Tarp/Rain Jacket Into His Mother's House a Few Days After the Murders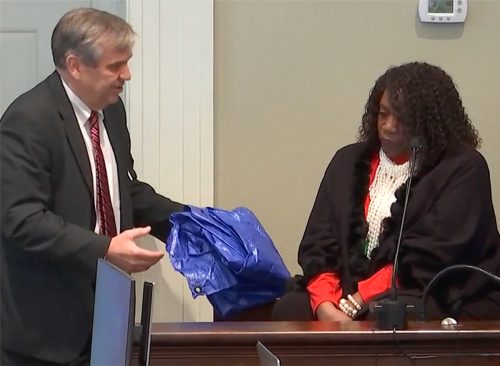 Smith previously testified that Murdaugh brought a "blue tarp" and not a blue rain jacket into his mother's house a few days after the murders. Prosecutor Creighton Waters pointed to part of the transcript where Smith was shown a photo of a "bundled up blue item" and asked if that was what she had seen. She confirmed it was. It was a blue rain jacket. "Clearly she did not know what it was. It wasn't opened up, and she could not clearly identify the item either as a tarp, as shown by Mr Griffin, or as a raincoat," he said. Prosecutors maintain that law enforcement found a blue tarp and a blue rainjacket in a search of the home. However, gunshot residue was found on the jacket.
The Blue Rain Jacket Is Allowed As Evidence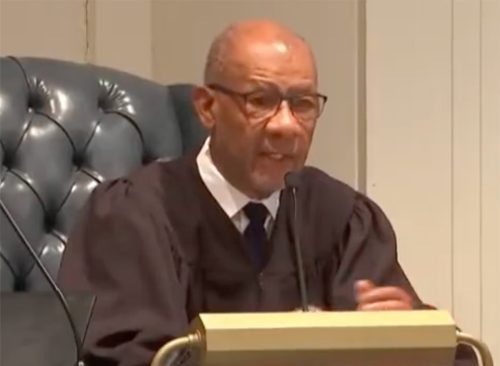 The defense filed a motion to strike the blue rain jacket as evidence. However, Tuesday morning the judge allowed it. "I find that it is relevant and that it creates, through inference, facts that are in dispute in this case. I deny the motion to strike her testimony, if that's what the motion is. I deny the motion to declare her testimony as being irrelevant," Judge Newman said.
Murdaugh Wore a "Freshly Laundered" Shirt After the Murders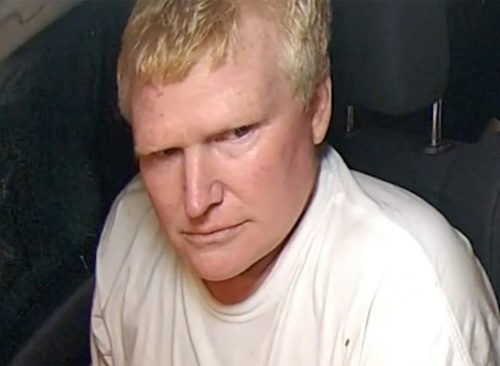 When law enforcement officers arrived at the scene of the crimes, Alex was wearing clothes without blood or gunshot residue. A former South Carolina State Law Enforcement Division forensic technician, Jamie Hall, testified that the following day she tested the clothes for gunshot residue, and his white t-shirt "smelled freshly laundered." 
The Judge Believes the Murders Could Be Related to Murdaugh's Financial Crimes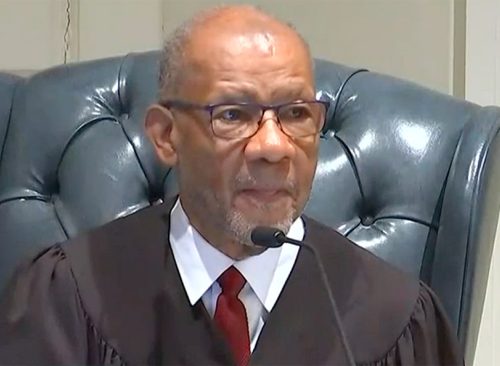 On Monday Judge Clifton Newman declared that the state would be allowed to present evidence of Murdaugh's financial crimes to the jury. Why? They believe that they contributed to the disbarred lawyer's motive to murder his wife and son. Last week, testimony was presented from witnesses attesting to the financial crimes of Murdaugh. However, the jury wasn't present, because Judge Newman wanted to determine whether the evidence should be admissible. 
Last week, testimony was presented from witnesses attesting to the financial crimes of Murdaugh. However, the jury wasn't present, because Judge Newman wanted to determine whether the evidence should be admissible. 
The State Believes the "Looming Exposure of Financial Crimes Provided Motive"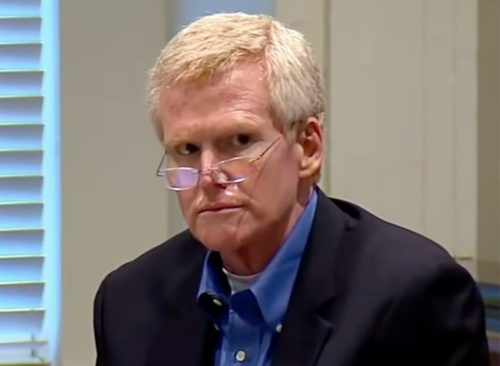 "The state argues that the logical nexus between the murders and other crimes is that the looming exposure of financial crimes provided motive for the murders and is evidence of malice, an essential element of the crime of murder," Newman said.
Murdaugh's Alleged Financial Crimes Were Going to Be Revealed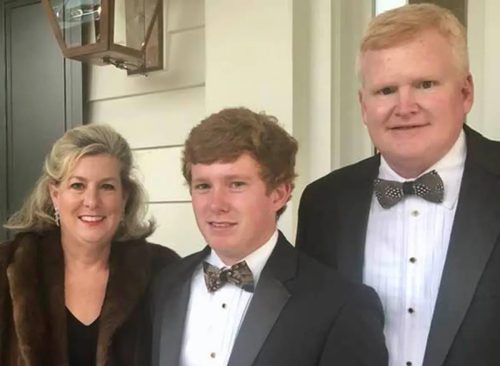 He added that on the afternoon of June 7, 2021, just hours before his wife and son were murdered, Murdaugh was working on motions related to the boat crash his son was involved in, with the crash litigation scheduled for three days later. During that hearing, his financial crimes were going to be exposed. Murdaugh is currently facing 99 charges separate from the murder charges. 
The "Jury Is Entitled to Consider" the Evidence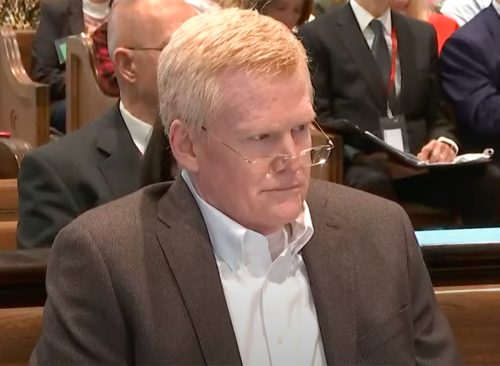 "I find that the jury is entitled to consider whether the apparent desperation of Mr. Murdaugh, because of his dire financial situation, threat of being exposed for committing the crimes for which he was later charged with, resulted in the commission of the alleged crimes," Newman concluded.
What Do We Know So Far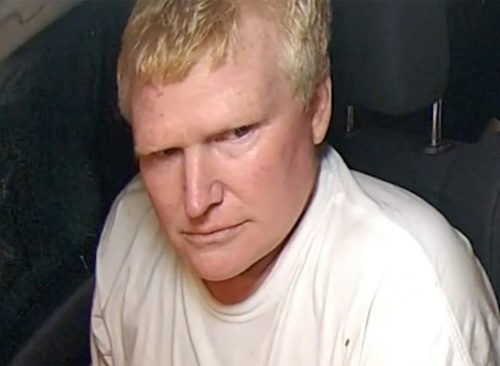 Alex Murdaugh is currently on trial, accused of murdering his wife, Maggie, 52, and son, Paul, 22, at their South Carolina hunting lodge on June 7, 2021. The family patriarch claims the murders were likely a result of someone trying to get revenge against his family for the boating accident Paul was involved in that took the life of a young girl. The prosecution maintains that Alex murdered his family members to take the heat off his other legal woes. If convicted, Murdaugh faces 30 years to life in prison. Here is what we have learned so far. 
A Video Sent to Paul's Friend Allegedly Puts Alex at the Scene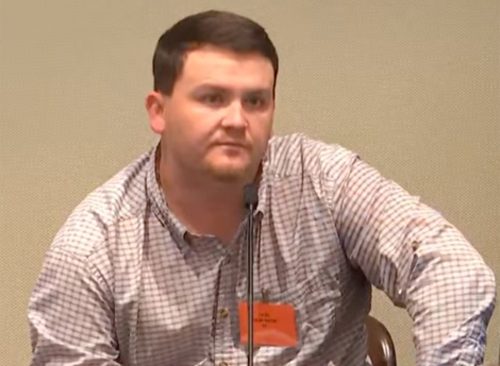 Rogan Gibson, a friend of Paul's who describes the Murdaughs as a "second family," was corresponding with the murder victim shortly before he was killed. The correspondence was about Gibson's dog, who Paul was watching. In a short video clip sent to Rogan of his dog's tail time-stamped at 8:44 p.m. and taken at the kennels where the double murder took place, three voices could be heard.
Gibson testified that he spoke with investigators the day following the murders and was "99%" sure that Alex's voice was in the background. On Wednesday, lead prosecutor Creighton Waters asked, "did you recognize the voices of your second family?" and Gibson responded, "I did."
A Snapchat Video of Alex Cutting Down a Tree Also Allegedly Puts Him at the Scene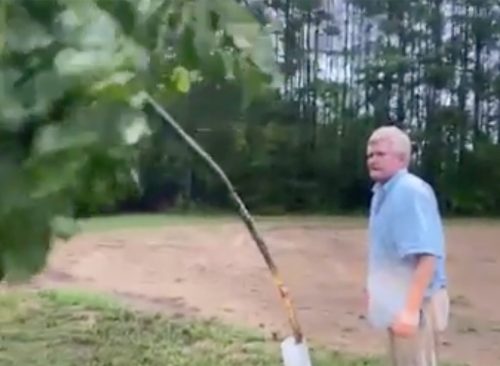 In another video taken at  7:56 p.m. and uploaded a minute later by Paul, Alex can be seen next to a tree. Snapchat representative Heidi Galore is the 19th witness. "It's a video of a subject near a tree, and it's a short video with some audio," Galore said. Paul and Alex can be heard laughing in the background. In the video, Alex is wearing different clothes than he was when law enforcement arrived. 
Alex Was Confronted About Financial Crimes the Day of the Murders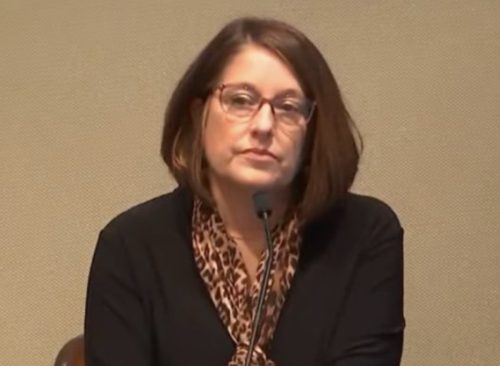 In new testimony, Jeanne Seckinger, CFO of the Parker Law Group, reveals that she confronted Alex on the day of the double murder over $792,000 in missing settlement funds. "[Alex] was leaning on a file cabinet outside his office, and he turned to look at me as I came up and said, 'What do you need now?' and gave me a very dirty look," recalled Seckinger. "We went in the office and closed the door, and I told him I had reason to believe he received the funds himself and that I needed proof that he had not."
He then assured her that he would get the documentation, but the conversation was interrupted when Alex said he got a phone call that his father, Randolph Murdaugh III, was in the hospital and dying. Later that day, he called her to ask how much money was in his 401k account. "He stated that he was working on some financials for the boat accident hearing later in the week," she said.
Neither Paul Nor Margaret Sounded Stressed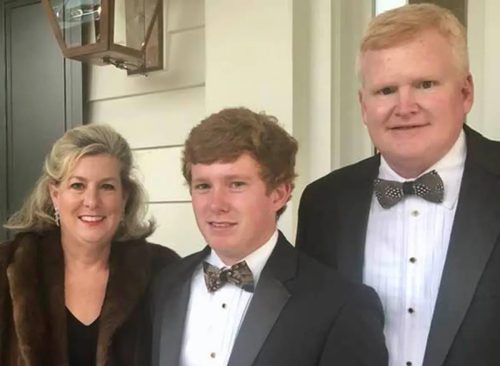 During Gibson's testimony, he confirmed the suspicion that neither Margaret nor Paul had any idea that they were in trouble. He said that neither of the two sounded stressed or scared. 
The Murder Weapons Haven't Been Found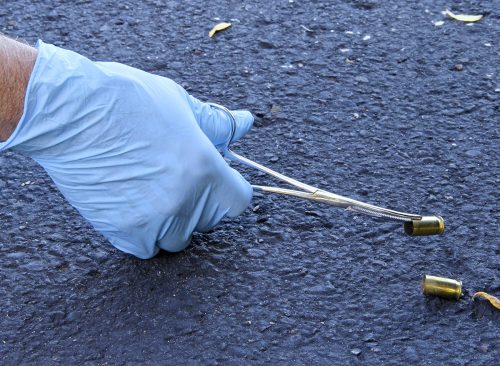 Maggie was shot multiple times with a rifle, while her son Paul was shot twice with a shotgun. During opening statements, prosecutors revealed that neither of the murder weapons have been found. However, bullet casings found around other parts of the property match those found around Maggie's body, which suggests she was killed with "a family weapon."
Alex Allegedly Called His Wife Twice Right After She Was Killed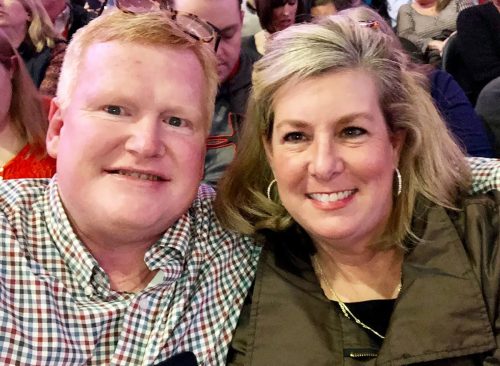 Prosecutors maintain that Alex tried to set up an alibi by calling his wife, testing her just moments after the murders to tell her he was going over to his mother's house 20 minutes away. Prosecutors believe he was trying to cover his tracks and "manufacture an alibi. He also made five additional calls to other people on the drive.