"Nightmare" 800-Pound Alligator Caught After 7-Hour Battle
They harvested this male alligator in the West Central Alligator Hunting Zone.
Big—and we mean big—alligator news: "NEW MISSISSIPPI RECORD GATOR CAUGHT TODAY," announced Chris Mann. "Another HUGE West-Central Mississippi dinosaur harvested today! Official measurement is a WHOPPING 14'.3" and 802.5lbs!… They harvested this male alligator in the West Central Alligator Hunting Zone. He measured 14 feet and 3 inches long, with a belly girth of 66 inches and tail girth of 46.5 inches. He weighed 802.5 lbs!" Keep reading to discover more about the big beastie.
1
It All Went Down This Past Saturday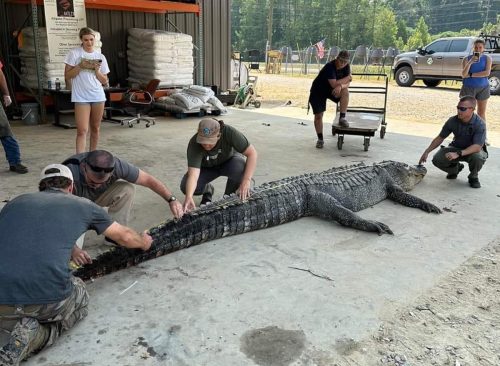 It all went down on Saturday "after an intense seven-hour battle, a crew of hunters hauled in the biggest alligator ever caught and recorded in the state of Mississippi. The monster weighed an astonishing 802.5 pounds, according to the Mississippi Department of Wildlife, Fisheries, and Parks (MDWFP). And at 14-feet, three inches long, it out-measured the Magnolia State's previous length record by a little more than two inches," reported Field and Stream. 
2
These are the Hunters Who Caught it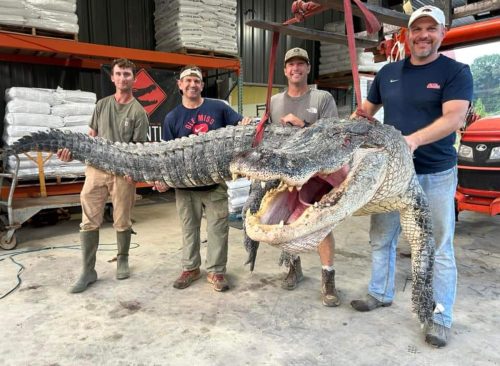 "Congratulations to these Mississippi hunters!" said Mann. 
Tanner White – Flora
Don Woods – Oxford
Will Thomas – Madison
Joey Clark – Jackson
"It was pandemonium. It was chaos," Thomas, a 43-year-old lawyer from Madison, Miss., told The Washington Post. "When you have an 800-pound animal on the end of a fishing rod, and he's coming up and he looks like a beast, everybody is kind of going crazy, and your adrenaline is pumping."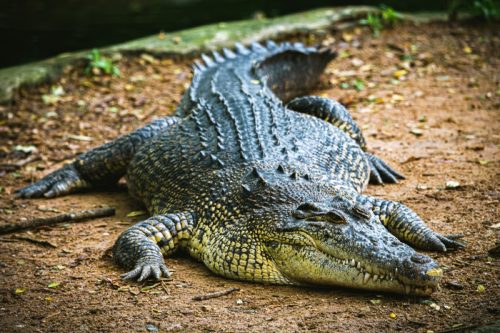 "We knew he was wide," Woods later told the Clarion-Ledger. "His back was humongous. It was like we were following a jon boat."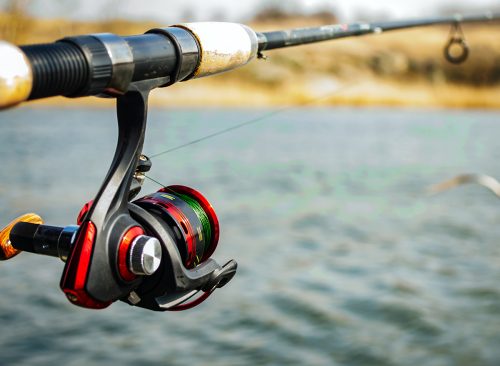 "According to Woods, the crew went on to hook the gator eight or nine times, but it kept on breaking their rods and reels. It swam to the bottom of the Yazoo, settling in beneath logs, and stopped moving for hours on end. Finally, around 3:30 a.m., the big gator started to lose its stamina. A half hour later, the hunters dispatched it and pulled it aboard their boat," reported Field and Stream.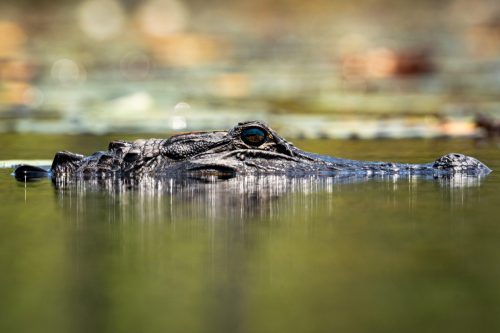 "The state has authorized a public alligator sport hunting season since 2005. Today, the season lasts 10 days and allows hunters with the appropriate permits to 'harvest' two alligators over 4 feet long, with only one of them allowed to be longer than 7 feet. This year's season began on Friday," reports CBS News. "The reptiles, which according to the state 'are not naturally aggressive towards people,' are not allowed to be captured and removed or killed without a permit from the state's wildlife department."
6
"The Alligators Need to Go"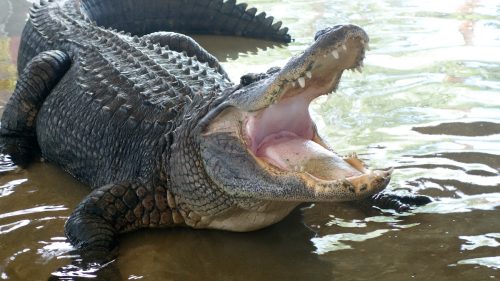 "Alligator populations have become a source of contention in some areas of the state. Earlier this year, hunters were permitted to take part in an extra two-weekend hunt to reduce populations in some areas where residents told the Clarion Ledger that alligators were attacking dogs," says CBS News. "It's only a matter of time before someone gets hurt," one woman who lives on the Pelahatchie Bay told the outlet, says CBS. "The alligators need to go. We've got too many."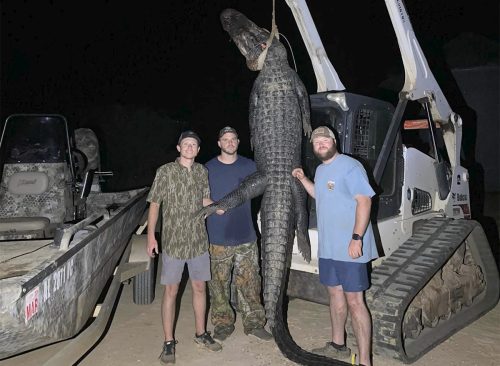 Meanwhile, in Alabama: "On the night of Saturday, August 19, three Wiregrass men journeyed onto the Pea River in Samson and hooked the catch of a lifetime," reports WDHN. "This was the first year Joshua Chambless of Kinston, Kyle Kennington of Enterprise, and Dustin Wise of Samson went hunting for alligators, and boy, was it a good start for the men. The three amateur alligator catchers launched their boat into the river around 8:00 p.m. After two hours on the water, the hunters found their mark: a 12'5 alligator weighing in at approximately 474 pounds." They got him.
Christopher Roback is an experienced news journalist specializing in political, science, and crime news.
Read more