Florida Man Causes Major Car Crash When Turtle Crosses Busy Highway
Video taken from the truck's dashcam shows it all.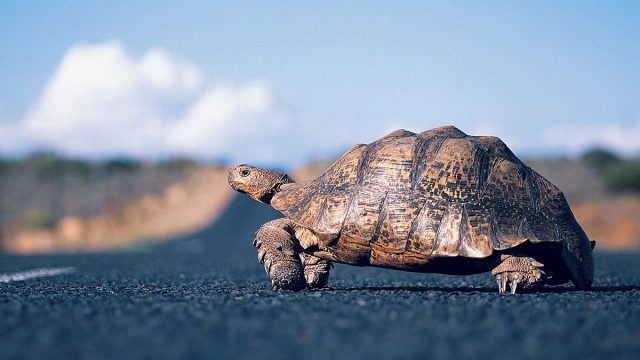 A Florida man had good intentions when he stopped his pickup truck in the middle of a busy highway to help a turtle cross the road, but his rescue mission ended up causing a chain-reaction crash that involved five other drivers and an 18-wheeler. It happened around 7 a.m. on May 16 on US 331 near DeFuniak Springs. Hair-raising video taken from the semi-truck's dashcam shows the chaotic scene unfolding.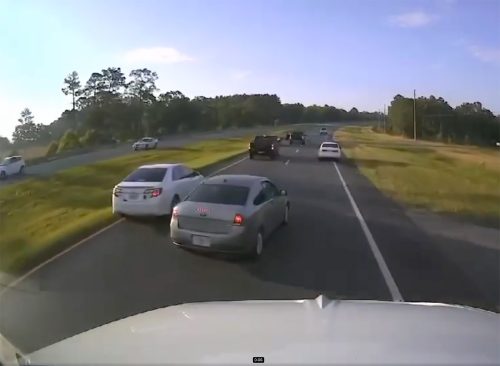 https://www.facebook.com/watch/?v=1287667682184348
Footage posted to Facebook by the Walton County Sheriff's Office showed that when the 34-year-old man got out of his pickup truck in the middle of the road, five other drivers slammed on their breaks and an 18-wheeler bounced off cars "like a giant pinball," the Charlotte Observer reported.  The crash ended when the semi-truck swerved across a grass median, coming to rest across two oncoming traffic lanes. Three vehicles ultimately crashed, including the pickup that stopped to aid the turtle, police said. 
2
"We Don't Advise Causing a Road Obstruction"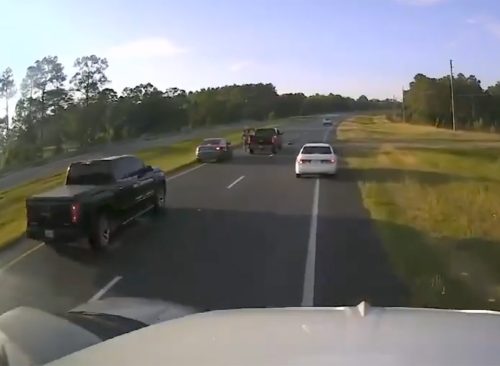 "We all can do better to protect the wildlife and natural inhabitants of our great state. Residents and visitors alike should marvel at the many species who call Florida home. Just preferably not in the middle of the road," the sheriff's office said in the Facebook post.  "We don't advise causing a road obstruction because of a reptilian obstruction," the post continued. "This morning's crash was the result of a motorist stopping on 331 S. to let a turtle cross the highway. A decision that caused a chain reaction affecting multiple vehicles including a large semi, which surprise, doesn't exactly stop on a dime."  Thankfully, no one was seriously hurt, which is being investigated by the Florida Highway Patrol.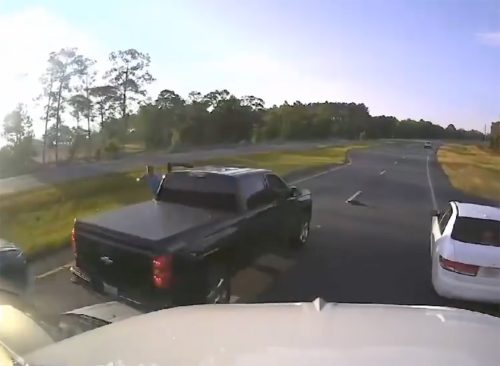 The sheriff's video was viewed more than 81,000 times and attracted more than 500 comments, with commenters offering praise for the semi-truck driver's agile steering and disbelief at what caused the crash in the first place.  "Sounds like an Allstate mayhem commercial," one person wrote.  "I love saving turtles as much as the next but cmon people, common sense here," another commenter said. "You can't do that on a busy highway. Thankful no one was badly injured, this could've been lives changed forever."
"Kudos to the truck driver avoiding as best they could. It's like driving a Colorado boulder thru a china shop," another woman wrote.  "People need to listen: SEMI TRUCKS DO NOT STOP LIKE A HONDA ACCORD," another commenter said. "They can't make it stop instantly. That much weight and velocity take time. The fact no one was seriously hurt says a lot about the skills of the truck driver. I can only imagine the stress they deal with on a daily basis."
4
But What About the Turtle?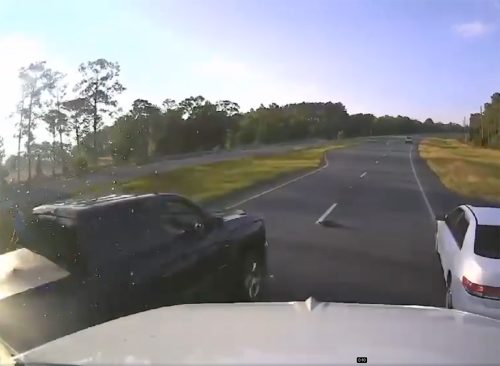 Several commenters wondered what happened to the turtle, and the sheriff's office provided an update. "The turtle survived and is now living happily ever after in a pond where he will (hopefully) spend the rest of his days avoiding pavement of any kind," the sheriff's office wrote. 
5
Dedicated Animal Crossings Spreading Nationwide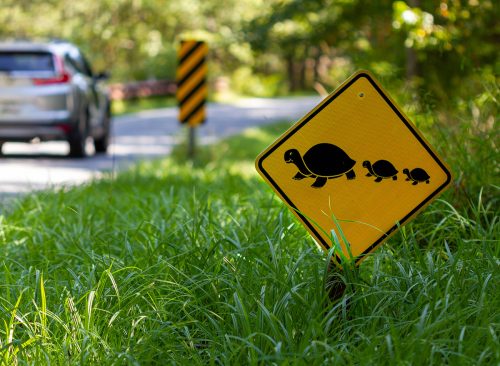 Although a dedicated turtle crossing may not be necessary for this stretch of Florida highway, animal crossings are becoming more common over and under multi-lane roads near wildlife habitats nationwide.  In February, a wildlife tunnel opened under Highway 17 near Santa Cruz, California, at a curve where most of the area's wildlife-car collisions had been recorded. A bobcat, squirrels, deer, and foxes have so far used the crossing, which took a decade of planning and will be studied for three years to gauge its effectiveness.  Additionally, the 2021 bipartisan infrastructure package includes $350 million in grants for states and localities to build more wildlife crossings over the next five years.