Man Puts Camera on Suitcase to See What Happens to His Luggage at the Airport
Read on to see what it revealed.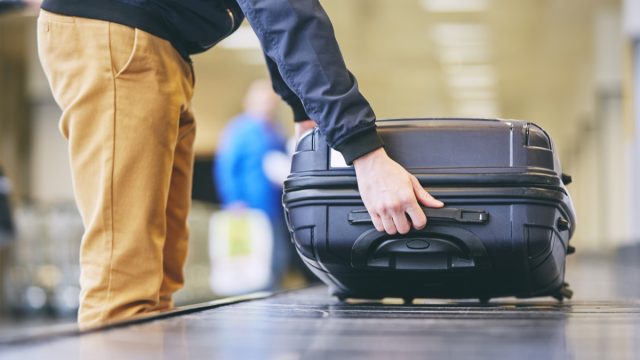 A British TikTok creator has gone viral after putting a camera on his suitcase to show what happens after you check luggage at the airport. Thomas Miller's video has racked up 17 million views. Read on to see what it revealed, along with videos from a ramp agent who works in the belly of the plane, and a behind-the-scenes glimpse from a security agent's perspective.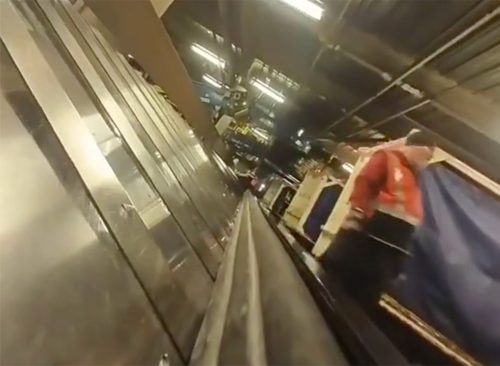 The 23-second clip begins with Miller fastening a small wireless camera by the handle of his black nylon suitcase. "Time to find out what the airport does with my bag," he captioned it.  In shots taken from the luggage's POV, the bag goes through several winding conveyer belts, past a crew member, then is placed in a vehicle with other luggage, about to be transported to the plane. 
2
A Look Inside a Plane's Cargo Hold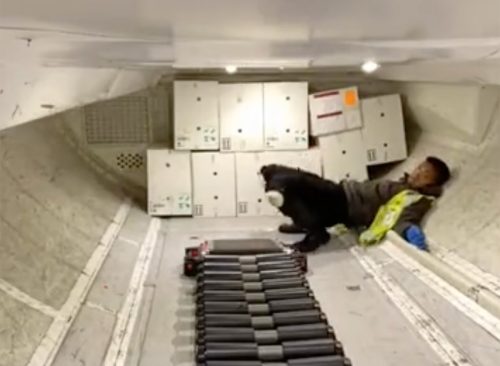 The good news for Miller is that nothing dramatic happened to his bag, although a number of commenters on the TikTok video said they were "expecting more." In a follow-up, Miller posted time-lapse footage of an airline crew member—DJ Sugue, who dubs himself "ramp guy"—sitting in a jetliner's cargo hold. The TikToker waited in the back of the small tubular space while boxes and suitcases came rolling down a conveyor belt. He stacked the cargo to make efficient use of the space, taking a quick break to do a set of hip raises between loads.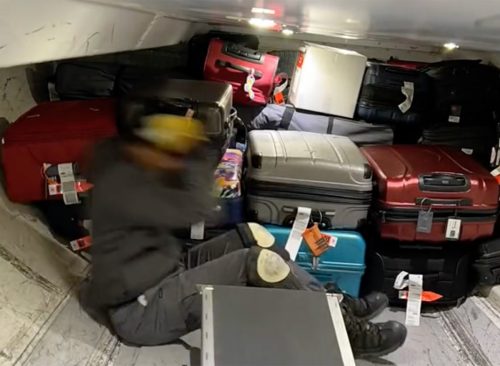 Sugue is apparently fond of fitting in a workout when he can. In another time-lapse video, he managed five sets of situps while waiting for more suitcases to arrive.  "It's always a great workout when loading the belly of an airplane," he wrote.
4
Bag Check "An Organized Maze"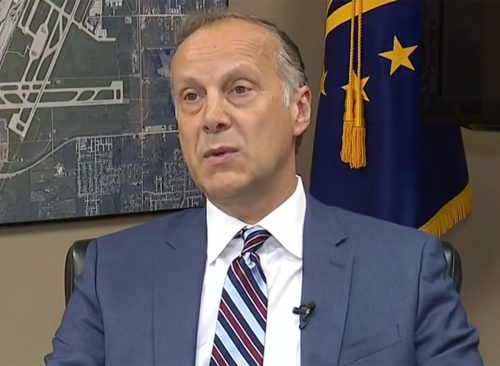 WXYZ took a detailed look behind the scenes of baggage check-in at the Detroit Airport, calling it "an organized maze" involving K9s, X-ray machines and cameras. "We have layered security," said TSA federal security director Steve Lorincz. "One of the things we want to do is not just have one system in place. We have multiple systems in place." Every checked bag comes down a long conveyor belt, then is sent through a large X-ray machine. If the X-ray spots something potentially problematic, the bag is sent to a space called the resolution room. There, it's put on a robot and transferred to a station where a TSA agent inspects the bag.
5
These Items Most Often Flagged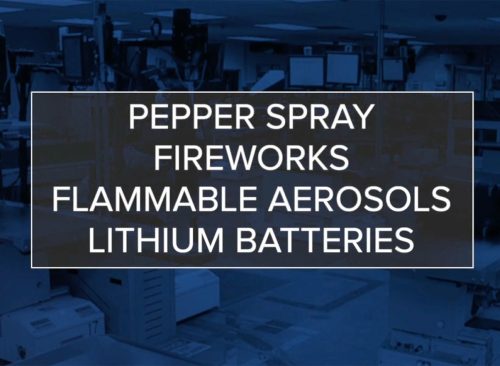 Pepper spray, fireworks, flammable aerosols, and lithium batteries are regularly found. When agents find a larger threat like exposed firearms, they notify law enforcement. "We also notify the customer that the bag belongs to and we go to protocols to make sure we mitigate it," Lorincz said.