Man Panics After Finding Iguana Splashing and Hissing in Toilet, "I Thought I Was in 'Jurassic Park'"
But he came out with a plan.
A man in Hollywood, Florida, was terrified when he found an iguana splashing and hissing in his toilet. "I thought I was in Jurassic Park or something," 58-year-old John Riddle told local station 7News last week.
"He was splashing and hissing at me," he said. "I was scared. I'm not a reptile fan." Read on to find out how the iguana ended up there, how the queasy homeowner flushed him out, and why experts say Florida is experiencing an iguana invasion. 
1
"Godzilla In My Toilet"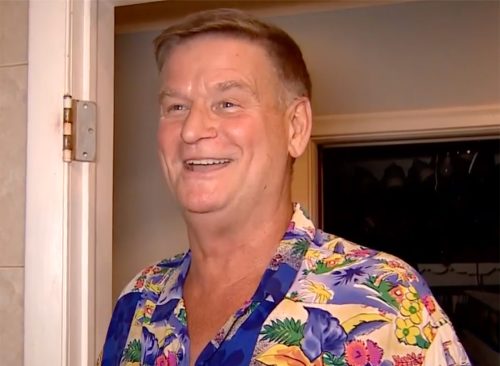 Last Friday, Riddle said he noticed his bathroom door was open. When he went to close it, he discovered a substantial reptile. "I walked in my bathroom and found Godzilla in my toilet,' Riddle said. "He didn't seem at all pleased and started splashing and hissing at me."
"That's all I needed to see to, like, back off for a minute and figure out what was going on," said Riddle. He also took photos of the angry lizard hissing and splashing away.  
2
How Iguana Got Flushed Out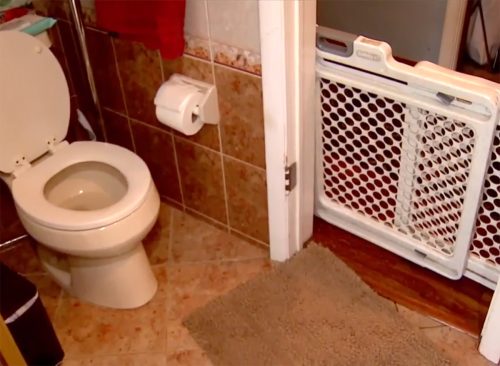 Complicating matters, the iguana went deeper into the toilet. Trying to stay calm and develop a plan, Riddle grabbed a baby gate and put it in the bathroom doorway to keep the reptile from running into other rooms in the house. Riddle returned wielding a strainer he uses to clean his pool. "I came back probably a little less than an hour later, and there he was again, splashing around," said the homeowner.
"This was my chance, and I was trying to work up the nerve to grab him and throw him out, but before I did that, he crawled out, and crawled, like, behind the toilet, and that's when I grabbed the strainer and shooed him out."
3
A Mistake He Won't Repeat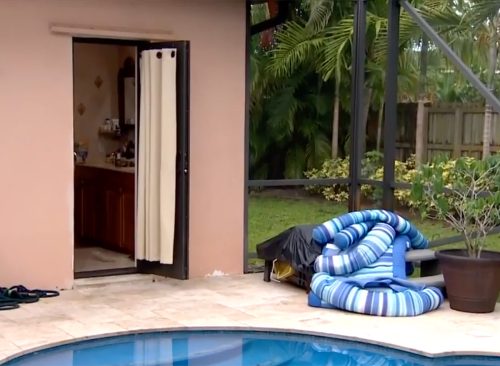 The iguana then dove into his pool and ran into the backyard, he said. Riddle thinks the reptile got into his house when he left the door open while walking his dogs, the news outlet reported.
"It's a story to tell, for sure," he said. "Hopefully we can avoid any instances in the future," he said.
4
Florida Under Iguana Invasion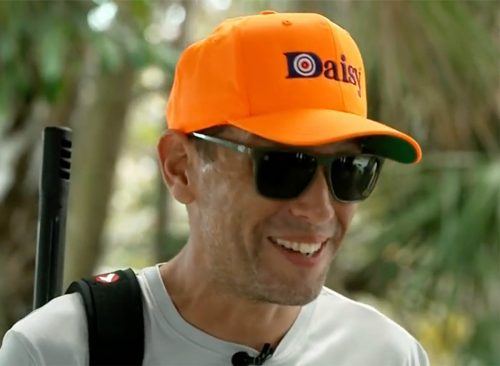 Experts say Florida is experiencing a full-scale iguana invasion, and it's causing more than an occasional nuisance. Iguanas are not native to the state, and they're considered an invasive species. The large lizards are causing property damage and even electrical outages, CBS Miami reported in January. 
"They're just popping up every single place where they don't belong," said Harold Rondan, a trapper and owner of Iguana Lifestyle. Iguanas are devouring gardens, dipping into pools, and, yes, even showing up inside toilets. The reptiles are also known to pass salmonella bacteria to pets.
5
Climate Change Responsible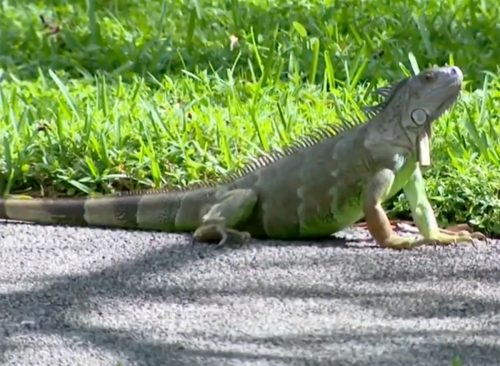 In Lake Worth Beach, Florida, iguanas are getting into electrical substations, where they triggered 16 power outages last year. "The tail or the tip of the tongue will complete the circuit," said Ed Liberty, the city's electric utility director.
Scientists believe climate change is responsible. Warmer temperatures are encouraging iguanas to migrate north and reproduce. "We are not going to defeat and eliminate the population—we have to learn to live with this population of iguanas," said Liberty.