Grammy-Nominated Singer Hospitalized for Life-Saving Emergency Surgery
The singer apologized to fans.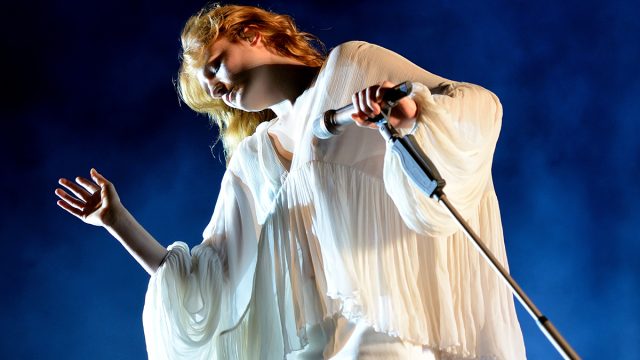 Stars may be talented, adored by fans, and wealthy, but they are still human and vulnerable to weaknesses like everyone else. As humans, they can be scared for their life when they receive a threatening diagnosis. This happened to Grammy-nominated Florence And The Machine singer Florence Welch who announced to her fans that had to go through life-saving surgery. Read on to learn more.
1
Florence Welch Announced She Had Surgery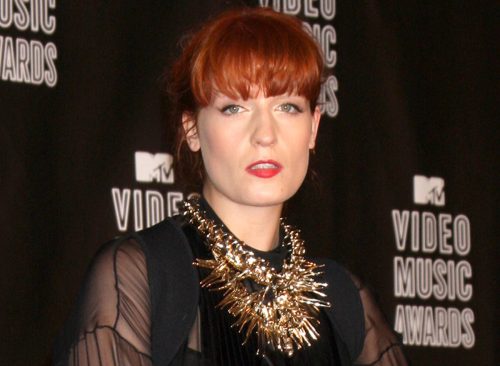 Florence And The Machine lead singer Florence Welch has revealed that she has had life-saving surgery days after canceling concerts. Welch, 37, said she was "not yet strong enough" to speak about the ordeal and has apologized to fans missing the concerts.
2
Who Are Florence and the Machine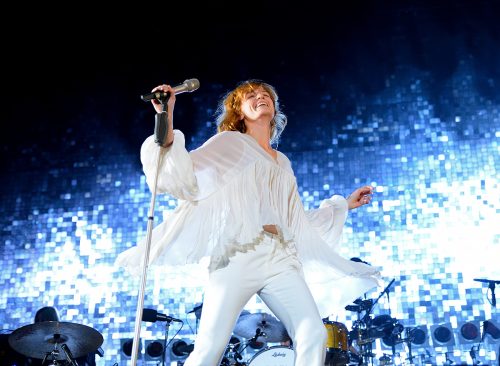 Hailing from the United Kingdom, Florence and the Machine is an indie rock band. They've received seven Grammy Award nominations and two Brit Awards, including one for British Album of the Year for their 2009 release Lungs. Known for tracks such as "You've Got the Love," "Dog Days are Over," and "Shake It Out," the band has established their musical identity.
3
"So Sorry I Had to Cancel"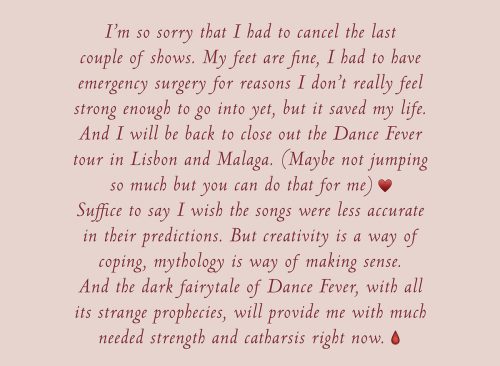 After the band canceled two concerts over the weekend, Welch took to Instagram to explain what had happened, revealing that she had undergone emergency surgery. "So sorry I had to cancel the last couple of shows," she wrote.
4
The Surgery Saved Her Life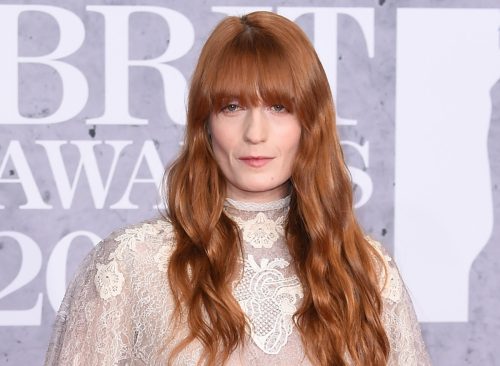 She went on to explain, "My feet are fine, I had to have surgery for reasons I don't really feel strong enough to go into yet, but it saved my life. And I will be back to close out the Dance Fever tour in Portugal and Malaga (maybe not jumping so much but you can do this for me)."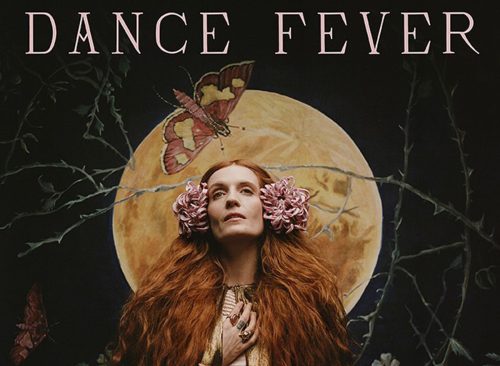 With a touch of mystery, Welch appended her thoughts, expressing a desire for her songs to be "not so accurate in their predictions. But creativity is a way of coping, mythology a way of making sense. And the dark fairytale of Dance Fever, with all its strange prophecies, will provide me with much needed strength and catharsis right now."
6
The Album Was Inspired by "Dancing Mania"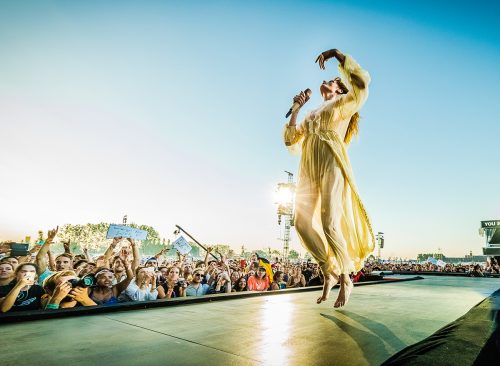 Named after Florence And The Machine's most recent album, the Dance Fever tour draws its inspiration from choreomania, an intriguing phenomenon that unfolded across multiple centuries in Europe. Referred to as "dancing mania," this inexplicable state entails an irresistible compulsion to dance that rapidly engulfs gatherings of people. Despite being extensively chronicled on several occasions, the phenomenon remains largely unexplained. The most recent occurrence of such an outbreak transpired during the 17th century.
7
She Broke Foot on Stage in November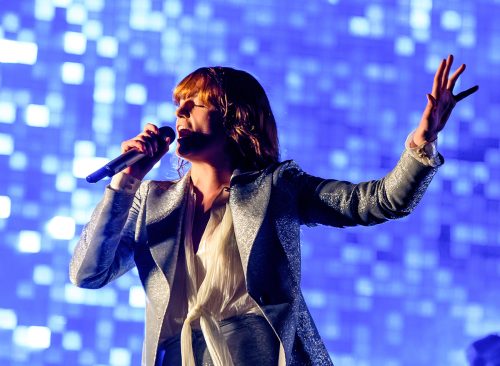 In November, Welch sustained an ankle fracture during a performance at London's O2 Arena, leading to a hospitalization and subsequent concert cancellations. She wrote, "My feet are fine. I had to have emergency surgery for reasons I don't really feel strong enough to go into yet, but it saved my life."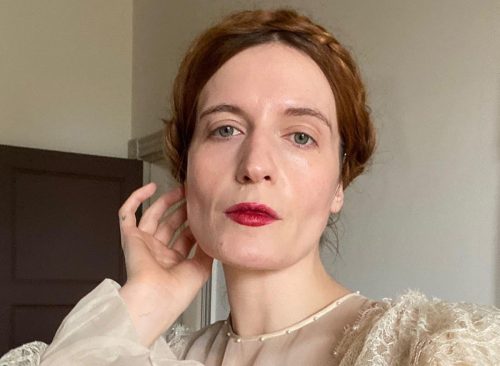 In a heartfelt message to her fans, Welch apologized, saying she was "heartbroken" after realizing that she had been "dancing on a broken foot" throughout the whole performance. "I'm so sorry to say that after an X-ray, it seems I was dancing on a broken foot last night," she wrote in November after a concert in London. "It is not in my nature to postpone a show, and certainly not a UK tour, but I'm in pain, and as dancers know, dancing on an injury is not a good idea. And have been told not to perform to avoid further damage," Welch wrote.
9
She Wants to Be Back in September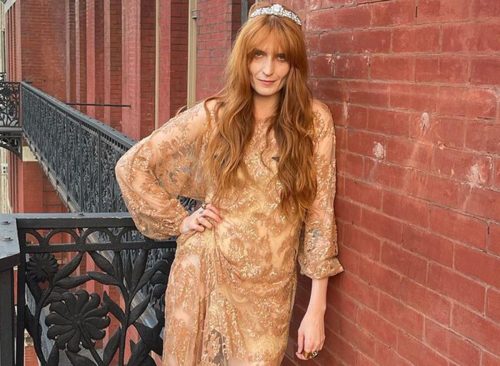 Welch added that she was still hoping to perform her fifth album, Dance Fever, in Portugal next month. She wrote, "And I will be back to close out the Dance Fever tour in Lisbon and Malaga. (Maybe not jumping so much, but you can do that for me.)" The concert dates are set for September 1 and 2.
RELATED: 20 Worst States in America for Healthcare
10
It's Her Favorite Show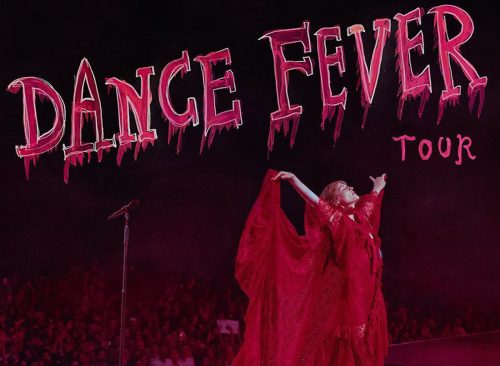 "Please hang on to your tickets. We are working our hardest to reschedule these dates for next year and we will let you know as soon as possible." "I'm heartbroken as the Dance Fever tour has been my favourite show we have ever put on. The communion with you. Your beautiful faces shining."
Christopher Roback is an experienced news journalist specializing in political, science, and crime news.
Read more