Customer Finds Live Frog in Udon Takeout, Company Issues Public Apology
Japanese man experienced some heartburn.
A Japanese man experienced some heartburn after he found a live frog at the bottom of his takeout udon, shortly after he thought he was done with the brothy noodle-and-vegetable dish. The resulting attention on Twitter prompted the restaurant to issue an apology. Read on to find out what happened next, and about a (potentially much grosser) similar story that went viral last fall in the U.S. 
1
Spicy Dandan Salad, With a Twist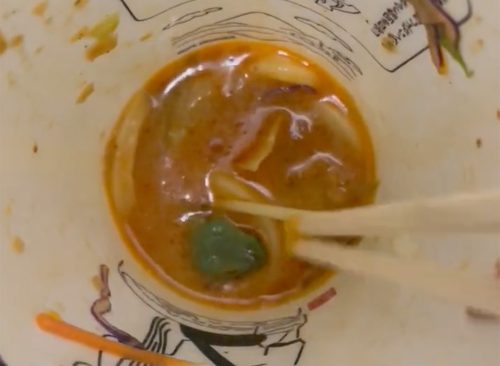 On May 22, a Twitter user known as Kaito09061 uploaded a video of a nearly finished cup of Marugame Seimen's Spicy Dandan Salad Udon. At the bottom was a small green frog moving around in the broth.  The man said he got the udon on a business trip and urged his followers to "be careful." He said the restaurant where he bought the meal "reopened the same night after being closed for three hours" and "is still selling the same products."
2
Frog May Have Wandered Into Restaurant's Food Chain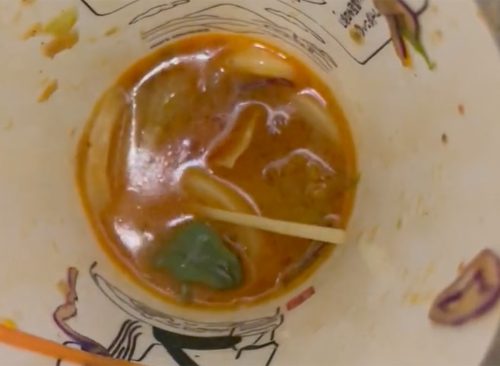 The next day, Marugame Seimen published an apology on its website. The noodle chain expressed regret for "causing great trouble and worry" and explained that the frog probably was mixed into a cup at their vegetable-processing factory.  After "conducting and strengthening on-site inspections at every factory handling raw vegetables", the company said it would temporarily stop selling items containing raw vegetables.
3
Dish a Smash Upon Release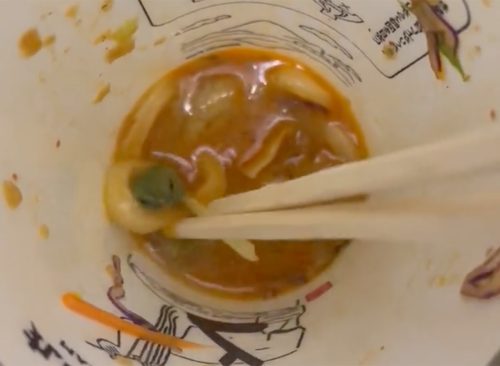 It's unfortunate publicity for Marugame Seimen, a fast-food chain who recently launched the Spicy Dandan Salad Udon as part of its Shake Udon line, which has become a major hit in Japan.  Served in a plastic cup, the dish is shaken to combine the ingredients. News outlet Asahi Shimbun reported that about 210,000 orders were sold within the first three days of its release. (American consumers of McDonald's around the year 2000 may remember that chain's McSalad Shakers—the same concept, sans breathing ingredients.)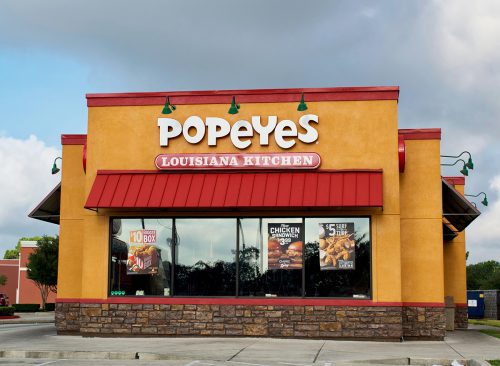 While the frog garnish was clearly unappreciated by the Marugame Seimen customer, that story seems downright organic compared to a social post that went viral last October. The Daily Dot reported on a TikTok user who shared a photo of her Popeye's chicken meal, convinced that it contained a fried rodent.  On October 18, user @abigailcaudy11 posted an image of an opened Popeyes box, in which a battered object that seemed to have a tail sat on a nest of french fries. "Ok, so tell me why I ordered some chicken and got home and they fried me up a freakin' rat, y'all?" Abigail asked in the video.
5
"Culinary Preparation" Blamed, There Was No Rat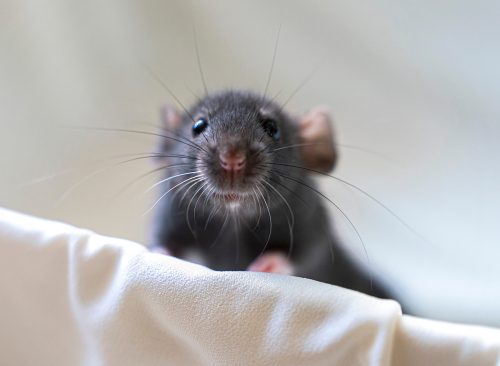 Abigail ultimately deleted the video, but not before it racked up more than two million views.  The news outlet reached out to Popeyes, which said they were "confident that no rodent is featured" in the video. "Popeyes takes food safety and cleanliness very seriously," a representative said. "Our teams are working with local franchise owners to further investigate the culinary preparation that may have resulted in the poor presentation of this chicken."